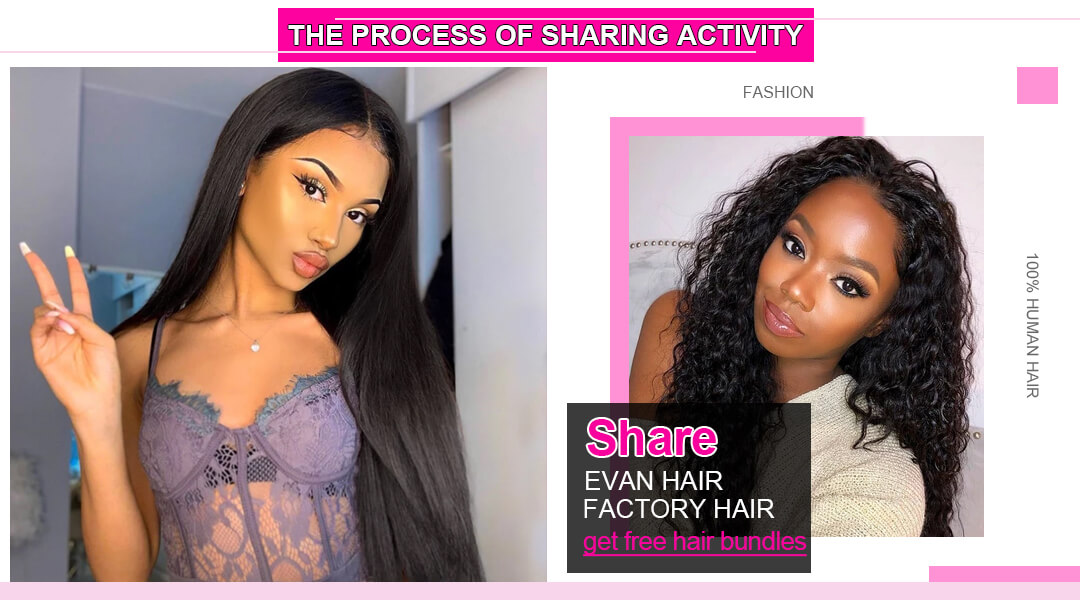 Two Ways to Get Evan Hair Free Hair Bundles

Put the hair link to your social media (Instagram, Twitter, Youtube, Facebook and so on)
Over 100 Valid clicks, you will get one 12" hair bundles;
Over 300 Vaild clicks, you will get one 12" 14" hair bundles;
Over 500 Vaild clicks, you will get one 12" 14" 16" hair bundles;
Over 600 Vaild clicks, you will get one 12" 14" 16" 18" hair bundles;

Get your dedicated promotion link. Email us with your social media: info@evanhair.com

You can exchange for bundles of any types between 8-20 inch.
Your coupon used 10 times: get 1 bundle hair;
Your coupon used 15 times: get 2 bundle hair
Your coupon used 20 times: get 3 bundle hair.

Get your dedicated Coupon. Email us: info@evanhair.com
-Stephanie Fuller-
I contact with Evanhair store customer service to get my own code firstly when I record the video, I will mention and recommend the code to my fans, of course, that's not enough, I also put Evanhair store link and code on my social media bio (facebook, twitter, IG, youtube) that will be more available."
-Jeanne Privett-
I am a student, I don't have too much extra money to buy the hair extensions. But I recommend my code to my classmates who need to purchase the hair when they are ready to place order, I will ask her to Evanhair Store, when they check out, I'd strongly suggest them to use my code when they check out, they can get $3 off, I will get free hair. Just perfect! So it is very important to get along well with your classmates. Otherwise, the won't care you.
-Rose Galli-
In my spare time, I often talk about the beauty and fashion with my family & friend, after I joined in Evanhair Store share activity, I always suggest my mom, my sister, and my mother's friend to purchase hair on Evanhair Store, at present, I had received 3 bundles free hair, it need to take some time but I enjoy it, I save the hair cost so that I can purchase other items, lol.