Lace front human hair wigs with baby hair can be worn in a multitude of ways: straight, curly, or wavy. If you would be willing to spend some time on flat-ironing and styling the wig to step away and see the slicked-down baby hairs curl up again in a flash, keep reading to figure out exactly how to do and embrace the baby hairstyling inspiration. Just watch, the baby hair of lace front wigs can be styled natural and good looking.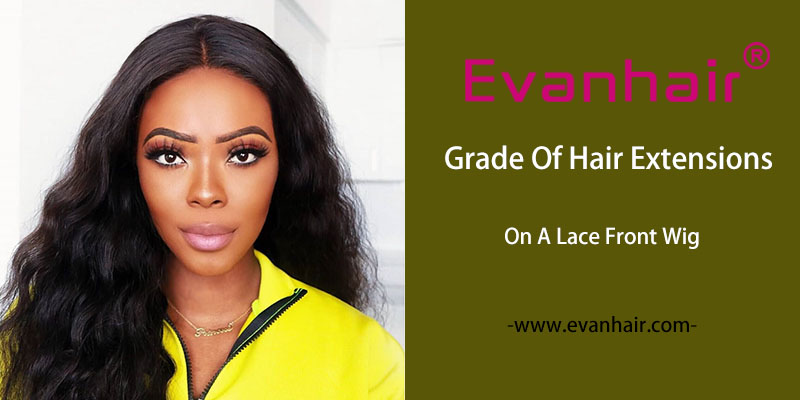 Human hair lace front wigs have a small sheer lace panel along the front hairline attached to the front of the wig. The hair strands are hand sewn into the holes of the lace. They are made of the highest quality Indian, Peruvian or Brazilian Remy Hair. Human hair wigs lace frontal can be colored, permed and styled just like your own hair. Lace front human hair wigs come in a variety of textures, so you can match your own hair texture very closely. With proper care, human hair wigs can last a year or more when worn daily.
Lace front human hair wigs carry a few baby hair attempt to create the illusion of natural hair growth along the hairline. This illusion generally improves the natural appearance of the hair and allows the wearer to style the wig away from their face without revealing that the fact they are wearing a wig. Wearing lace front wigs is very simple because they are stretchy and cover the entire scalp area with a natural looking hairstyle.
2. Items You Will Need
Lace front human hair wig, scissors, comb, brush, spray
3. Ways To Style Baby Hair Of A Lace Front Wig
Step 1: Cut the lace
The first step is to trimmed back the excess lace on lace front wigs that hangs over the forehead for the most natural look. Cut away about a quarter-inch of the lace all around the front and sides of the wig. It is best to cut away small portions of lace instead of all of it at once, since cutting away too much lace will ruin the wig. Do this using long, fluid scissor strokes to avoid jagged edges. This is a delicate process that takes a steady hand, a good pair of scissors and a lot of patience.
Step 2: Define the parting
Clip the hair on either side of the center-marking clip back using the two large hair clips. Use a fine-toothed comb to create a parting on one side of your wig. Blow dry your hair up and away whilst combing to create definition in the parting. One your hair is dry, continue to use the comb to neaten the parting and reinforce the separation.
Step 3: Water the baby hairs
Baby hairs need to be completely wet in order to style them. You can use a spray bottle full of water to spray along your hairline. If you don't have a spray bottle, just splash water onto your hairline.
Step 4: Use hot tools to dry the baby hairs
Once your baby hairs are wet, Hold a section of your damp baby hair between your index and middle finger, about 2 inch from your hairline. Pull your hair out and use a blow dryer to dry it for about 3 seconds. Then blast them with cool air for three seconds. Baby hair is very fragile, so alternating between hot and cool will help protect frail hairs from burning.
Step 5: Set the baby hairs with hairspray
Spray the hairspray on a soft-bristled toothbrush and gently brush the baby hairs horizontally against the hairline. If you don't like hairspray, you can try styling cream or edge control gel instead. Put a bit on your fingertip and smooth it over your baby hairs.
4.Tips To Create Different Baby Hair Looks
Creating art with your wig edges is a favorite part of the hair styling routine.The designs and patterns of someone's edges create a conceptual style that can overpower the look of a hairstyle. The appearance of your baby hairs is significant, especially in the hair world. The aesthetics matter. Poorly styled baby hairs can throw off the entire look of a hairstyle. Here are some tips help you to lay the edge of a lace front wig and create different baby hair looks.
Tip 1: Slick short baby hairs straight down
If you want a short baby hairs along the front of the edge of a lace wig. Use gel or hairspray and slick the baby hairs straight down. They'll mimic bangs but give it a beautiful look.
Tip 2: Slick short baby hairs down into waves
Start at the front of your hairline and use a comb to make a small part in your hair about 0.25 inch back toward your temple. Separate this strand of hair and apply some hair gel. Then use your fingers or a fine-toothed comb to shape them into waves. This works best if the hair around your hairline is short. If your hair is too long, it may look unnatural.
Tip 3: Slick longer baby hairs down into waves
If you prefer to style the baby hairs slightly, instead of slicking them along the hairline, you can use a holding gel usually an olive oil based gel that won't flake. Slick your baby hairs down along the side of your head, then use a fine-toothed comb to shape them into waves.
Tip 4: Create baby hairs a fuzzy halo look
Sprinkle a hair powder on the top of your hair, then pushing at your hair up from the roots. Use your wrist and move it along your hairline in a circular motion. Your baby hair should frizz up. Making the baby hairs into a fuzzy halo around the edge of wigs can soften your features and complement many hairstyles.
Tip 5: Create curly afro baby hairs
Use a very small amount of gel and work it into the baby hairs at the front of the wig edge. Then wrap the baby hairs around your fingers gently and let go to create curls.
If you have steady hands and aren't afraid of burning yourself, you can use a small curling iron. You won't need to use the gel if you use your curling iron. Be very careful, though, since baby hairs are much finer than the rest of your hair and can burn more easily.
5. Show Off Your Style With Evan Hair Lace Front Wigs With Baby Hairs
Evan hair is professional in designing and producing human hair lace front wigs with baby hairs. We focus on the best quality real hair wig products. We look forward to helping you keep your hairstyles fresh and new and tends to switch up your look a lot!
Shop More Popular Evan Hair
Shop for affordable Evan Hair Virgin Brazilian Human Hair 
Shop for Remy Evan Hair Peruvian Hair Bundles with Closure
Shop for Evan Hair Best Malaysian Human Hair Weave