Buying best lace front wigs online can be challenging, so we are here to offer you a selection of the best and most natural-looking wigs you can get on the best place to buy lace front wigs online Evan Hair.
No matter you are looking for best cheap lace front wigs, best curly lace front wigs, best short lace front wigs, best Brazilian lace front wigs, best straight lace front wigs. Here is our review of the top 10 best lace wigs that you won't want to miss.

People Wear Lace Front Wigs Human Hair For Many Reasons:
For health reasons, or change up their look without cutting or damaging their own hair, protect their natural hair from heat damage!
Virgin human hair lace front wigs are a must-have to achieve a seamless, natural hair look. The best wigs seem to grow naturally from your scalp while fitting comfortably and looking gorgeous.
What Is The Best Lace Front Wigs?
Human Hair material
The best lace wigs are virgin Remy human hair. They will tangle the least and last the longest. They will also take color in the same way as your own hair. This is because the cuticles will not have been damaged by chemical processing.
Hand Made
The wigs are mostly processed using a hand. This provides you with an authentic wig, which would last a long time. The best caps are made from lace. Every hair is individually sewn into the cap to achieve a very natural hairline and look. Also, the cap is very light which makes it comfortable to wear for a long time.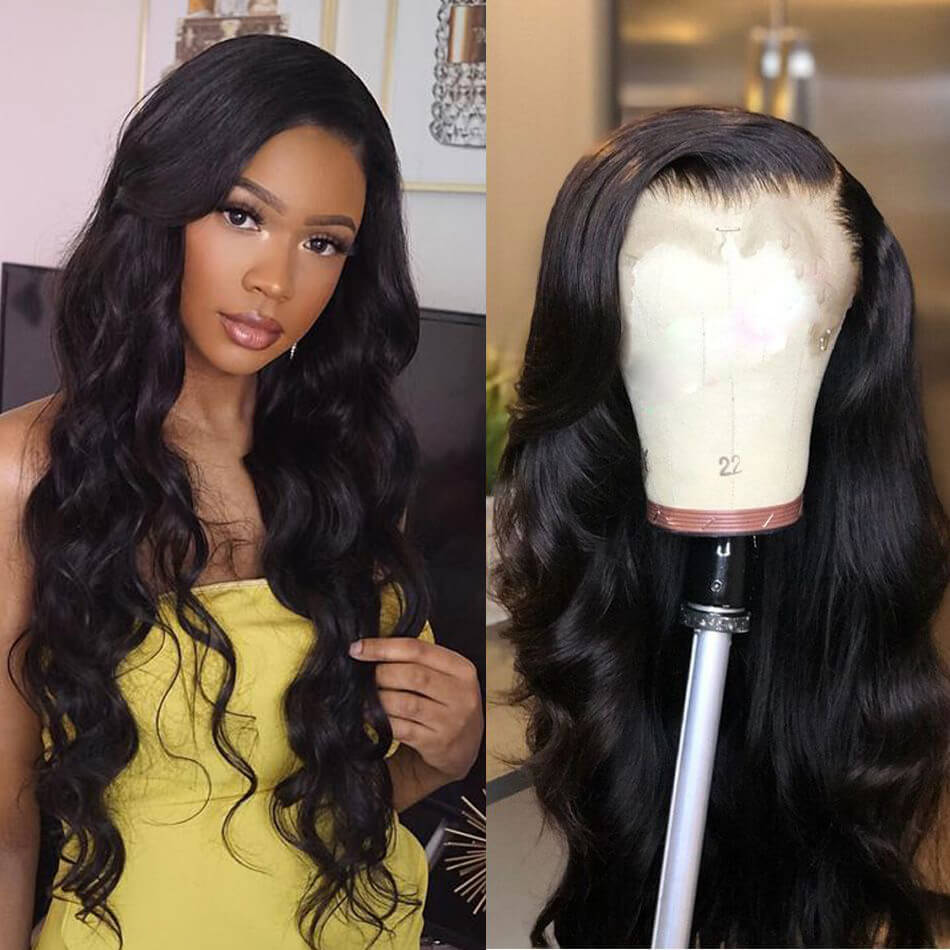 Cost-efficient
The best lace front wig sewn ins should be high-quality virgin wig lace wigs at affordable prices. The wigs lace front is just a one-time investment for anyone who loves styling their hair. They allow you to cut down your salon expenses because of their ease of refashioning right from the comfort of your home.
Customizability
According to your needs, the wig can be restyled, permed, curled and straightened easily. This gives you versatility with just one wig. The hair can also be dyed several times to match your look. The natural blonde color that comes with the lace front hair wig is perfect for putting multiple colors on.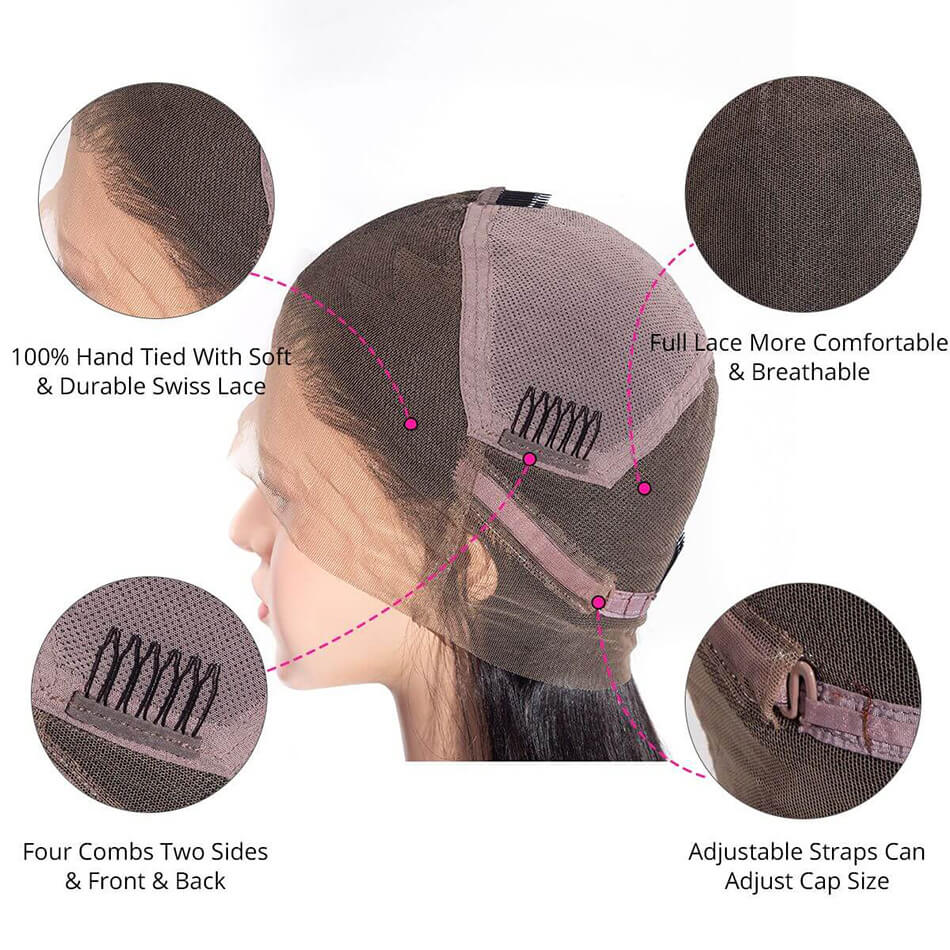 Natural look
Human hair front lace wig will cost more than synthetic wigs, but it creates the most natural look, has the appearance of a scalp and a hairline, and can be easily styled while maintaining the appearance of a natural head of hair.
If you can't wait to try the hairstyle of your favorite celebrity. Or simply want to change the hairstyle for an event without damaging your own hair.
If yes, then you are in the right place. 
But buying best lace front wigs online can be challenging, so we are here to offer you a selection of the best and most natural-looking wigs you can get on Evan Hair.
Best Lace Front Wigs On Evan Hair
To get you started, we've compiled a list of the best lace front wigs on Evan Hair.
1.Silky Straight Human Hair Lace Front Wig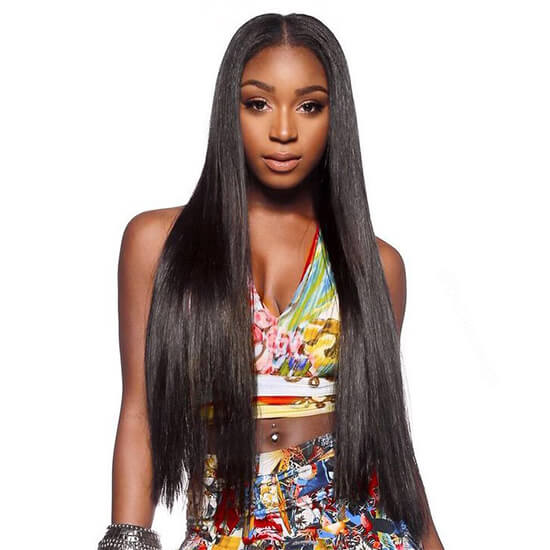 Straight lace front human hair wig is my favorite love. Besides, they are best celebrity lace front wigs, best inexpensive lace front wigs, best lace front wigs for beginners, if you don't have one, you could have arty.
These top human hair lace front wigs are made with human hair so it is the same color that your natural hair is. It is 22 inches long and nice and straight, creating a classy look. The Swiss lace cap is of high quality so you can trust that it will fit your head. The cap is a medium size and stretches at the crown.
The wig itself is hand-tied and a density of about 120 percent. The virgin hair means that it looks incredibly natural and no one will know you are wearing a wig and hence its in my list of best human hair front lace wigs. This is also part of my list of best human hair wigs.
Features:
180% hair density
Lace color medium brown
Hair color is the natural color of the hair
Hair length options from 10 inches to 24 inches
2. Body Wave Human Hair Lace Front Wig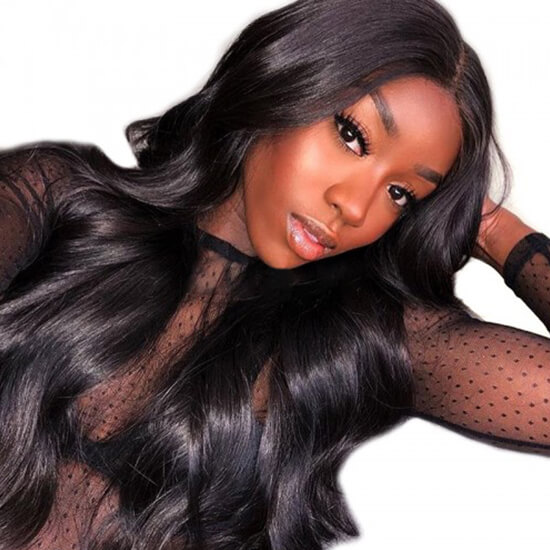 GET DETAIL ON EVAN HAIR 
Best body wave lace front wigs for black women. stunning, attractive, good-looking…
Naturally curly, bouncy, and beautiful, this lace front hair wig has a 180% hair density. It is made from 100% unprocessed virgin Brazilian human hair and comes in a natural curly black color and texture.
The lace front wig with baby hair along the hairline allows you to part the hair anywhere you like and still maintain a natural appearance. Even though this wig has natural shiny curls, it will still look beautiful flat ironed, or re-curled.
Since the hair is completely unprocessed, it is safe to be dyed without worrying about mixing with other chemicals. The wig cap size is medium and comes with an adjustable strap to fit most head sizes and be comfortable all day long.
Features:
pre plucked lace front wigs
180% hair density
Naturally, curl
Hair color is a natural black
The lace color is light brown
Hair length options from 10 inches to 24 inches
3.Deep Wave Lace Front Wig Human Hair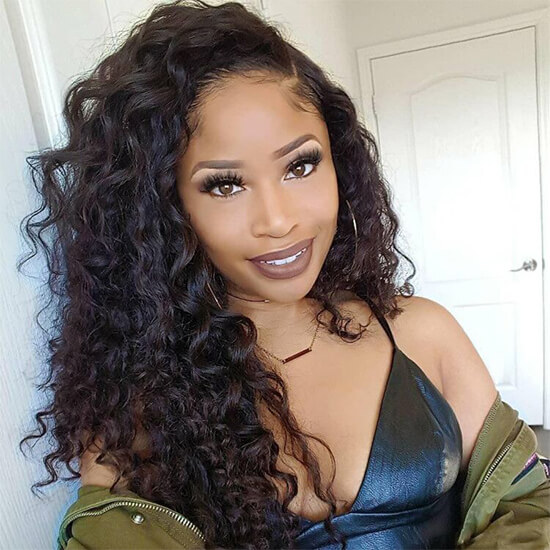 Best natural looking lace front wigs, Made with high quality 100% Brazilian virgin human hair, this Front Lace Human Hair Wig is natural-looking around all the edges.
The hair is all hand-tied and has natural-looking baby hair enhancements around the front edges of the wig.
Soft and tangle-free, this wig is fully customizable as it is safe to bleach, dye, straighten or curl as you like. With adjustable straps and three combs to keep the wig secure, you can even style the hair in a high ponytail or bun while still looking completely natural.
Minimal shedding means the wig will stay looking full and healthy for longer. The lace is a medium brown that is ideal for darker skin tones, and the cap is a size medium to fit most average head sizes.
If you've been wanting to try the wet and wavy look, but aren't into piling product on your natural hair, get a deep-wave wig. You can style it in fluffy, voluminous curls or pull out your wave-enhancing products to keep it smooth and sleek.
Evan Hair Virgin Deep Wave Lace Front Wig, start from $70, available at Evan Hair.
4. Water Wave Lace Front Wig Human Hair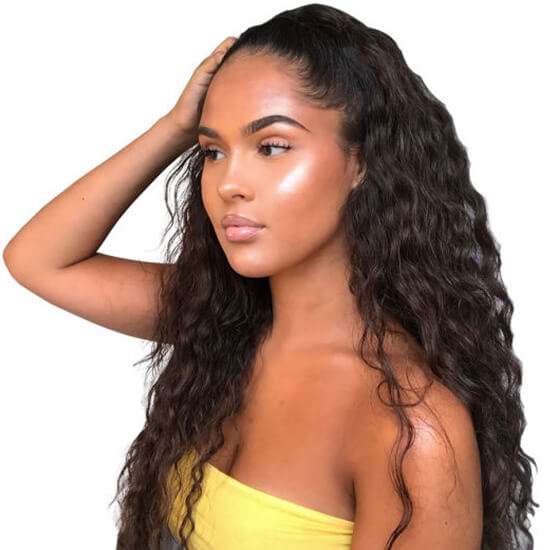 Best lace front wigs, this water wave Lace Front Wig Human Hair Wig features 100% unprocessed virgin Remy human hair.
The knots are lightly bleached, and there are baby hairs around the perimeter of the wig, creating a natural hairline. There are elastic bands and three combs to keep the wig secure, no glue needed!
Hair features a natural wave but can be straightened, dyed, curled or bleached to suit any style desired. The base is made of a light brown swiss lace, and the hair is very thick with 180% density. All of the hair cuticle layers are intact and tied in facing the same way for soft, smooth, tangle free hair.
Features:
Hair Color is the original natural color
The lace color is light brown
180% density
100% virgin Remy hair
Comes in lengths from 12 inches to 26 inches
5.Curly Lace Front Wig Human Hair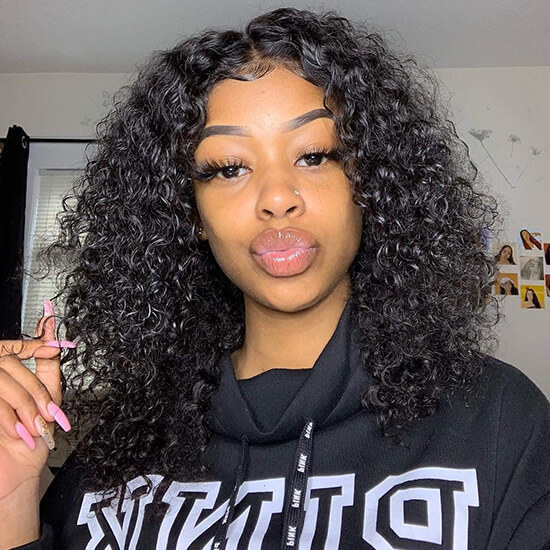 Weight: 100-200 per Pcs
Density: 180%
Length: 10inch-24inch
Cap Size: Medium
Hair Color: Natural
Cap Lace: Medium Brown
Why we love it?
This is the best curly lace front wig for each girl. fascinating, lovely, charming…
Believe me or not, this no glue lace front human hair wigs can be styled or knot just like your own hair. Without the annoying split dry end, you gonna get the extra confidence to rock the day.
Astonishing, isn't it?
The best part, it is100% Hand-tied.that means fully hand-knotted stretch cap gives supreme comfort. Plus, it will allow your hair to move freely, just like natural hair.
What else?
Evan Hair Remy Human Hair Wig offers Pre Plucked Natural Hairline. The result? No unwanted tangle, no Shedding, No more bad smell. Good for you.
Keep in mind: You can return it as long as it is in its Original Condition, and the Excess Lace in the Front is Uncut.
6.Popular Fake Scalp Lace Wig Virgin Hair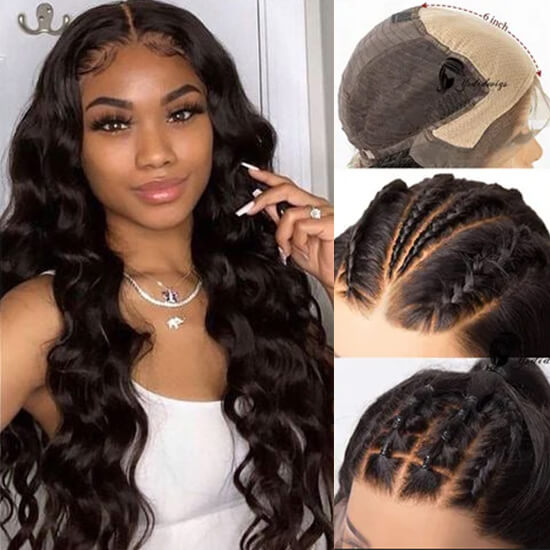 GET DETAIL ON EVAN HAIR
One of the best quality lace front wigs you must try on!
Evan Hair adopts a new fake scalp method that addresses the stiffness caused by the glue method and makes it reusable with no washing problems. With the Fake Scalp/ Bald Cap Wig, you don't have to do cornrows, to use wig caps, to do bald cap method or fake scalp method.
This Fake Scalp method perfectly teams up with the bleached knots serving the most natural skin parting. The hairline is pre-plucked to be natural, the elastic band is also pre-sewed for secure and snug glueless wearing. This is the ultimate wig that you can put on the head and step out the door.
Features:
100% Brazilian virgin human hair
The lace color is medium brown
Hair color is the natural color of the hair used
Hair length options from 12 inches to 24 inches
7.613 Blonde Lace Front Human Hair Wig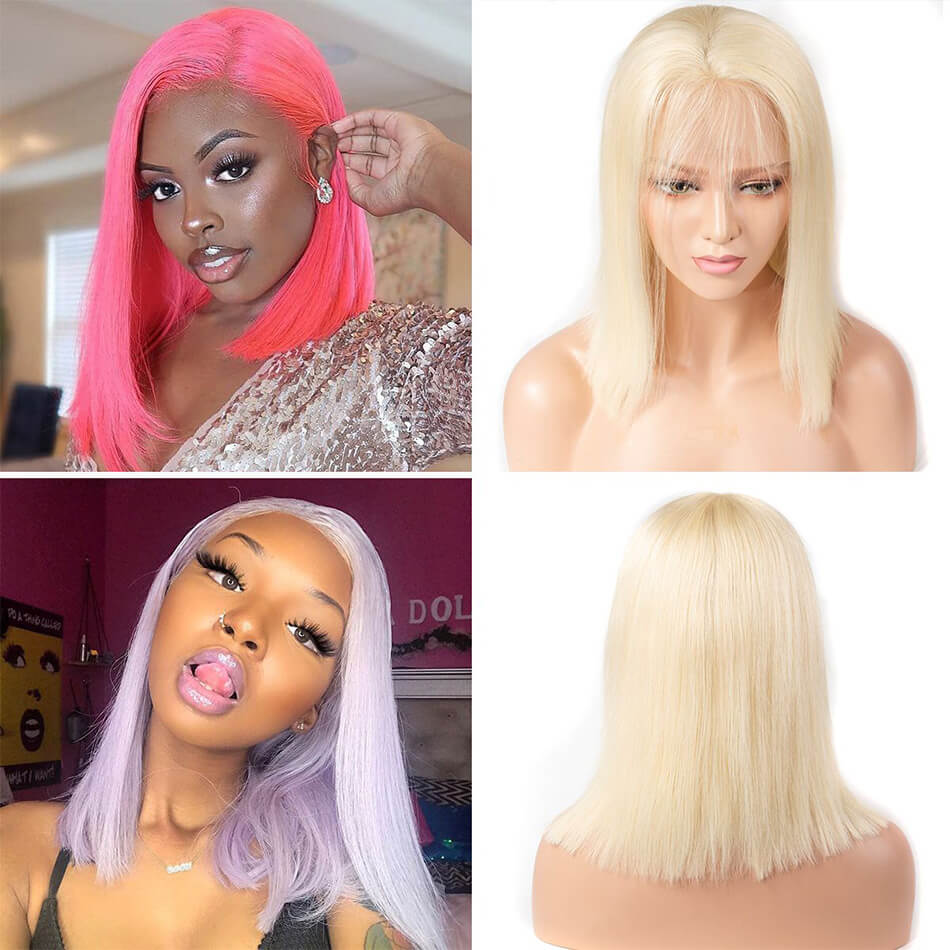 If you want something different, a blonde hair wig may be a good choice. They are also the best pre plucked lace front wigs for party, wedding, appointment and so on.
This 100% Human Hair Lace Front Wig offers a natural hair density throughout the wig. The product is made from virgin human hair bleached to the blonde color you see, which means you will easily be able to dye this lace front wig any color you wish if you choose at some point.
What makes this product impressive is that aside from the natural appearance it offers, it also includes adjustable straps and combs, for easy wear.
This is one of the best blonde lace front wigs with baby hair, it includes baby hairs along the front which will further enhance the natural look when you wear it.
Reviewers have reported the hair is soft and tangle-free.
It has good hairline and can be parted anywhere in front of where the lace is. It tends to blend well when placed against the skin. For best results, I suggest you use loose powder on your part to further enhance the illusion of the hair growing from your scalp.
8.Sexy Bob Curly Lace Front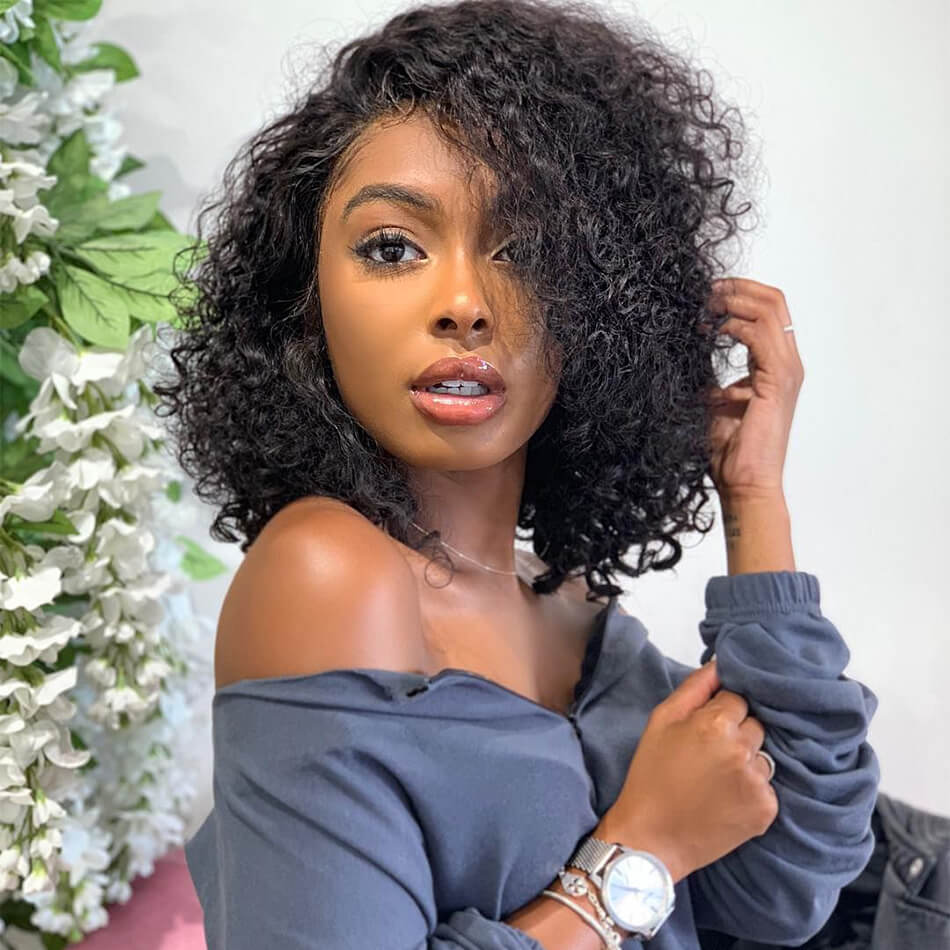 Bob curly front lace wigs are the best lace front bob wigs. Silky smooth and soft to the touch, these tangle-free and shedding-free wigs are made from 100% Brazilian Remy high-quality human hair.
They have a newly upgraded hairline which is more natural-looking than ever before and even has baby hairs around the hairline just like your natural hair.
Virgin untreated hair can be dyed, permed, straightened and washed to return it to the original texture making it fully customizable to your tastes. This wig is durable and with proper care can last longer than a year.
The color and texture of the hair are natural and true to the original hair they are created with. The hair is all hand-tied on a strong and invisible swiss lace making it very high quality.
Features:
The lace color is medium brown
Hair color is the natural color of the hair
180% density
Hair length options from 8 inches to 24 inches
9.Hot Sale Virgin Hair Wig Highlight Colored Wig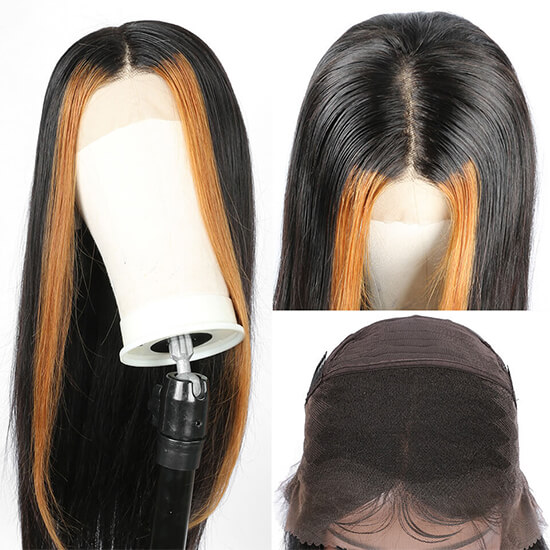 GET DETAIL ON EVAN HAIR
You must get one highlighted hair wig 2020. You can be the most popular in the crowded.
Perfect for special occasions, this 100% Brazilian virgin human hair wig is completely hand-tied and features baby hair enhancements all along the front of the hairline for an incredibly realistic look.
The knots are all bleached, so hair appears to be coming from your natural scalp, allowing the hair to be parted anywhere and still look natural. The hair is very thick and full with 180% density that looks great styled down or up in a bun or high ponytail. Virgin hair allows you to perm, dye, or bleach the hair and style it any way you like to achieve your desired look.
Features:
Pre Plucked Natural Hairline;
give your hair a sun-streaked, natural look;
safer coloring method than having a whole head of bleach;
create depth and the illusion of fullness;
modified face.
10.HD Transparent Lace Wig Human Hair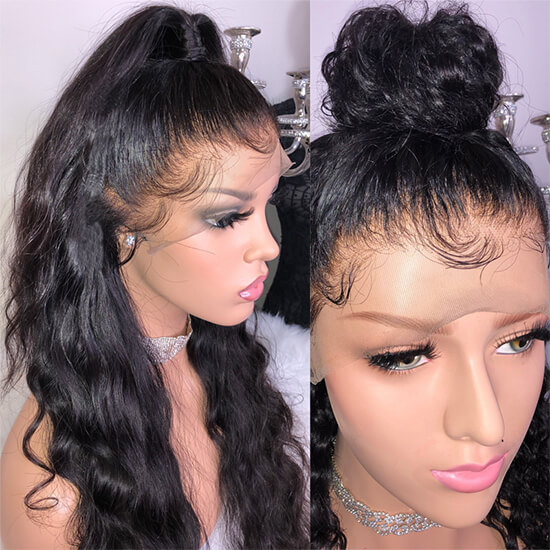 GET DETAIL ON EVAN HAIR
Highly recommend by many KOL because of the quality and it's natural looking.
13×4 HD transparent lace wig, using 2019 new trend swiss lace, it is more natural than medium brown lace, blends well with the most hair weave and a perfect match to human scalp, easy to bleach and blend.
Hair Density: 180%. Cap Size: Medium Size Default(22.5″) and HD Transparent Swiss Lace, if you need small size(21.75″ should be customized) and large size(23.75″ should be customized) please contact us in advance.
Pre-treatment: Before wearing the product, please use a wide-tooth comb to comb the hair and sample finger-style gently, then give it a little lightly shake to relax the hair texture to its original style.
100% Brazilian unprocessed virgin Remy human hair, can be dyed, bleached, curled, straightened and restyled as you like.
Gorgeous natural Silky Wavy Wave wig, 100% unprocessed human hair wig and Pre Plucked With Baby Hair, 180% density Lace Frontal, soft and no Shedding so that you can feel comfortable with this lovely wig
Who Should Buy A Lace Front Wig?
If you intend to change your hair (temporary or long-term) but don't want to spend a lot of time, a front lace wig might just be a nested choice.
Not only can you style the wig in a variety of strange ways, but you can finish it the night before and then fall asleep comfortably, tossing and turning without worrying about the bedside in the morning.
If you have any problems with your hair, a front lace wig can also help you. So if for some reason hair loss or thinning occurs (which will definitely happen with age), a wig clings to your hair and laces it, which is an ideal way to get your hair back to normal Even if there is just no way to retrieve your sweet lock. Even if you just want to have a convincing role-play, lace wigs can help you.
There are so many reasons to buy a wig, and the list seems endless. The root of all the reasons though is because you're not 100% satisfied with your hair. And truth be told, no one is all the time. As confident adults, we should strive to make ourselves happy both internally and externally. But wearing a wig to change our appearance is a tempting shortcut, and we can't resist it!
Where Is The Best Place To Buy Lace Front Wigs?
Looking for beautiful wigs for women? Our women's wigs are among the best you'll find, including natural, easy-to-style human hair wigs for women. Click & see! If you are looking for the best websites lace front wigs online, here is the right place.
At Evan Hair wig store, you can find the perfect wig. We offer a wide range of high-quality, stylish wig types that give you the look and feel that you desire.
Why Evan Hair Is One Best Lace Front Wigs Websites?
If you want to buy the best affordable lace front wigs online, Evan Hair Mall is the best website to buy lace front wigs.
Evan Hair, as one of the leading manufacturers and brand from China, we focus on providing reliable and natural 100% virgin human hair.  We source the globe, to provide the different regions of hair such as Brazilian, Malaysian, Peruvian & Indian hair to distributor business owners & wholesale vendors all around the world.
● 10 Years of Hair R & D, Manufacturing Experience & Capability
● Direct from Manufacturer; Guaranteed Competitive Low Rate
● Unmatched & Strict Quality Assurance
● Complete Customization Options for Wholesalers
● 24-Hours Online Customer Service Support
● Express & Expedited Shipping Available
● New York-Based Warehouse for Timely Domestic Shipping
What Are You Waiting? Buy Now And Change Yourself!!!

New year new look! 
Everyone wants the best look and feel, and your hair can become something that builds or undermines your confidence. Whether you're dressing up for a special occasion, or trying a new hairstyle, the front lace human hair wig is your ideal choice.
100% Human Hair Lace Front Wigs are easy to attach and remove, totally DIY able. It is simple, completely invisible and giving all-natural appearance.
After reading all of the above information, we believe that you have seen the best front lace wigs. So now, why don't you buy a human hair wig? It will absolutely change your life. Buy now with Evan Hair coupon code to save money!!!
Shop More Popular Evan Hair
Shop for Best Bob Straight Front Wig
Shop for 13*4 Kinky Straight Front Wig Virgin Hair
Shop for Cheap Full Lace Front Body Wave Wig
Shop for 100% Virgin Hair 13*6 Deep Wave Front Wig