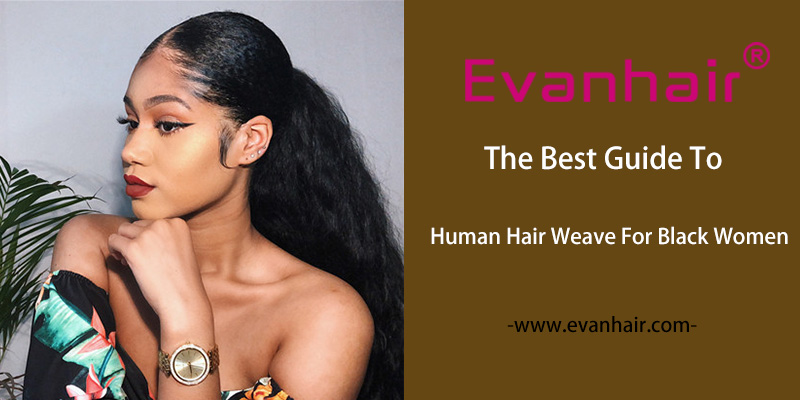 When talking about the topic of hair weaves, it must be controversial. why do African American women seem to wear so much weaves, and what is the difference among the various of hair weave styles, this question can't be explained in a couple of thousand-word blog post, but as a professional hair seller, Evan Hair want to tell you some truth about it.
Is Wearing A Weave Hair Necessary?
Sew-in weave can add a lustrous. Weaves have been bringing gorgeous, thick locks to women especially for African American black women. Getting a weave right from the start is important to creating that relaxed-but-still-put-together look we crave.
According to a report released by Alibaba, Chinese human hair weaves are quietly becoming a foreign consumer now, accounting for more than 80% of global exports.
Every 2 seconds, a weave hair or wig will be bought by a foreigner.
So, where are these mysterious weaves coming from? And where have you gone through the mountains and mountains?
Amazing!!! Half Of Hollywood's Hair Is Fake
Europe is rich in "baldness", and both men and women can't escape the curse of hair loss. So how to do to save your hair?
Until someone turned on the computer and found its existence: Wig or hair piece!
The American "Glamour" magazine has revealed that half of Hollywood's hair is fake. Wei Secret has publicly opened the dressing room in front of the show, and the wigs and wigs are full of eye-catching eyes. This high-simulation and easy-to-wear product has become a favorite of Hollywood actresses!
Speaking of human hair extensions, it should tell the story about black girls…
Why Black Women Weae Weaves?
Brief History Of Black Hair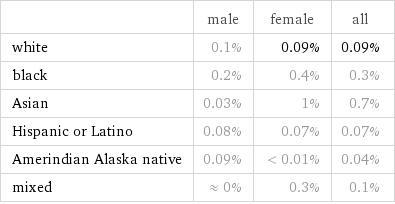 The incidence of alopecia in black women is 0.4%, which is more than four times (0.09%) that of white women.In addition to climate, history, society, physiology and other reasons, there are only two traditional hair styles left by black women.
One is called kinky hair, and the common translation is curling hair, which is what we call "explosive head" everyday. It is a natural hair weave that black women do not modify.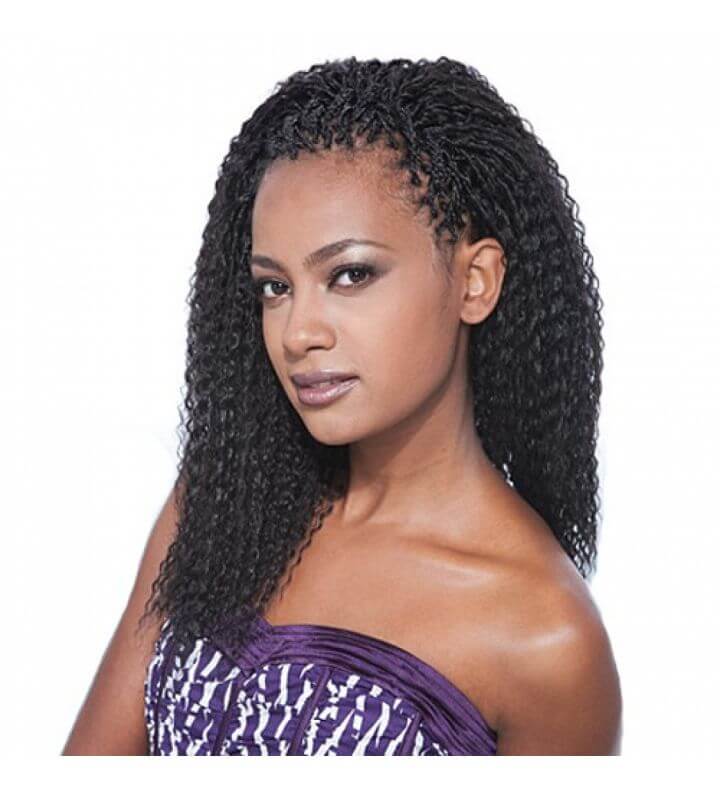 Another kind of braids, the fine hair, the image is close to the "dirty" of the hip-hop music.
Braid hair is not born. Black women go to professional barbershops and cut them naturally to only three or five centimeters. The hairdresser then uses steel needles to weave human hair, chemical fiber, and animal hair with chemical fibers, and weave them into natural hair to form a wig. The entire process takes at least three or four hours.
If black women want to have more attempts in styling, wigs will become the first choice. "Women like wigs, just like our girls like to change clothes. What new styles to meet, save money, must buy. Black girls are also, so they buy wigs.
Other reason may be:
For women in the Western world, hair extensions are a quick and easy beauty solution that has turned into a billion dollar industry. After all, why wait for your own hair to grow naturally, when you can seek a more rapid alternative?
All You Need To Know About Hair Weaves
As the demand for wigs and hair extensions increasing, there are more and more problems released. Easily some of THE most frequent questions I was asked. "What type of hair should I buy?" "How many bundles do I need?" and others like these:
Is Your Brazilian Hair Really From Brazil?
How can make hair looks as natural as possible?
Should you wash it every day?
How long does a sew in weave last?
…
Keep reading, all of the questions you can find the answer in this article.
There are virgin hair, Remy hair weave, Brazilian hair weave, Peruvian hair weave, Indian hair weave, mink hair and other hair pieces for women.
With so many different styles of hair types on the marketplace, picking a suitable hair weave texture can be pretty confusing.
Just like choosing a diamond, picking a weave hair requires a certain level of understanding details. In this guide, we take you from A to Z of buying hair.
First, let's talk about what is a weave hair.
What Is A Hair Weaves?
Weave hair definition:
A hair weave is a human or artificial hair utilized for the integration with one's natural hair. Weaves can alter one's appearance for long or short periods of time by adding further hair to one's natural hair or by covering the natural hair all together with human or synthetic hairpieces. Weaving additional human or synthetic pieces can enhance one's hair by giving it volume, length and adding color without the damage of chemicals or adopting a different hair texture than that of their own. (wiki)
Pros And Cons Of Hair Weave
If you are considering getting a hair weave, you should first weight the pros and cons of getting one done.
Pro: Fast Results
A typical, sewn-in weave takes about four hours to complete, depending on the extent of the weave. This is good news for women who are fickle with their hair and love to change it up. A weave can even come in different colors, so you don't have to dye your hair with harsh chemicals to get electric pink streaks throughout. The change is immediate and lasts for about three months.
Pro: Increase your hair length
Women with shorter hair may not want to wait months and years for their hair to grow out.  a hair weave is an ideal solution; you'll be able to get the length, without having to wait for your natural hair to grow. A hair weave comes in lengths up to 30 inches, so you can get the length of hair that you want, instantly.
Con: Cost
A hair weave can be an expensive habit to start. With each weaving session costing around $150, as of time of publication, and weaving needing to be done every three months, hair weaving can be an expensive beauty routine to keep up. If you are looking for a less expensive version, clip-in extensions may be a more economical choice.
If you happen to be someone who simply wants to add volume, length, or both then a hair weave is just right for you.
WHY GET A WEAVE?
A weave is a wonderful way to create a new style as it gives you the opportunity to add length to your natural hair,Even more importantly, weaves give your own hair a healthy window to rest, grow out a relaxer and add fullness and body to your hair.
WHAT ARE THE DIFFERENT TYPES OF WEAVES?
We always see brazilian hair,malaysian hair,indian hair,and remy hair,virgin hair,are they hair weave?Yes,it is.
Type Of Weave Hair
When talk about hair weave types,we must know types of hair weaves and their names before you are going to buy a hair weave for yourself.
Virgin hair
Virgin hair is chemically unprocessed human hair, also known as Pure virgin hair, it has to be 100% pure.
It cannot have gone through any kind of chemical processing, so when you purchase this hair, it has not been permed, colored treated, dyed, bleached, blow-dried, gone through any other chemical processing.
It's from one single donor so each bundle you buy should from the same donors(the donor could be Indian, Malaysian, Brazilian, etc). This has not been exposed to any kinds of harsh agents and the cuticles all still have to be intact and running the same direction.
If these things are not so, this is not true virgin hair.
Remy hair:
Remy hair: the cuticle is still intact and all the hair is running in the same direction from root to tip.
Remember: Remy hair maybe come from various donor.
If your hair is Remy human hair, you can dye it, you can wash it, and with good care, it should last over 6 months(if proper care).
Remember: Hair vendors often mislead the client. In fact, Remy hair just means the direction of the cuticle of the hair.
Remy hair is considered to be the fine quality of human hair because the cuticles are kept intact and not stripped, unlike in most other non-remy hair extensions. But, Remy hair is NOT the best grade of hair.
No-Remy Hair:
Non-Remy hair is hair that does not have its roots aligned (Roots and tips not traveling in the same direction).
Since the cuticle runs in both directions it requires a higher concentration of acid. Eventually resulting in hair with very low moisture, leading to dry straw-like hair.
There are various types of weave hair available. Black women have many different textures of hair. The most sought-after types of weave are Brazilian, Peruvian, Indian, Malaysian.
Most of the hair raw materials come from India, Myanmar, Bangladesh and other countries. After hundreds of wigs in Xuchang are processed into finished products such as process hair and chemical fiber, they are sold all over the world.
They are called brazilian, Peruvian, Malaysian and Indian is because of the hair recourse. It named according to where did the hair collect? Besides, each of them has different characters.
Brazilian Hair:
Brazilian hair is collected from donors in the South American region. Most of the donors come from small, rural places within Brazil, where the donors are paid for growing and then donating strong, healthy hair.
Peruvian hair
The hair type is extremely thick, light, soft and luxurious, and this hair can require fewer bundles to give a strong, full body look.
Although it's coarser and thicker than Malaysian or Brazilian hair, This hair also blends well with most hair textures.
Indian hair
This hair is versatile, naturally silky and lustrous, it comes in straight hair, curly hair, loose wave, natural wave, body wave and deep wave textures which don't undergo any chemical treatments to attain a particular style.
Malaysian hair
Malaysian Virgin Hair is heavier, thicker than Indian hair, as well as being softer and silkier than Indian hair. The hair has an extremely luxurious feel to it and has a great natural shine.
Each type of weave is characterized by a particular texture and comes in multiple wave patterns including straight, wavy, deep wave or tight curly.
Also check out Evan Hair African American hair weave, get your favorite hair weave right now. 
Is Your Brazilian Hair Really From Brazil?
Have you ever wondered if your weave hair really comes from India? Or Brazil? Or Mongolia? Or Peru? Well, sorry to break it to you, but most likely it does not. The human hair trade is a growing – and very lucrative – industry. With sales exceeding 12 billion dollars a year, customers should look out for scams and marketing ploys of every kind.
WHAT IS THE BEST TYPE OF Good Hair Weave TO GET?
Deciding which type of weave is right for you depends on a number of factors: how long you'd like it to last for, the length and amount of volume you're hoping to achieve.
The best and safest option is the sewing weave as this method works well with most hair types. Stay away from bonding as this can also result in traction alopecia or balding in certain areas of the scalp.
Editor's NOte:
The major object to choose hair weave is to match your own hair most natural, and then, you should consider your budget and how long you would use it. The most you should know is to choose high-quality hair, because the higher the quality of the hair, it will look more natural and beautiful, it also can last longer.
How do hair product is a secret all the time. Now I will show you the truth of this.keep reading:
How Do They Make?
The production process of  black women hair weave as follow:
1. Acid treatment, which cut off the cuticle. After acid hair will not be knotted, and after acid hair is called mature hair.
2. Catalytic and neutralization, the catalytic role is to make the hair more easily fade, and is to achieve acid and alkali, and before are used in acidic syrup, with alkaline medicine and its neutralization.
3. Hair and shampoo, according to customer requirements with different colors, and hair on the excess fuel on the line washing.
4 finishing hair: the different grades or the same grade of color hair (the same color number) in accordance with the provisions of the ratio of uniform participation, finishing process
5. Double-needle sewing: the hair will be neat according to a certain important measurement, through the triple-made the same weight and size of hair curtains, and the above thread and dirt combed clean.
6. High-temperature stereotypes: the color of the hair after the two-pin mechanism to make high-temperature stereotypes through a variety of curvature.
7. Packaging, according to customer requirements, the use of packaging materials for packaging, packaged directly into the finished product area, pending delivery.
 You can get more information in the below video.
How To Make Your Hair Looks More Natural?
Closure can be a good choice for you. Why use hair closures?
♥ Versatile Part.Lace Closures are a fairly popular item for women who care about their hair. The flexibility and versatility of closures make them applicable for just about all types of hair, whether natural, scanty, permed or the less thrilling receding hairline.
♥ Color to go.You dye your weave any color your heart desires without having to color your real hair to match.  You no longer have to worry about damaging your real strands trying to color match your weave to your leave out.
♥ No Blending, No Worries! For women who wear human hair weave, it is very important to makes the hair wigs look natural. Lace closure is often required to makes your own hair and human hair pieces well blended at the hairline area.
♥ Protective style. Lace closure is usually installed by sewn in to cover the top area where the weaving hair gets sewn in. It also can gives wearer a natural hairline and scalp area with no hair leave out with properly installation.
How Many Bundles Do You Need?
Before you ask how many bundles you need with a lace frontal 360, you should think about what factor will affect your choice.
Size Of Your Head:If your head is bigger or smaller you'll need to adjust the number of bundles you purchase to accommodate that.
Length:Rule of thumb: the longer the length of your bundles, the more hair your generally going to need.If you want a long hair weave,you should buy more hair bundles.
Texture:straight hair and curly hair are on the opposite sides of the density spectrum which must be taken into account when deciding how many bundles of weave you'll need.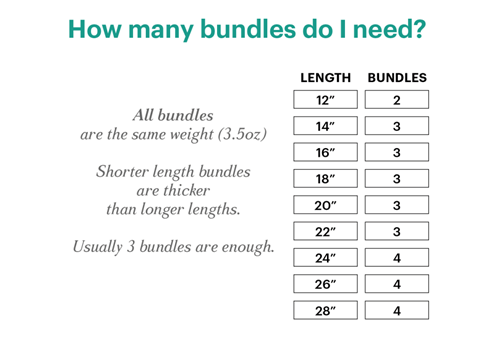 Usually, you can get three bundles for your primary sew in, that's typically the magic number for your average sew in.
With three bundles anywhere from 8 inch to 18 inch;your weave will be full, flowy, and glamorous. If your sew-in is starting with lengths over 20 inch hair weave;you might want to consider four bundles. You can see the picture below.
Tips: We recommend 2-3 for a naturally full look. Although straight hair is still full from root to tip, you might need more bundles to create a super full look. We recommend 3-4 human hair weave bundles with closure.
Our Favorite Hair for Women: Terial Walker recommends the water wave hair weave, 100 human hair jerry curl weave, ombre hair weave, and wavy Brazilian hair weave. These are top-rated, high quality, affordable weave with natural hair for sale from some of the best black hair weave in the world. These premium hair weaves are fashionable and can be worn daily.
How To Sew In With A Lace Frontal Closure? 
Step 1: Preparation
1. Using an invisible needle and thread (so it seems like the thread just disappears) .
2.Getting the threaded needle lying next to the spool.
Step 2: Sew-in
Braid the hair in parallel format from front to back. Then I place the weave on the head and feel out the braids and part around the head.
Always make sure you line the hair up right where you want it to be. Using hair pins to pin it in place. Then we begin to sew right above the temples, down and around to the other side (there is no thread right in the very top).
It is very important to take the needle under the braid that way it forces the lace to lay down flat.
Step 3: Final Product
After I'm done sewing, I flip up the edges and apply my adhesive. That's it……The finished product.
HOW LONG SHOULD YOU LEAVE YOUR WEAVE IN FOR?
When talking about this question, different people will give different advice. Maybe  6-8 weeks, or you can leave an install in for upwards of three months with proper cleansing.
However, I think here is the most logical advice: Your hair will tell you when it's time to take your weave out. I couldn't agree more.
Itching, dryness, oily scalp loose braids…the list goes on and on. The longer you keep that weave in, the more you risk damaging your hair and the weave won't cooperate with styling as time goes on.
How Long Does A Sew In Weave Last?
How long does a sew in weave last? I think a sew in weave can last from 3 months to 3 years depends on many factors. It usually depends on how well the hair is and how well you take care of it.
Usually,sew-ins can last up to 6 months. With proper care, it can last longer. But It really depends on the texture and your care of the hair. Yours sew in weave hair can last up to 1-2 years with proper care. The virgin curly, kinky curly, bushy textures tend to not last as long as the straight and natural wavy due to over brushing and over combing. But you should still get 6 months to a full year out of your hair and possibly longer.
WHAT ARE THE BEST TYPES OF HAIR TO USE?
There are a number of hair weave brands such as Evan Hair and so on, whatever you choose which brand, you must choose high-quality hair weave, for example, virgin hair, Remy hair extensions, Brazilian and Peruvian, These are all reusable and of the highest quality. You can purchase these from local hair shops and online stores and it can help you save more money.
How Long Can You Keep Your Weave In?
The amount of time you can keep your weave hair bundles in depends on your hair type, hair texture and skin type. It also depends on the type of wig/weave you go for. Weaves have a shorter lifespan than wigs of approximately three to four weeks. How often should you wash it?
How Often Should You Wash It?
This is very much down to personal preference but also depends on how many times a week you are wearing your wet n wavy human hair weave (if it is a wig). If you're wearing it every day, it may need a weekly wash and condition. For weaves, this is slightly different as it is recommended to wash it less to avoid loosening the braid base.
How To Distinguish Human Hair And Synthetic Hair Weave?
Synthetic hair may still be popular, but it cannot be heat-styled, curled or straightened. So for more permanent extensions salons rely on human hair.
With it comes an array of jargon.
There is Remi hair (all strands face the same way and often come from just one person's head); virgin hair (unprocessed); double drawn (all the same length). The hair can be attached with a weave – when strips of extra hair, called a weft, are sewn into thin plaits of the customer's own hair – or attached to the customer's own hair using micro rings, or even glue.
But while such terms may trip off the tongue of dedicated customers, few seem interested in the human beings it came from.
In general, the differences between the two are still very obvious, mainly in the following aspects:
1.Cost
Synthetic hair is composed of some chemical materials, there is no care cost and collection cost as the human hair, so its price in the market is much lower than real human hair.
2.Restyled
The human virgin hair can be restyled such as dyed, steamed, straighten. But the synthetic hair is very sensitive. It is hard to change another style.
3.Quality
The human virgin hair is easier to blend with your own hair, and the lifespan of human virgin hair extension is longer than the synthetic one. That is the most important reason why people love human virgin hair extensions instead of the synthetic one.
Can I Dye And Style The Weave As I Please?
Yes, you can color and dye your human hair extensions if you want ombre human hair weave. You can also
straighten, curl, style, air dry it.
Can You Take Your Own Weave Out Or Should You Go To A Salon?
You can definitely take out your own weave – it's not as hard as it may seem. When putting in a weave, the corners are doubled up with thread for security. So, if you just cut that thread, it unravels. It only takes about an hour but, again, this depends on how fast you are.
There are so many amazing styles to choose from when it comes to wigs or hair weaves.
If you ever thought about trying a new color for your hair the options are literally endless and there is no style out of the question.
Whichever best fits your hair circumstances you can feel comfortable knowing you have so many options to choose from.
So shop around and make your appointment with your stylist today, your next best hairstyle is waiting on you.
Top Black Hair Weave Styles For You
Overall we can conclude that 100 human hair weave is a high-quality weave or extensions that are at the top of its quality. Also, go with your best judgment if you keep your primary focus on finding the best quality hair weave we know you'll make the right choice when it comes down to your hair purchase.
Shop More Popular Evan Hair
Shop for affordable Malaysian Body Wave Hair 4Pcs
Shop for Remy Straight Hair Bundles Best Raw Virgin Hair
Shop for Virgin Remy Loose Wave Hair Bundles Deals 
Shop for Evan Hair Indian Virgin Hair Deep wave 3 Bundles