Many people, even sellers misuse the word and confuse Remy hair with Virgin hair, or think that Remy and Virgin hair means the same thing. Remy Hair does not always imply Virgin hair, in fact, it rarely means that. Although the two terms are used synonymously, they are entirely different in meanings.

Virgin hair
Virgin hair has never-ever been processed in any way. No color, no chemicals, no nothing. Completely natural and all cuticles are facing in the same directions. Remy hair only means that all cuticles are intact and facing in the same direction. Virgin hair is chemically unprocessed human hair, which is collected from a single donor. The virgin hair is Remy hair that has not been altered by dyes, perms, bleaches, or harsh washes. Please read our first blog explaining what Virgin Hair is.
Remy hair
Remy(Remi) Hair is considered to be the high quality of human hair. And it actually describes the quality of hair used to make up the particular extension.  Also, the hair cuticles are intact, in one direction and consist of cuts which are the same length. This provides a smooth texture and allows the hair to last longer and style more naturally. So although all Remy hair is Virgin hair, not all Virgin hair is Remy hair.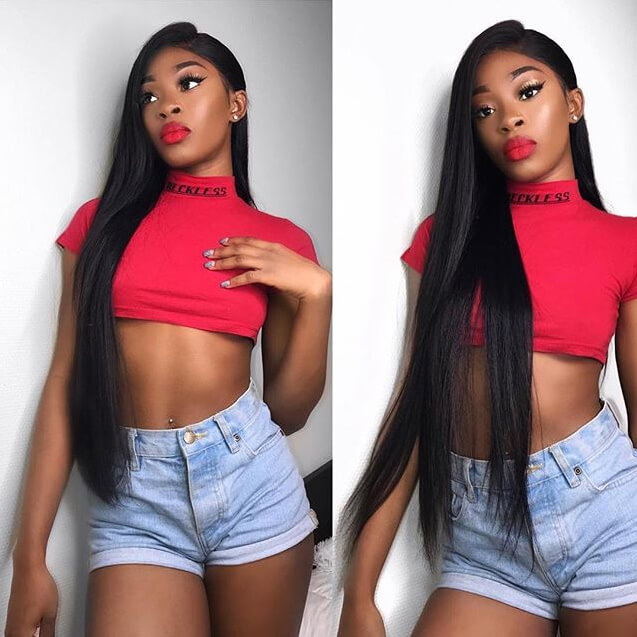 Remy hair extensions are beautiful and more natural, so they look like the individual's own hair. It will cost more to invest in Remy extensions, the results achieved are far more stunning and long-lasting than by using synthetic or lower grade hair. And it can be styled using flat irons or curling irons, just like your own hair.
So you can buy virgin hair, Remy hair or virgin Remy hair for the ultimate deal on never-treated hair bundles with the cuticle intact and all strands facing the same direction.
How Should I care?
Brush before bed and before washing to ensure there are no natural occurring tangles caused by wind or friction
Do not brush wet hair as that is when hair follicles are at their most vulnerable.
Use an Organic and sulfate free shampoo. Sulfate strips hair of natural oils, as there is no direct supply of nutrients from your scalp into the extension strands, its vital that you use a no sulfate shampoo to avoid drying the hair out.
To avoid damaging the hair extensions, the cuticles and your scalp, only wash with warm water.
Wash the hair gently in a downward motion with your palms, do not scrub or bunch the hair together as this will cause open cuticles to rub against each other causing friction.
Rinse between each wash, and wash only 1-2 times.
Whilst wet, add 2-3 drops of natural oil such as Almond or Coconut by gently applying it evenly over the hair, these oils will penetrate the cuticles and add moisture to hair extensions.
Natural oils do the work of most conditioners without the added chemicals and silicones, natural is always best.
Finally, lower the shower head and rinse your hair (not scalp) with cold water, this is known as the Arctic Rinse it will close the cuticles to lock the moisture and nutrients from the oil in, leaving you with nutrient-rich hair extensions.
Let your hair air-dry at home, take 2-3 hours to wash and naturally dry your hair – Do not use heat as this will swell and dry your strands.
Apply a small amount of Argan, Almond or Coconut oil 2-3 times a week or when required. Argan oil is a great finishing oil for styling and frizz, however it's a dry oil and does not moisturize the hair as well as Almond or Coconut.
For long lasting hair extensions, moisturize your hair as you do your skin, it makes perfect sense.
Shop More Popular Evan Hair
Shop for affordable Malaysian Body Wave Hair 4Pcs
Shop for Remy Straight Hair Bundles Best Raw Virgin Hair
Shop for Virgin Remy Loose Wave Hair Bundles Deals 
Shop for Evan Hair Indian Virgin Hair Deep wave 3 Bundles