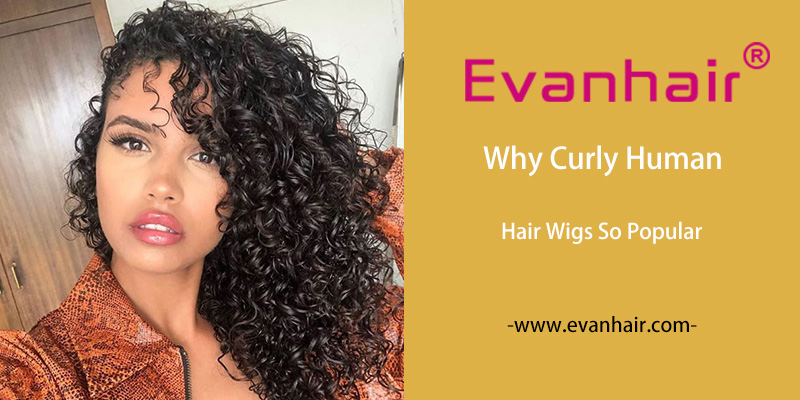 African American women like curly hair wigs, that's why curly hair bundles and lace closure or lace frontal always is the best selling in Evan Hair.
We only have two kinds of curly hair – jerry curly hair and kinky curly weave. By texture, it can be divided into Brazilian curly lace front wig, Peruvian curly hair, Malaysian curly hair, and Indian curly wigs. By the length, you will see long curly wigs and short curly wigs. Today we will share with you how to install and maintain your curly hair wigs.
How to install curly human hair wigs
First, prepare for the wig install, you should make a test to check whether your skin is allergic or not. Please make sure the wig is safe for your skin. Using a flat iron to make your own hair flat, you had better braid short hair into rows or mold. If you have long hair, you can tie your hair in a low ponytail, and wrap your ponytail into a flat bun and secure it with pins. Then clean your skin with a gentle cleanser and blot it dry with a towel.
Second, put on your curly wig, and adjust the strap. Before you apply any adhesives, you need to make sure the wig fits your head. So you place the wig on your head and line it up with your natural hairline. If you adjust the strap, and the wig is still not fit, you need contact with the seller for help. Evan Hair accepts 30 days no reason return, but please make sure the wig you haven't use it first. Trim the lace forehead. When the wig is fit for your head, you can adhesive to fix it, and trim the extra part gently to make sure the edge it natural.

How to maintain curly wigs
Curly hair requires some special considerations when it comes to caring. Curly hair tends to be drier and more prone to tangles than straight hair, so you'll have to be careful about washing, conditioning, and styling your hair. You should limit how often you shampoo, and use products to keep your hair moisturized. When visiting a salon, make sure you request a dry cut and only cut your hair when necessary.
1. Nourish with shampoo.
Curly hair often tends to be dry because the oils produced by your scalp struggle to reach the ends of your strands, due to the kinks and curls. Use a nourishing shampoo for curly hair such as some Nourishing Oil Care Shampoo. It's formulated with weightless vita oils to deeply nourish hair and control frizz leaving it more manageable from the first use.
2.Pre-wash treatment.
Equally, if you're prone to frizz, nourishing oil is your friend. Try massaging Nourished Shine Hair Oil from root to tip before washing. It's infused with hibiscus and argan oils to add shine and leave hair silky.
3. Go easy on the drying.
After you wash your hair, don't towel-dry it, as that will only cause your hair to frizz. Instead, tilt your head forward and squeeze upwards gently to get rid of the excess water.
4. Use your diffuser.
A big part of curly hair care is learning to dry it gently and minimally. When you blow-dry your hair, use a diffuser (which reduces frizz by distributing the heat evenly) – but don't over-dry: just dry out the majority of the water and then leave the rest to dry naturally.
5. Minimize brushing.
It might go against everything your mum taught you, but don't brush your hair. Brushing is too aggressive for curly hair – it will pull out the natural curl and you'll lose definition and provoke frizz. If you must unpick a tangle, do it when your hair is wet (avoid combing your hair when it is dry) using a wide-toothed comb, start at the ends of the hair and work your way up to avoid breakage.
6. Use oils on wet hair.
Apply curly hair products while your hair is still wet. This will help lock in the moisture and keep your curls thick and lustrous. A few drops Nourished Shine Hair Oil adds luminosity with every use for beautifully healthy-looking hair. Perfect for a mid-week treat for your curls.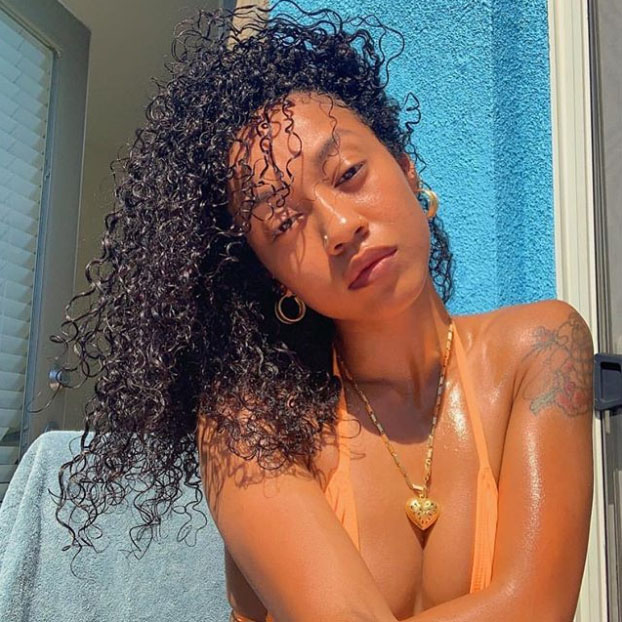 To make sure your curly wigs last longer, please remember these tips about do and don't.
1. Do: use a diffuser
    Don't: Be afraid of using a hairdryer
The best way to make the wigs dry is by the natural wind, but if the time is not enough, you will use the hairdryer, everyone knows that heat is no good for the hair. Before you use the diffuser, apply some nutrition oil on the hair to protect the hair from the heat. Diffuser attachment will help define your curls by distributing heat more evenly than a standard barrel dryer. Just make sure turn the heat down to low or turn it off completely.
2. Do: Find a stylist who is professional in curly hair
    Don't: avoid haircuts
For a while, you need modify your curly hair, when you plan to cut it, please make sure find a professional hairdresser to do it. A trim will help you maintain healthy ends and make sure your curls aren't weighed down. It means you need to find a good hair dresser who is a pro with handling curly hair well.
3. Do: use a renewal spray on your curly hair wigs
    Don't: wash your wig every day
People think they wash their wig every day, so this will help keep curls and fresh. But you can think about it, wash more, wig strands turned to dry and lose the oils which keep them healthy. After you wash your wigs, please use some olive oil and renewal spray nutrition your hair. Even our own hair, when you don't use conditioner, it will dry a lot. One thing is your body needs some element to keep your hair healthy, another thing is because you need to make special care about your hair, especially because women like dye or perm their hair. So you can think a wig needs more care about it.
4. Do: choose a wide-tooth comb
   Don't: own a hairbrush
If you want to keep your wig curls, you shouldn't use the hairbrush. If you find your hair need a brush to prevent tangles, please gently use a wide-tooth comb through wet strands while you are in the shower just before rinsing out your conditioner.
5. Do: using your fingertips to style your curls
    Don't: run your fingers through your hair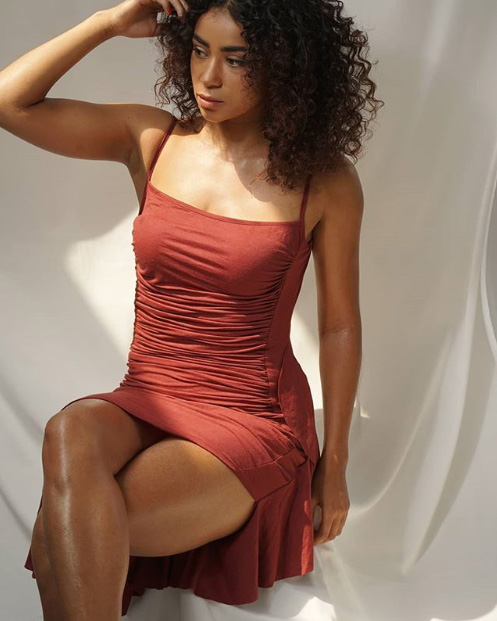 Knowing about all this, we think you can use your curly wigs very well.
Shop More Popular Evan Hair
Shop for Curly Hair Wig 100% Virgin Human Hair
Shop for Remy Straight Hair Bundles Best Raw Virgin Hair
Shop for Virgin Remy Loose Wave Hair Bundles Deals 
Shop for Evan Hair Indian Virgin Hair Deep wave 3 Bundles