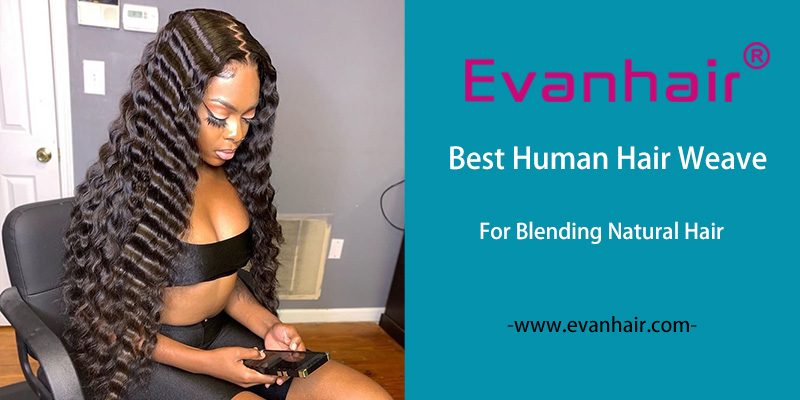 There's nothing that brings the authentic look of a woman than when you wear a weave that you will blend with your natural hair.Natural hair, especially for blacks is weak and as such, One can make hair length gains by wearing weaves. If you want to appear beautiful and stylish.Here are a few striking best weave for blending natural hair you.
Best hair weave for blending natural hair with straight weave
For those wanting a sleek and chic look, a straight weave for natural hair is a gorgeous alternative to the curly look. Just like with curly weaves, it is important to leave out just enough of your natural hair so that the hair can blend naturally with the extensions.
Blending natural hair with straight weaves means it is likely that you will need to use a flat iron to get your hair straight enough to blend with the extensions. When choosing this option, be sure to adequately protect the hair before straightening it to minimize the damage that can occur from flat ironing.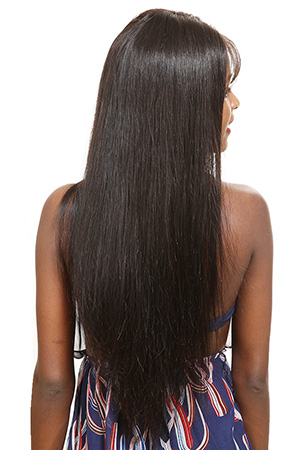 It is a good idea to try to select a straight hair extension that has the same texture as your flat ironed natural hair.
Evan Hair offers four types for you to choose from. Including Brazilian straight hair, Malaysian straight weave, Peruvian straight and Indian straight hair.The most popular one is Brazilian straight human hair weave.Sew in weave give a natural invisible part, in weaving technique natural hair is woven and tracks are created.
Best hair weave for blending natural hair with curly weave
One of the best aspects of having a curly hair weave is you get to choose whichever texture and curl pattern suits you. You can choose a style of weave that matches your hair, or you can opt for a different curl pattern and texture.
Curly weaves are excellent for ladies who want their hair to look natural but love to have the styling versatility longer lengths offer. There are several types of curly weaves on the market.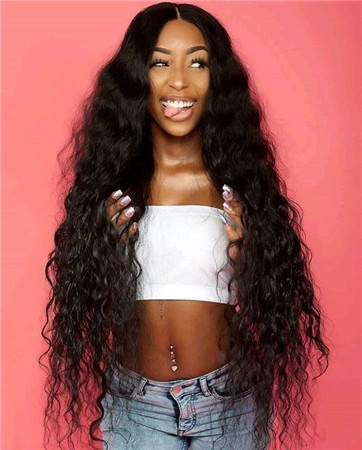 Evan Hair best curly human hair for sew in weave will be your best choice. Whether you are looking for a long, lavish curly hairstyle or a shorter everyday do, you can find a perfect look with our selection of virgin curly human hair bundles collection: brazilian curly weave, indian curly hair, malaysian curly bundles and peruvian curly hair extensions.
With curly hair weaves, you can have the freedom to change your look without the damage of perms and relaxers. Remember that it is a good idea to wait several weeks before having your next weave installed.
Best hair weave for blending natural hair with wavy weave
To blend your hair with wavy weave we suggested a good twist out.
By twisting your leave-out with the extension hair, you can make sure the patterns match.To maintain the blending at night, you can twist the hair and set it in a bun. The technique works whether you have relaxed hair or a natural hair pattern.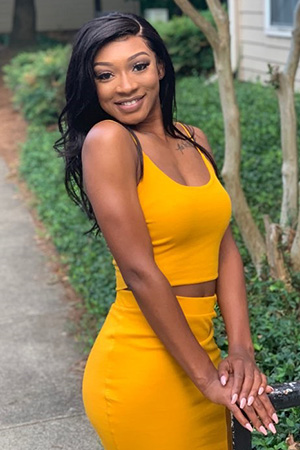 If you are looking for the best weave to blend well with your natural wavy hair. Natural wavy hair weave styles are as varied as the women who wear them and switching looks can be fun. Maybe Brazilian wavy weave, malaysian body wave sew in,peruvian wavy and indian wavy remy hair. Wavy hair texture is wonderful to help you achieve a gorgeous and pretty looks.
Best hair weave for blending natural hair with kinky curly weave
If you want to improve your hair definition and volume, Kinky Curly hair is a good choice. Although they can't get enough Brazilian curly texture. But kinky curly is similar to the curly texture in terms of softness, maintenance, and styling, and has additional coils and volumes. Undyed, without any chemical treatment, easy to manage, and can be designed according to its needs.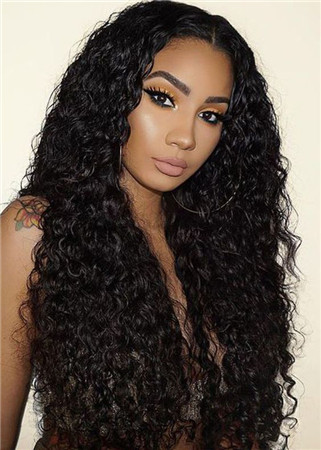 You can match virgin kinky curly 3 bundles with a closure or frontal for your natural look, When you shop with Evan Hair you can rest assured that you will be getting only the highest quality weaves and hairstyles from top brands.
Best hair weave for blending natural hair with deep wave weave
Virgin deep wave virgin hair has a very tight curl pattern. This type of curl is great for that tropical look. Deep wave hair needs to be maintained properly and moisturized at all time.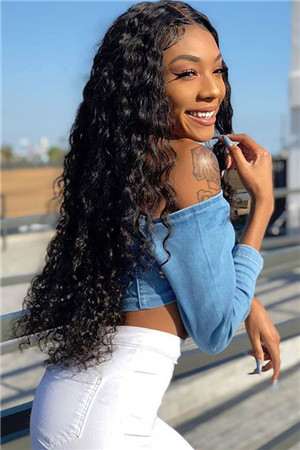 The best way to blend the deep wave virgin hair with your natural hair is by 2 stranding your leave out overnight with your favorite products, and unraveling the twist in the morning.
Our Brazilian deep wave lace closure is the perfect choice if you want a natural looking part of damaging your natural hair. If your hair has been permed or doesn't match the texture of the deep wave pattern, a deep wave lace closure would be a great option for you.
Best hair weave for blending natural hair with loose wave
The main characteristic of the loose wave hair is that its pattern is quite curly.Although the curls are tight, they are very small and loose, as the name itself suggests.
When installed on top of your natural hair the outcome will be very natural, shiny and soft.This hair type is ideal for any face since it looks playful and very feminine.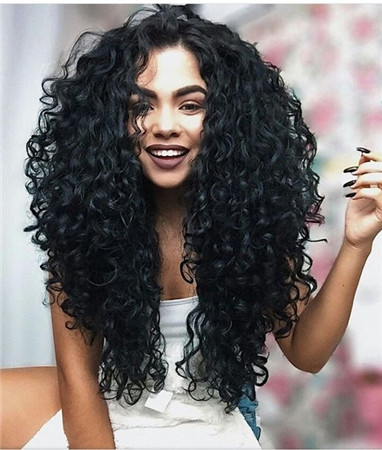 Loose wave hair is a lot more curly and in a shape of a wave, if you want straight hair rather stick to body wave.If you want to buy loose wave hair to your new hairstyle,you can go to loose weave or loose deep wave hair collection to check out.
Best hair weave for blending natural hair with blonde
Looking for inspiration for your next salon visit? It's time to  with some highlights. Brown hair with blonde highlights lets you have the best of both worlds with its rich foundation of brown and sun-kissed touches of blonde.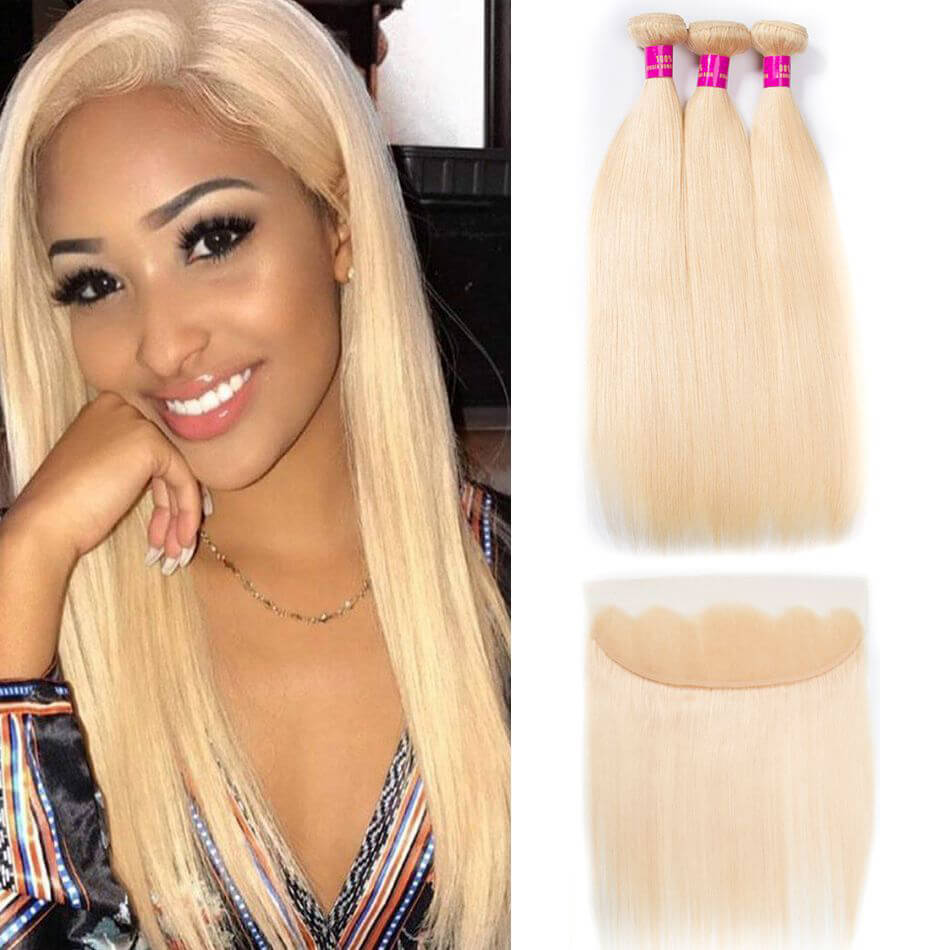 Not to mention, possibilities are endless when selecting the perfect blonde highlights with brown hair blend that matches your tone and personality.
You can get more gorgeous hairstyles with Blonde hair or highlights. Try to change your style! Be a beautiful, charming woman.
---
What's The Best Human Hair Weave For Blending Natural Hair? 
It is so important that you must keep in mind:
1.Hair quality: Good quality human hair weaves may be a bit expensive but are the best option.Avoid synthetic hair weaves: Synthetic weaves may be cheap but they have a more drying effect on the hair than natural weaves.
2.Weave texture: Choose those as close to your real hair texture as possible. This limits the amount of manipulation that has to be done to the hair in order to get it to blend naturally. For your kinky hair, wearing dead straight weaves and leaving out part of the hair to blend is a mistake.
3.Choose suitable hair color blending for natural look: Last but not least, if you want to experiment with different hair colors but don't want to make that commitment on your natural, you should only opt for virgin hair weaves.
---
Shop Best human hair for sew in weave at Evan Hair Online Website
Evan Hair offers all the best selections of best weave for blending natural hair weaves. With a natural human hair weave you can have the best of both worlds. Whether you are looking for a long, lavish hairstyle or a shorter everyday do, you can find a perfect look with our selection of Best Human Hair For Sew In Weave.
There are various types of weave hair available, there's a variety of different textures and types of weave black girls to select.The most hair types of weave are Brazilian, Peruvian, Indian, Malaysian and etc.
Each type of weave is characterized by a particular texture and comes in multiple wave patterns including straight, wavy, deep wave or tight curly.
Which is your favorite? Who will be my next new hair to transform? Hurry up!!!
We promise all of our hair is 100% remy hair,you can wash it, color it, blow dry it and even perm it if you want, just as you would your own hair. As long as you properly maintain your hair, it will sustain its beauty and vitality.
We promise that we will be there to answer all your questions and you never have to feel like you're alone!
Shop More Popular Evan Hair
Shop for affordable Malaysian Body Wave Hair 4Pcs
Shop for Remy Straight Hair Bundles Best Raw Virgin Hair
Shop for Virgin Remy Loose Wave Hair Bundles Deals 
Shop for Evan Hair Indian Virgin Hair Deep wave 3 Bundles