Headband Wig offers you the most natural-looking. They are usually those who simply want to add a little length, volume, or body to their hair without having to do the work of maintaining a standard wig. They can be long-lasting and provide you a wide range of styling options. Besides, detachable headbands can be great for those who find headbands uncomfortable or who would rather use clips to secure their wigs into place.
The best African American headband wigs are very costly. Therefore, you must be very careful while making an investment. In this article, we will share with you what is headband wig human hair? Why choose headband half wig? What is the benefit of the wigs with headbands attached?
What you will learn from this blog:
First, let's talk about What is headband wig human hair?
What is a headband wig?
A headband wig is a type of wig that is made with a piece of material resembling a headband. The wig can be slid around the head and put into place using the headband rather than clips or other fasteners. Headband wigs can come in as many styles as standard wigs do, but their differences lie in the number of insert combs, headband softness, and the ability of the headband to be detached, as well as headband width.
Evan hair headband human hair wig is made of 100% virgin human hair, they are collected from healthy young girl donor and has not chemical-processed at all. It offers you the most natural-looking weaves. Adding a bright scarf or headband to your wig can help it appear as if you are just accessorizing your natural hair.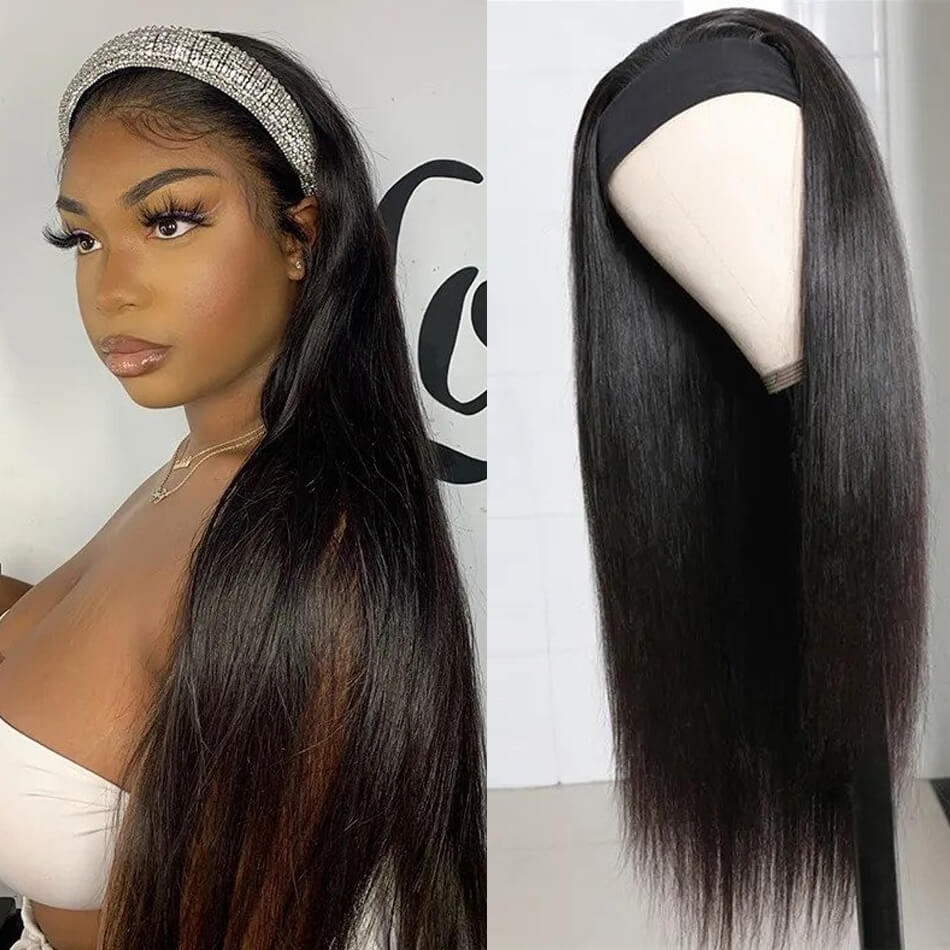 Feature of half wig with a headband
Newly designed headband wigs for black women: This wrap wig 2 in 1 combines a special hand-made turban with a wig together perfectly, which gives you a chic look instantly. The headwrap wig is an exactly new design
The material of this afro wig with bangs: This black wig is made of high quality 100 virgin human hair with a perfect turban, it can be used for a very long time and repeatedly, also more fashionable than other normal wigs
Suitable for all head size: As the turban of this headwrap wig is made of elastic cloth, it suits various head sizes ranging from 20 inches to 25 inches, perfect for almost all head size, and the drawstring design can make it fit your head better
Beautiful in All Occasions: This turban wigs 2 in 1 match your dress, tops, or any outfits for normal and special occasions including going to church, working place, party, gathering, chilling or any public place, so Play up Your Features, Making You Look More Youthful And Radiant
Why choose headband half wig?
For ultimate headband softness, potential wig owners should invest in elastic headbands. Elastic headbands can better conform to the specific contours of a person's head. They can also provide secure attachment to the head without the unnecessary itching that can come with hard headbands.
The headband is perfect for any wig wearer regardless of hair type, texture, or consistency! This amazing band eliminates tension and headaches, prevents bald spots, and safely secures your wigs, scarves, and beanies in place.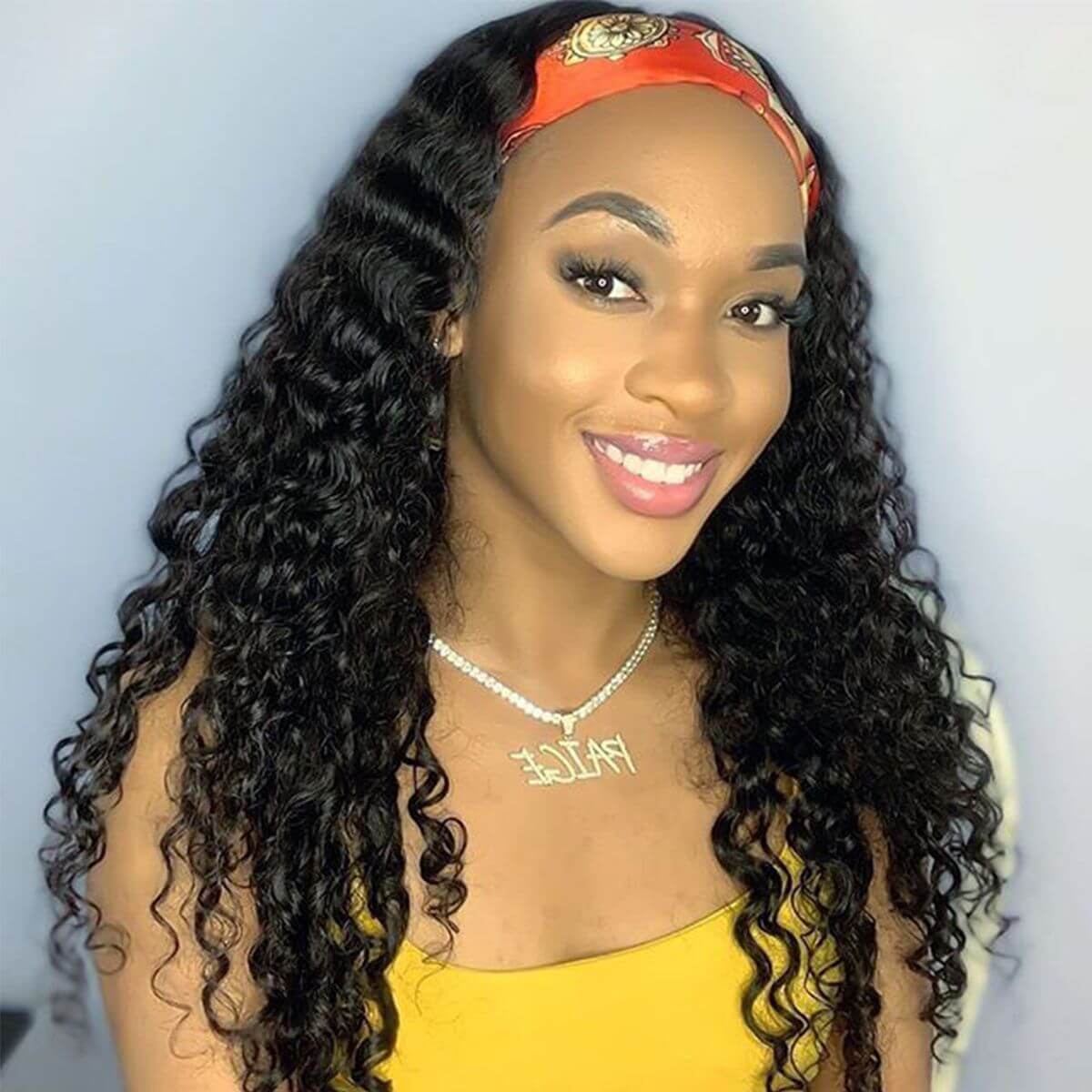 Headband wigs are great protective styles for wig beginners, they're quick and convenient hairstyles. No lace no glue. You can just throw it on your head & go in seconds. It's a lifesaver on busy days, fitness days, and unexpected meetings. Head Bands are optional, you can choose whichever you like.
Headbands For a style that can be dressed up or down, you can never go wrong with a headband! Our headband wigs and hairpieces are the perfect way to embellish your look no matter what the occasion.
Escape is a medium length 3/4 headband wig with straight hair and flipped ends attached to a soft black headband. This stylish look creates a face-framing effect and quickly and easily goes on easily with clips on the inside for a secure and comfortable fit. Simply side on over your own hair and use the clips to attach, you're done! Escape can be placed forward at the hairline or positioned further back on the head to expose your own natural hairline.
Where to buy the best wig with a headband?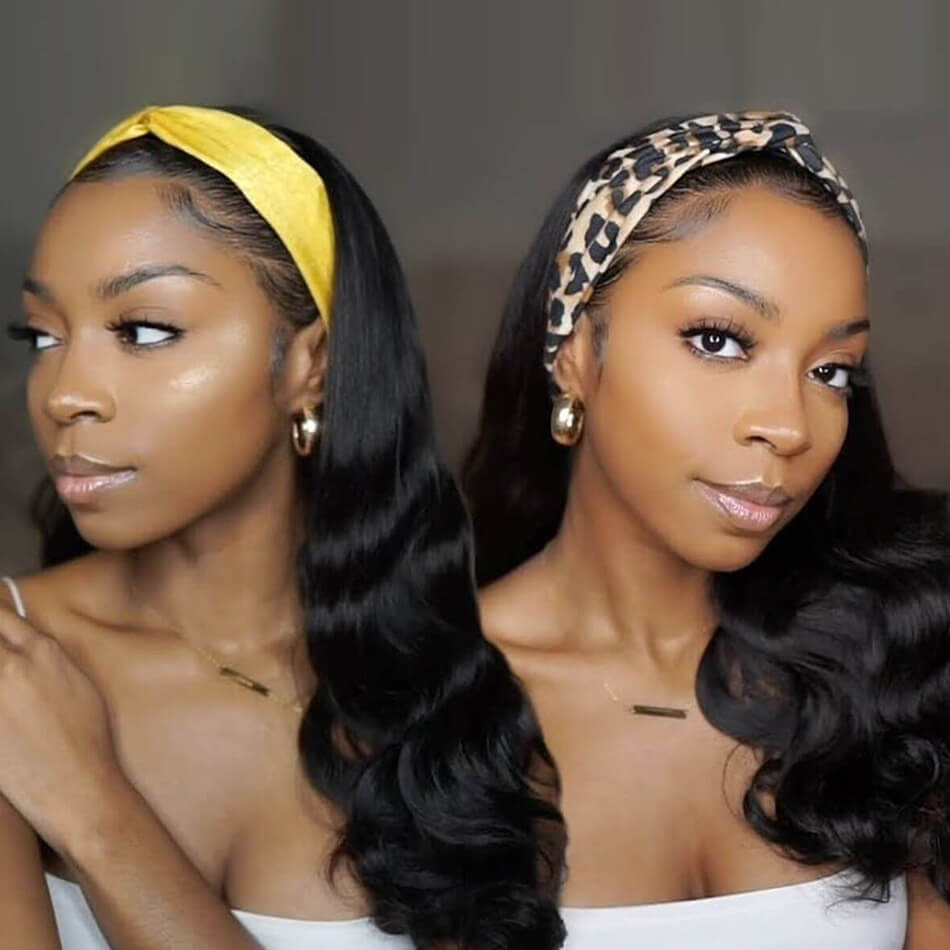 If you want to try this new headband half wigs, Evan hair fashionable human hair headband wig can be a great choice. Our headbands with hair attached to allow you to quickly and easily add volume and length to your own hair in an instant. No more bad hair days, these stunning headband hairpieces and wigs, apply simply placing the band over your existing style, slide it to your desired position, and secure.
Evan Hair Fashion headband wigs and headband hair extensions take your hair to dramatic new lengths in just seconds.
Our headband wigs are perfect for the gym or holidays. They are a half wig made with the finest human hair. There are many different lengths you can choose. The wig is stitched onto a soft jersey headband with no visible seam.
There is lots of giving in the headband so you can be sure this will be a great fit. We have styled ours with a loose braid and a messy bun. These are great for hot weather as they don't have the heaviness of a full wig while still giving total coverage. They hair looks very natural, right down to the flyaway strands.
Best Headband Scalf Wig You Should Have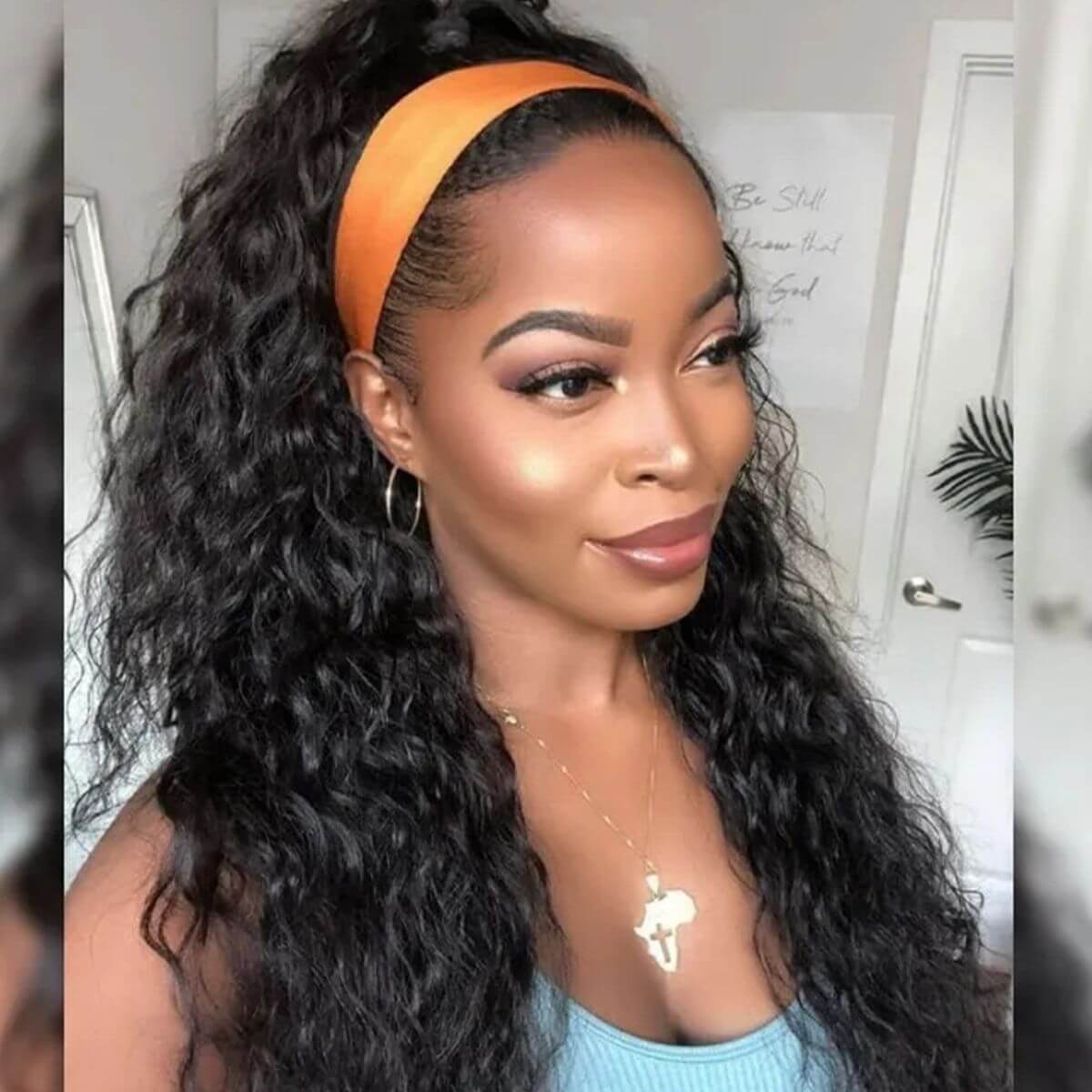 Water Wave Headband Wig
---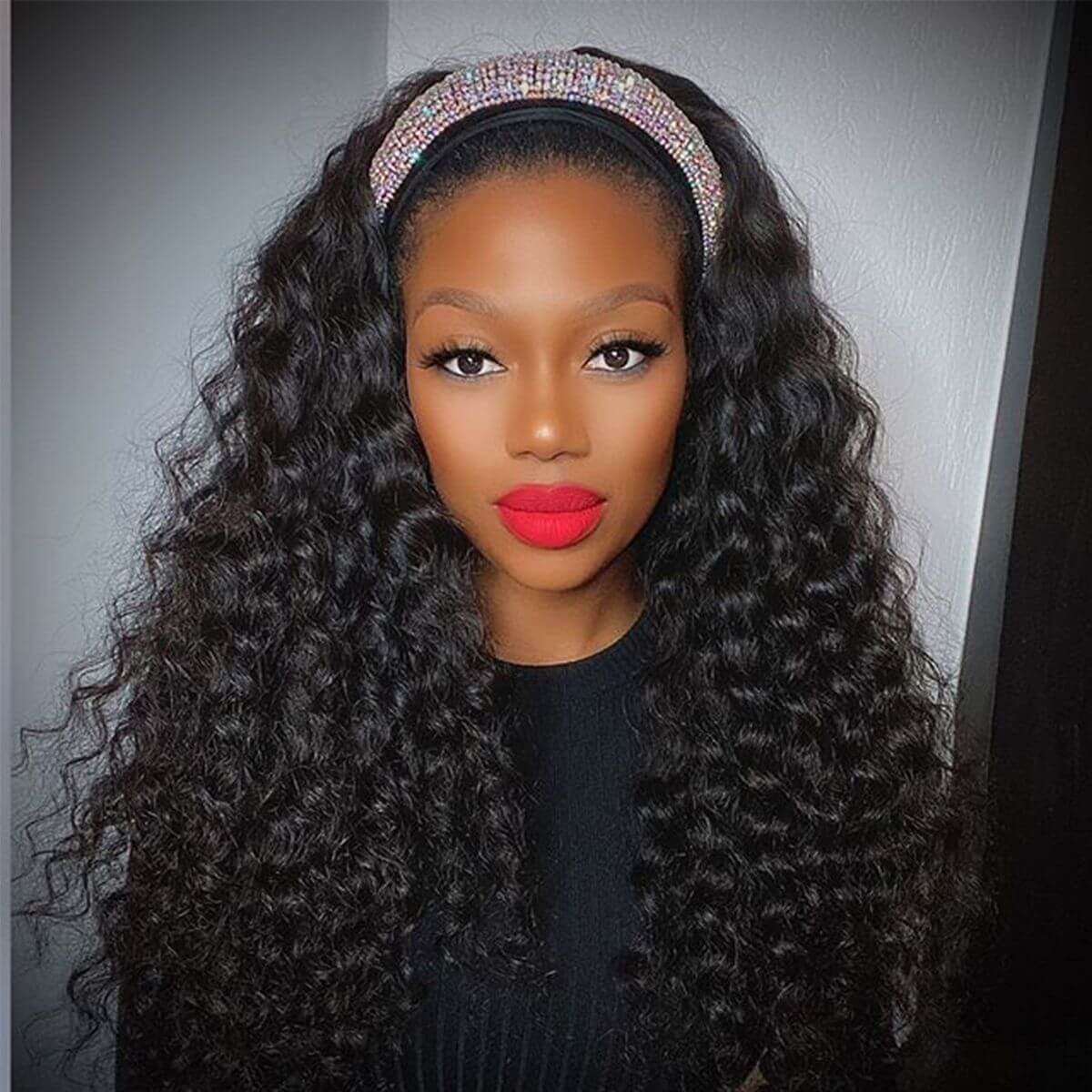 Loose Deep Wave Headband Wig
---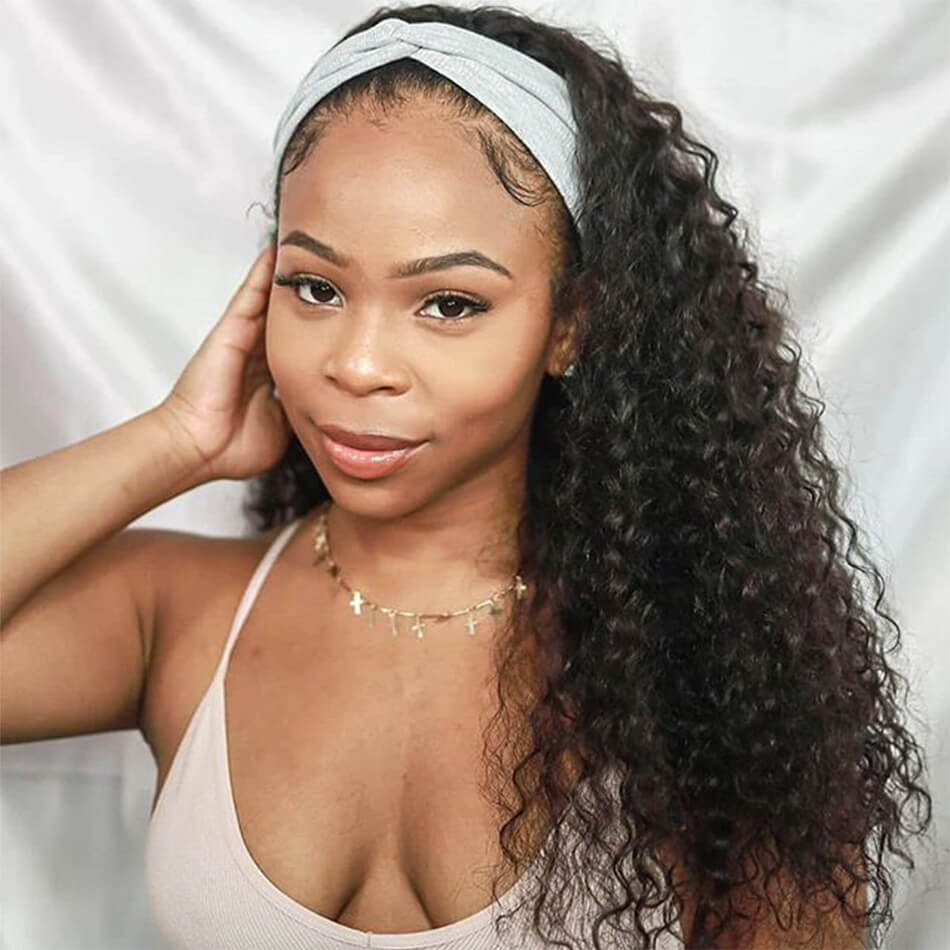 Jerry Curly Wave Headband Wig
---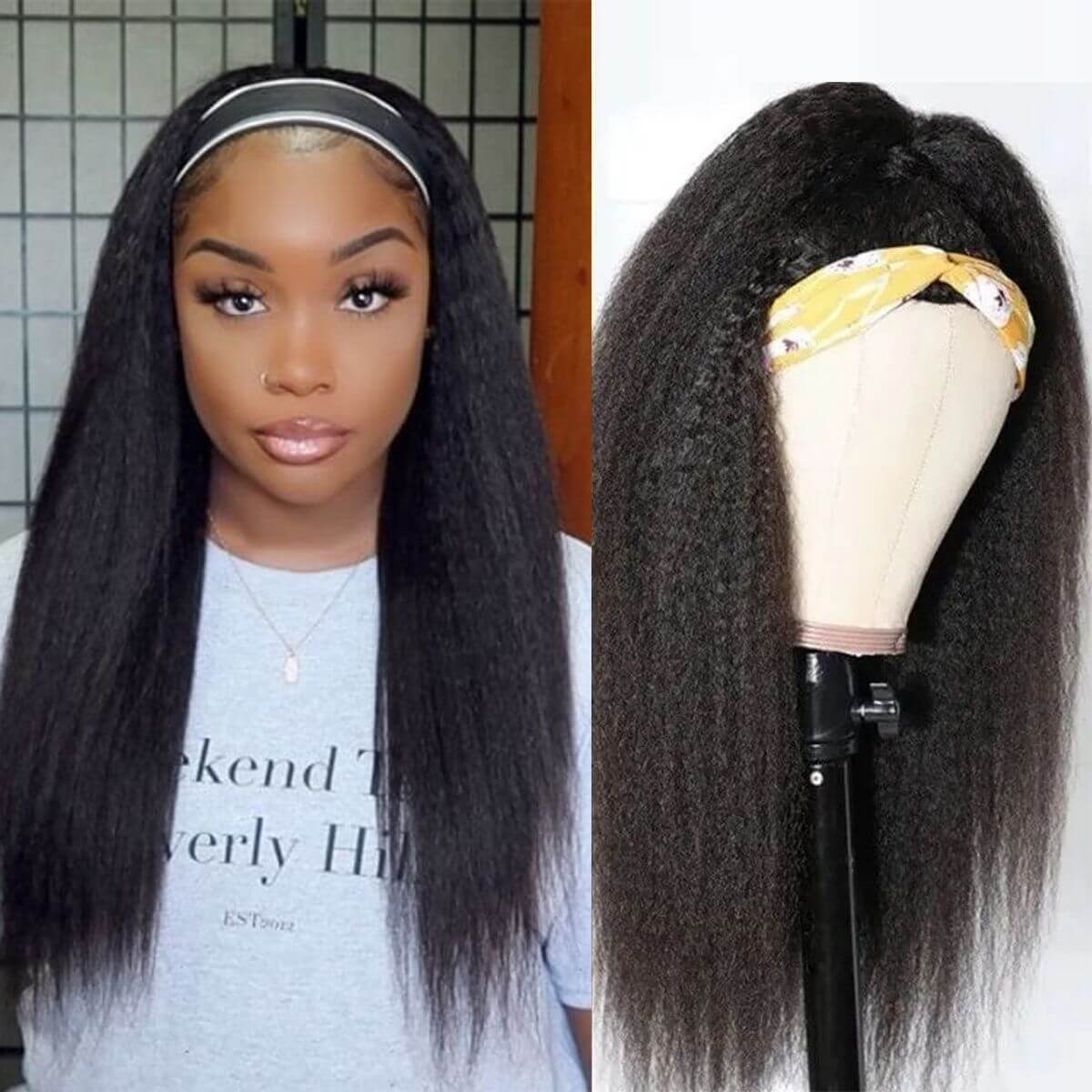 Kinky Straight Wave Headband Wig
Shop More Popular Evan Hair
Shop for affordable Malaysian Body Wave Hair 4Pcs
Shop for Remy Straight Hair Bundles Best Raw Virgin Hair
Shop for Virgin Remy Loose Wave Hair Bundles Deals 
Shop for Evan Hair Indian Virgin Hair Deep wave 3 Bundles