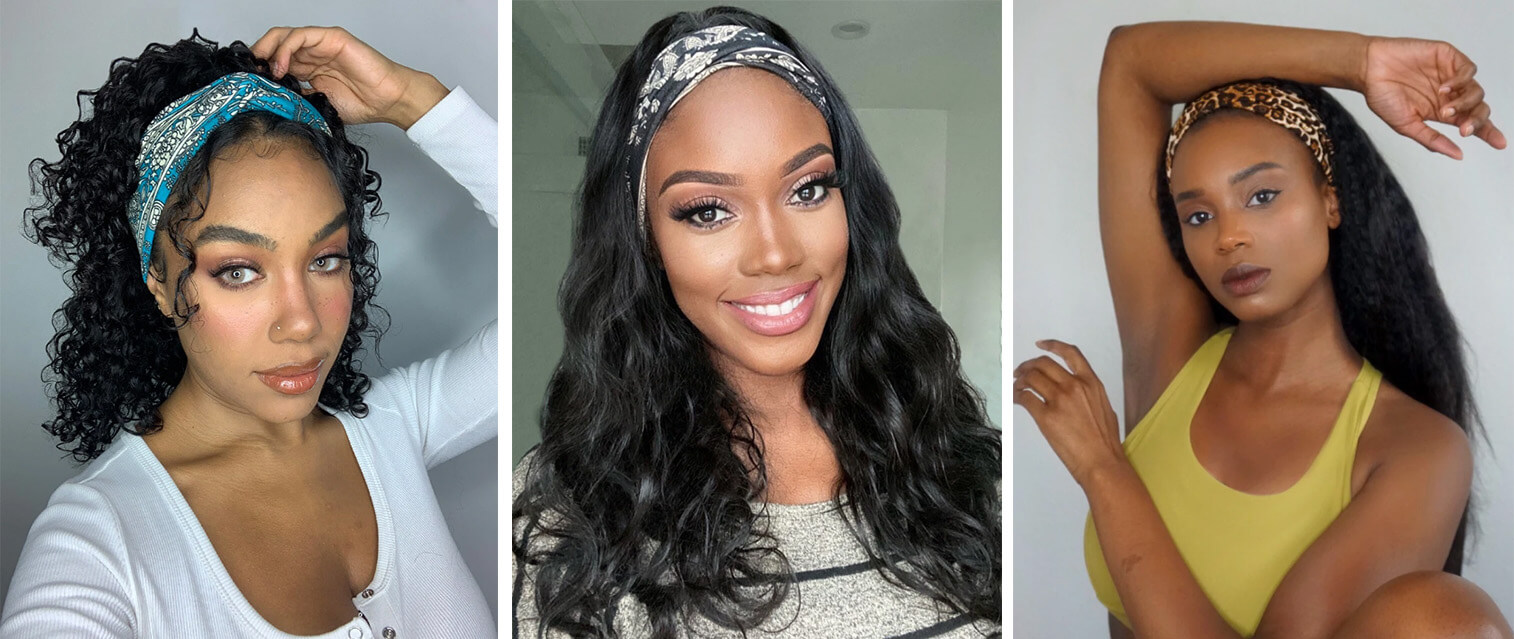 When shopping for a headband wig, your desire is to get the perfect match for you. This task can be extremely draining, especially if you are looking for a headband wig online. This is because there are many options in the market to choose from.
To help you overcome this challenge, we have looked at the best headband wig at Evan hair and made a list of the top 6 wigs from Evan hair online wig store, in a range of types. Each of them has qualities that make it unique and we hope they'll be worth your consideration.
Now that you know what to look for in headband wigs, it's time to take a closer look at the features of the headband wig in this article. As you read through, see how the salient qualities of these wigs relate to your needs. This will make it easy for you to pick a natural headband wig that suits you perfectly.
What is Headband Wig?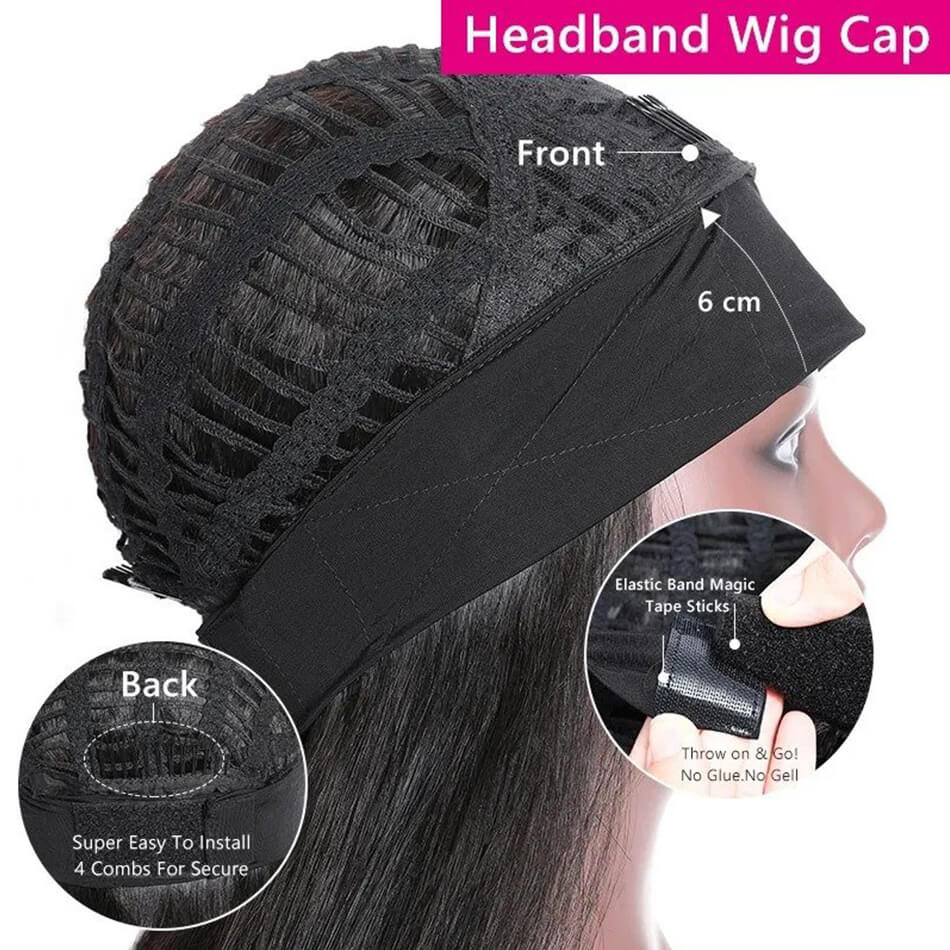 Headband wig is a new fashion design this year, it has an elastic ice silk headband(very soft and light) attached to the wig instead of lace, the headband human hair wigs are perfect for women who want no fuss wear, no glue, no gel, and it also allows you to make high ponytail or bun with showing our own natural hairline. You can also wear other colors/patterns to hide the original black headband according to your personal taste.
It has adjustable straps in the back and 2 combs sewn inside, so you can wear them without using glue, tape, or other adhesives.
Headband wig is perfectly suited for African American women. Convenience is one of the most unique features of wigs with headbands. Another unique feature is that when you're wearing a headband wig, you don't have to wear it the same all the time. You can choose different headbands to achieve different hairstyles. Headband wigs are with headbands attached, half wigs with headbands, to switch up your look throughout the week.
For the women who just begin to wear a wig, you don't have to worry about how to use a wig at all. With a human hair headband wig, you can wear the wig completely in about ten minutes. Compared with lace wigs, it is very a big advantage. If you have watched videos of wig-wearing on the Internet, you should know that it takes about 1-2 hours to wear a lace wig, so a headband wig with bangs is the best choice for a wig newbie.
According to the survey, headband wigs are also the first choice for many African American students. It is not only fashionable but also time-saving.
KINDLY REMINDER: We recommend a professional hairstylist to make dye your hair or get to a hair salon to dye your hair, virgin hair will easily get dry and tangle after dyeing, so please do not dye or bleach hair too frequently, it will do harm on hairs and also pls do it professionally.
Feature of Headband wig
100% virgin human hair wig, can be straightened, curled, and restyled.
This headband wig allows you to show your own hairline and edges, looks very natural and realistic.
180% density human hair headband wigs, full enough to make multi styles.
This wig can last 1 year with good maintenance.
There're 2 different headbands(random pattern) that come with the package, you can make your own style according to your personal choice.
Top 6 Best HeadbandWigs at Evan Hair
Here are our picks for the 6 great headband wigs available online, rated based on their material, feel, base, and more.
1.Straight headband wig, No Glue & No Sew In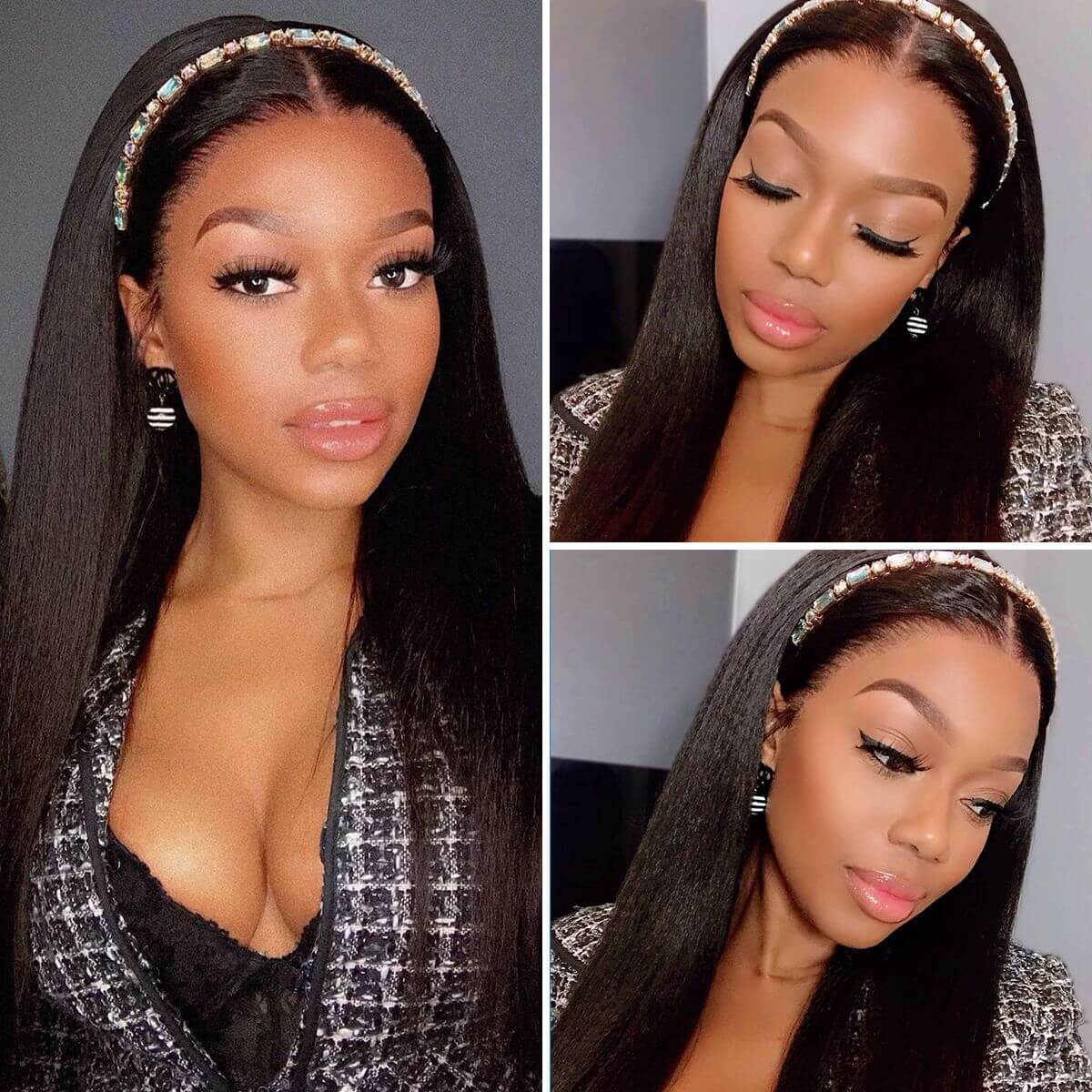 Natural and Unnatural Hues With a Natural Part
Soft and True to the Many, Many lengths.
This is the most popular wig in Evan hair.
New design headband wig glueless velcro snapping design is easy to secure your wig, allows to show your own natural hairline, you can make a ponytail or bun according to your personal reference, makes your wig more realistic.
Virgin none lace front human hair wigs for black women, silky, soft, no tangle, minimum shedding, can be dyed, bleached, curled, straightened, and restyled based on personal tastes as your own hair. 
2. Adjustable headband body wave wig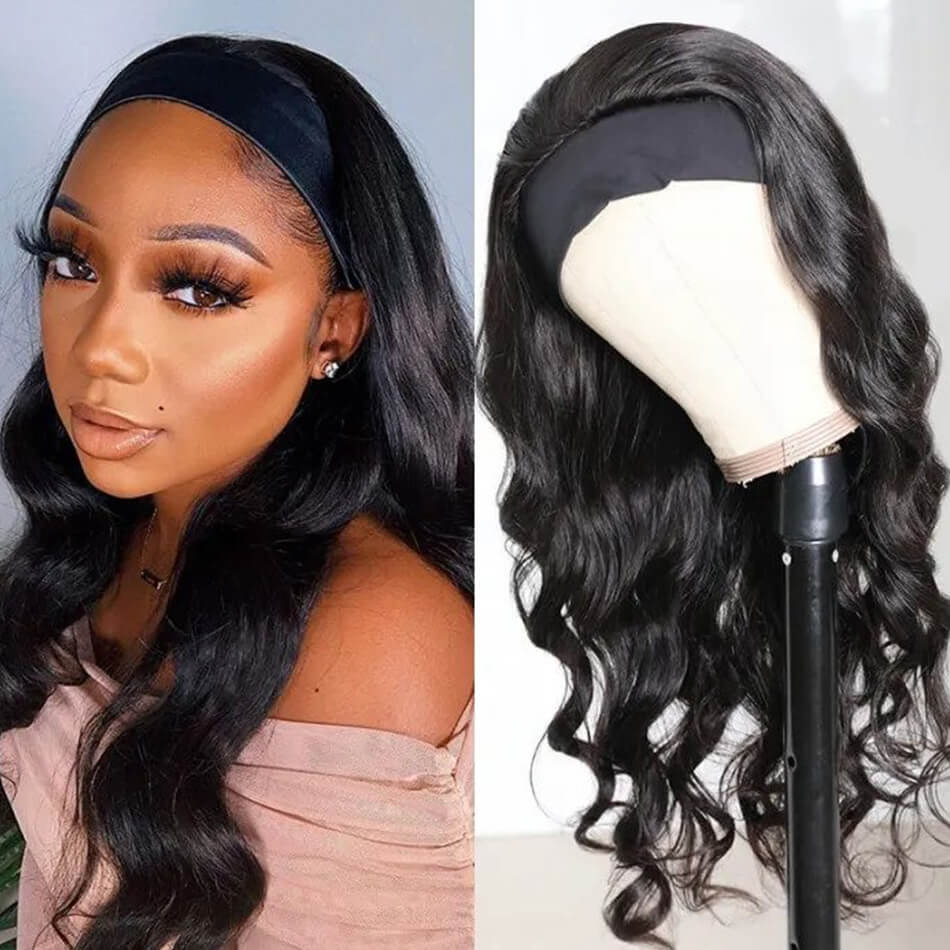 Those Curls Stay Tight and Bouncy
Black is the No.1 color that girls choose for headband wigs because it will give the most natural-looking.
Non-Lace Front Wigs, Glueless, Beginners & Lazy Girls Friendly
Combined with a Special Hand-Made Turban and a New Designed Wig, Which Gives You a Chic Look Instantly.
3. Headband Scarf Wig Water Wave Wig, Wear & Go glueless human hair wig.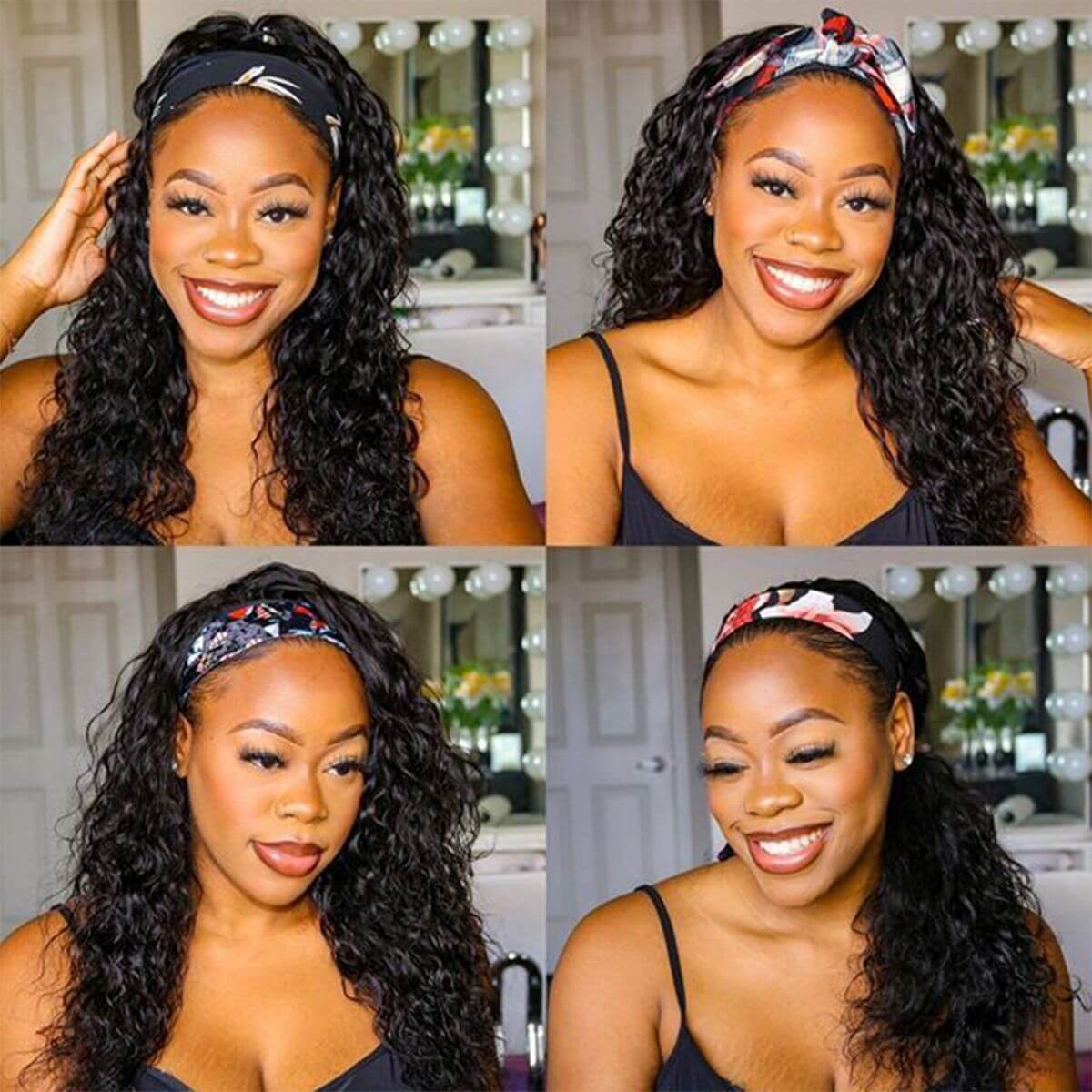 The Most Versatile: You Can Do Half up/Half Down, Bun
If you want a charming headband wig, Evan hair water wave wig with a headband is the top of the line.
Headband wigs human hair, throw and go design, easy snapping installation perfect for beginners, lazy girls, daily working or workout. You can also make a high ponytail & bun and restyle it by yourself.
Advantages: This headband wig allows you to show your own hairline and edges, looks very natural and realistic.
4. Comfortable & Breathable Curly hair headband wig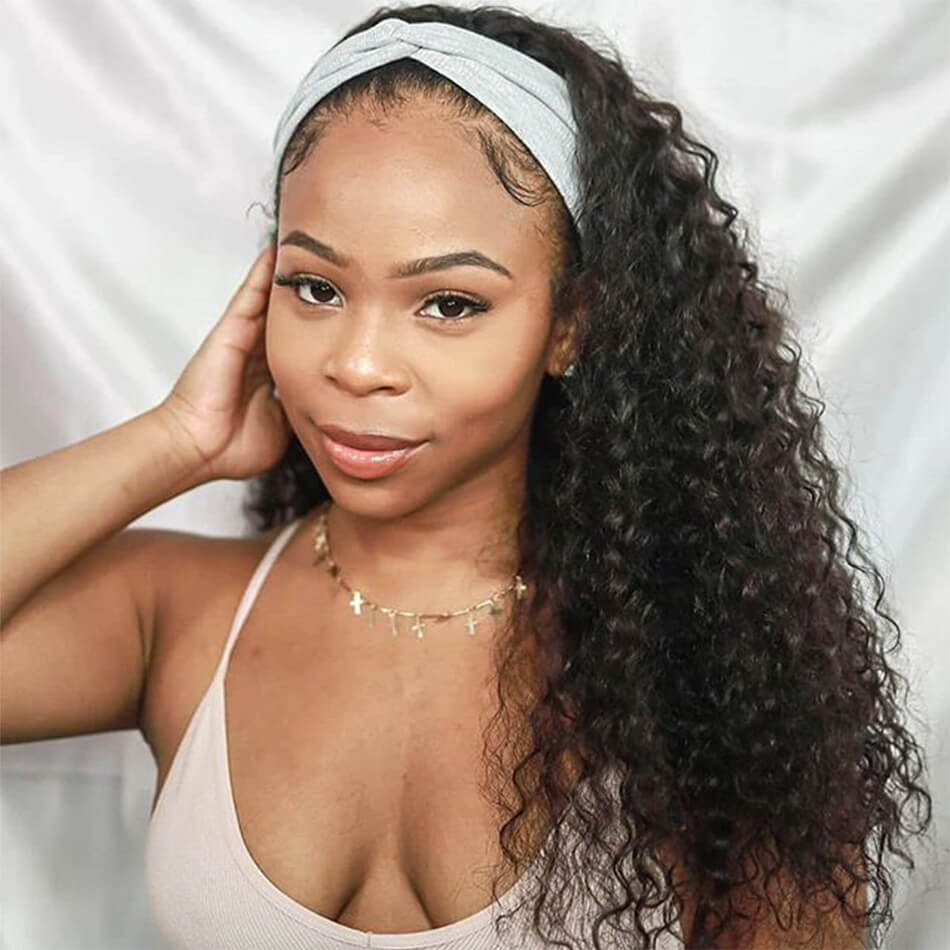 A Natural-Looking Color and Hairline to look more natural
New glueless headband wig, designed to show your natural hairline, magic tape design makes it easy to wear and you can also make ponytail or bun. It is suitable to wear on any occasions
Hair Material: 100% Unprocessed human hair, no shedding, and tangle-free, hair can be straightened curled, and restyled
5. Real Hairline burgundy deep wave headband wig, YOUTUBE new fever.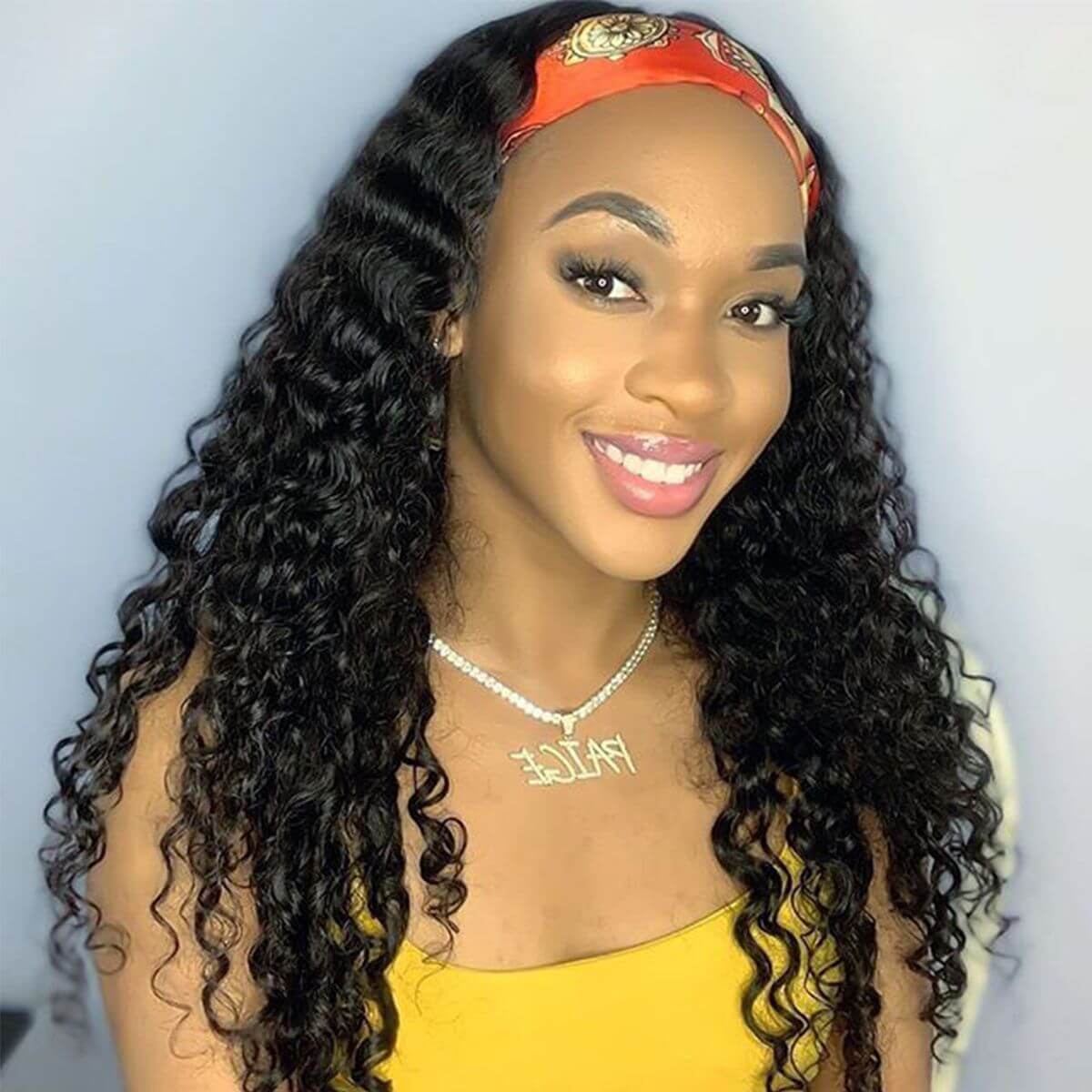 For When You Need Volume and More Volume
The Elastic Band is Made of High-Quality Fiber with a Perfect Turban, It Can Be Used for Very Long Time and Repeatedly, Also More Fashion Than The Regular Lace Wigs
It's a Half Wig Which Can Show Your Natural Hairlines, Also Protect Your Edges Well
6. Kinky straight headband wig, More hairstyles available.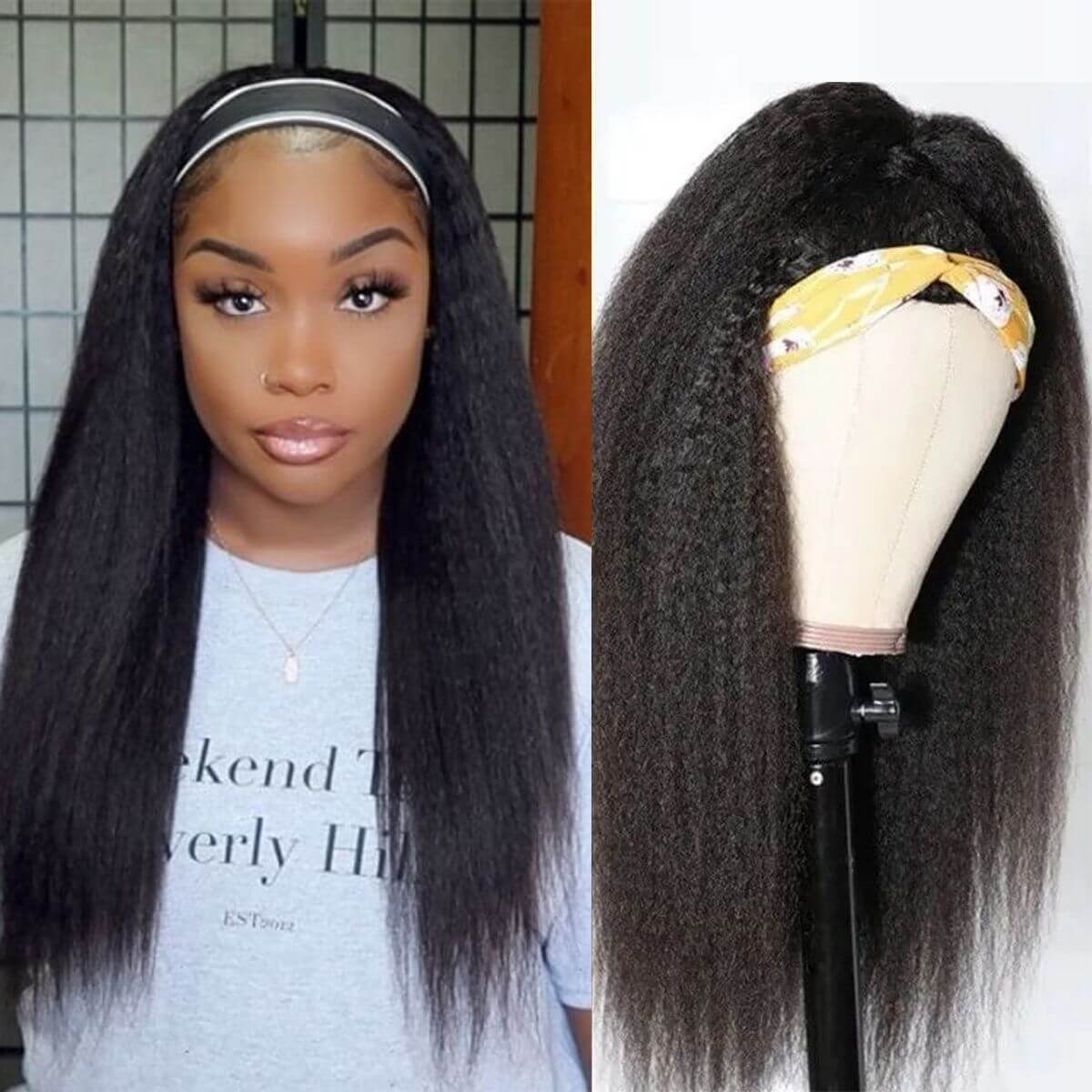 A kinky straight headband wig, make you transform yourself in just one minute.it's So Easy to Style
Gorgeous Curly Texture for Daily Use, Parties, Weddings, Vacations. Just Like Your Own Real Hair
With Different Kinds of Headbands to Help You Achieve Different Looks & Styles
Now that you have to get these headband wigs, get out there and wig out.
Summary
Headband wigs are becoming increasingly popular and even being worn by some celebrities. Headband wigs can also act as a protection for your normal hair. Headband wigs provide you with lots of hair options to choose from.
What are you waiting for? If you want to change your hair look just in one minute, quickly get one headband wig to transform!!!
Get the Best Wig at Evan Hair!
Shop More Popular Evan Hair
Shop for affordable Malaysian Body Wave Hair 4Pcs
Shop for Remy Straight Hair Bundles Best Raw Virgin Hair
Shop for Virgin Remy Loose Wave Hair Bundles Deals 
Shop for Evan Hair Indian Virgin Hair Deep wave 3 Bundles