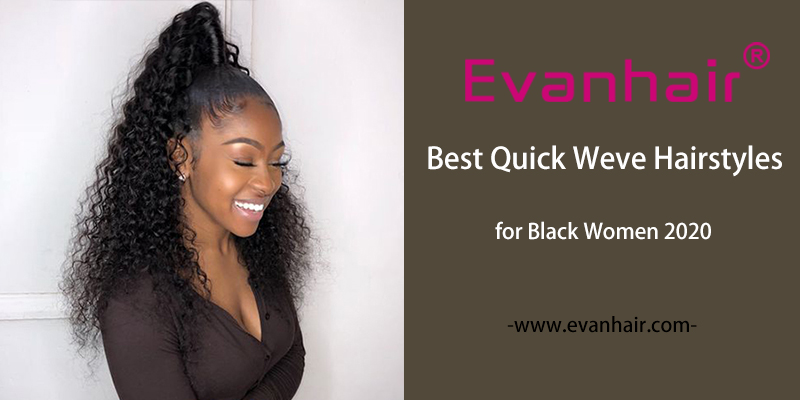 Weave hairstyles are black women's best friends whenever they want a fabulous change of color and length. They can get inspired by these amazing quick Weave hairstyles. A quick weave hairstyle is a great option when you'd like to change your hairstyles within a short period of time, or you are unable to braid your hair.
The quick weave is the perfect solution for people with busy schedules who desire the look of a traditional sew-in.
First, What is a Quick Weave?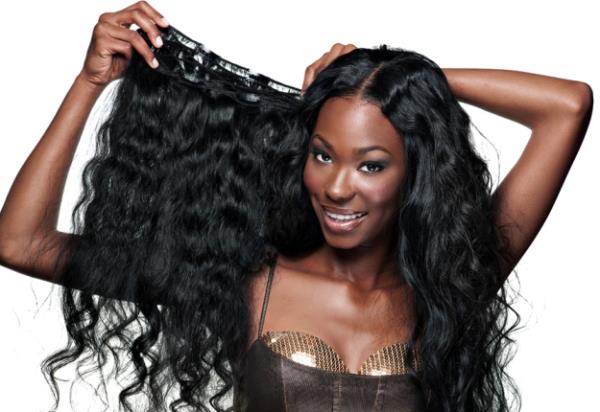 A quick weave is a process by which you bond hair extensions to your hair or a protective cap. Quick weaves are a fantastic option for getting the hairstyle you want without having to sacrifice so much of your time. Quick weaves is convenient because many of us would change our minds on a daily basis and wear our hair based on our moods. This process is perfect for quick weave long hairstyles, quick weave bobs, and quick weave short styles.
It's the faster and more affordable option when it comes to installing a weave because you can install it at home.
Advantages of Quick Weave
The cost to get quick weave styles installed is cheap. It's faster to complete than the traditional sew-in which makes it perfect for those who don't feel like waiting in a salon or sitting in the chair for too long. If taken care of properly it can last for three to four weeks so that you will get your money's worth.
This technique can be great for protective styles.
Disadvantages of Quick Weave
If you don't use a protective seal over your scalp, the glue from the hair extensions can pull your hair out. To prevent hair damage use a protective barrier. The adhesive can damage your hair extensions. One thing I love about quick weaves is that although they are quick, they are not limiting. There are so many quick weave styles to chose from! Let's go over some quick weave hairstyles.
Best Quick Weave Hairstyles For Black Women  
Classic waves, soft curls, a smooth pixie — it's all just a little black girl magic. Let's take a look at these stunning weave hairstyles for black women which provide style and balance. Find the latest most popular natural wave weave hairstyles for African American ladies! Keep reading:
1. Straight Weave Hairstyles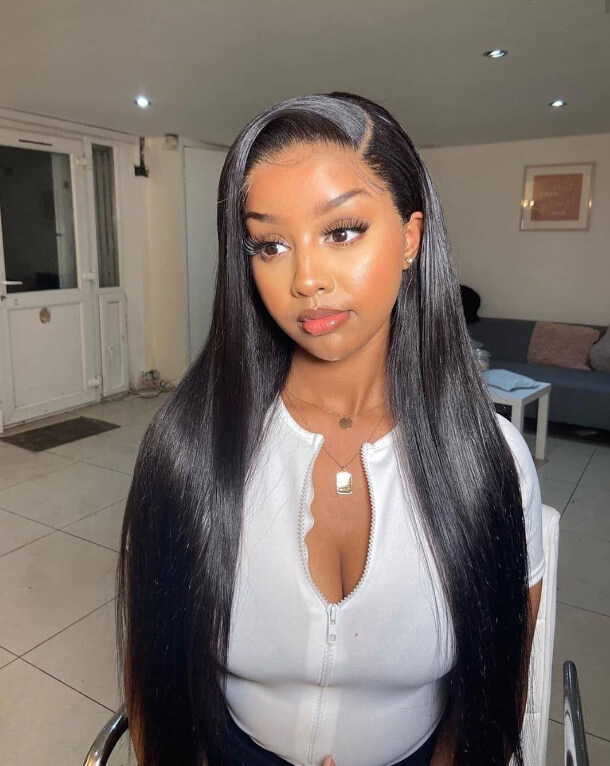 Naturally, straight hair weave hairstyles are totally gorgeous. It has a beauty on its own which makes it beautiful without any fuss. Since it is naturally smooth and shiny then you can easily wear different styles.
2. Body Wave Weave Hairstyles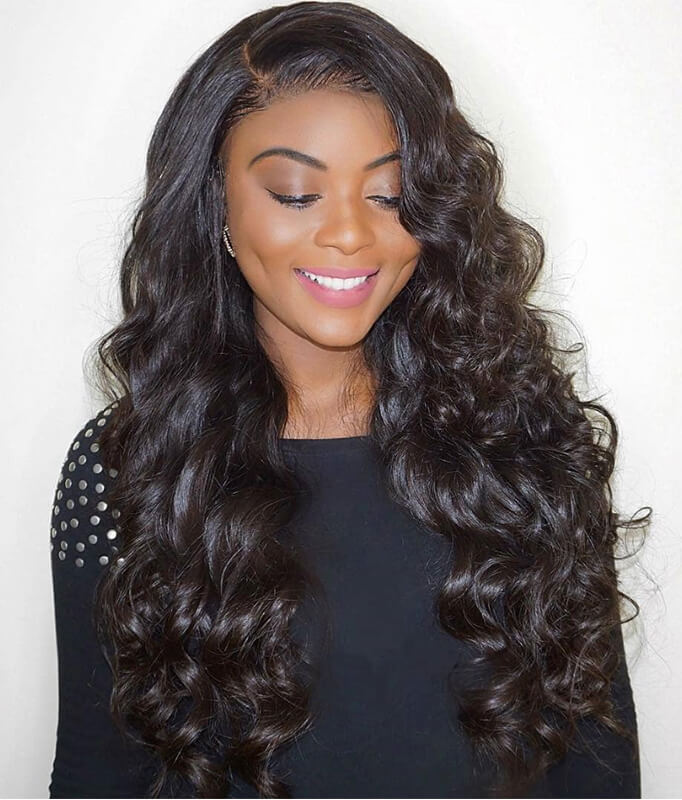 Body wave weave hairstyles are one of the most popular weave hairstyles for women in the world, no matter short body wave weave hairstyles or long body wave weave hairstyles,it is very easy for styling and it can hold curls pretty well, Suit for all Occasion.
3. Loose Wave Weave Hairstyles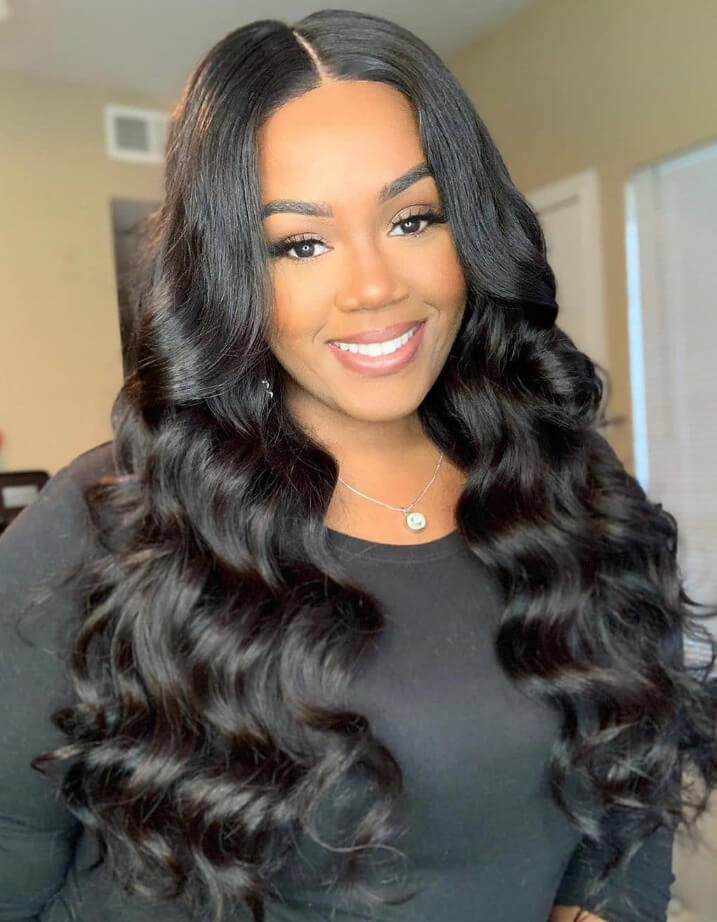 If you are unsatisfied with your sparse hair, loose deep wave hairstyle is your best choice because it can blend well with your original hair as well as provide a more bouncy look. Soft texture and wave pattern can keep a long time.
4. Deep Wave Weave Hairstyles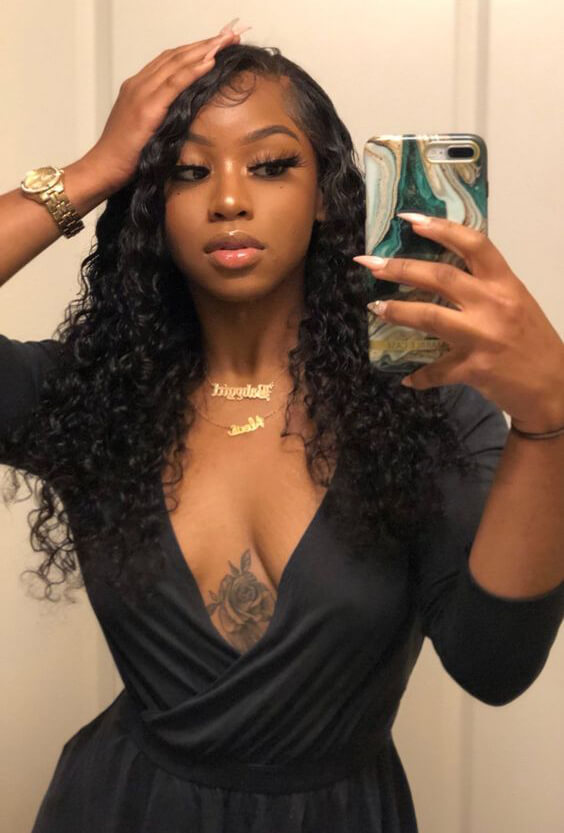 If you want to increase your hair volume, deep weave hairstyles will be a viable option. Deep curl weave hairstyle is a great texture that looks really luxurious and boosts your hair. If you want to just add to your natural curls, deep wave quick weave hairstyles can really make a difference and add to the length and thickness of your curls.
5. Water Wave Weave Hairstyles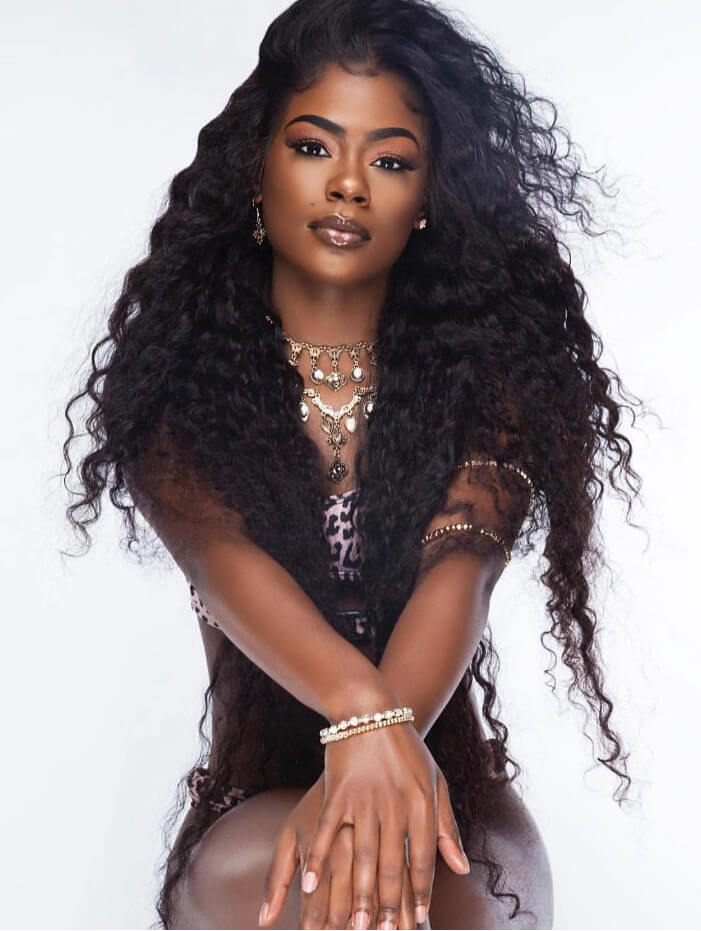 Water waves weave hairstyle is a great choice for women of all ages because it's classy, timeless and suitable for different types of hair and face shapes. Loose weave hairstyles can add volume to your hair makes you have your own personality by modifying face shape.Usually,3-4 bundles loose wave hair extension is enough.
6. Curly Quick Weave Hairstyles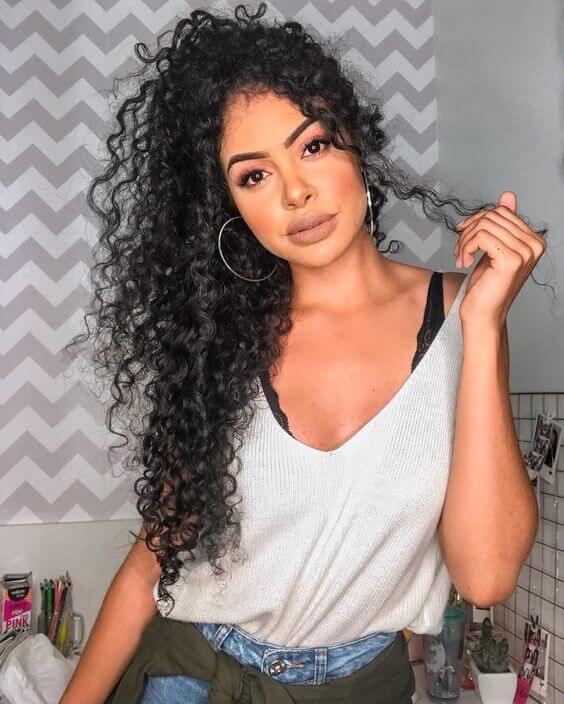 Curly quick weave hairstyles can enhance your feminine appeal greatly. Thick messy curls and longer sideburns make it more girly while keeping it sassy and unique. Keeping it voluminous is also a nice touch.
7. Kinky Straight Weave Hairstyles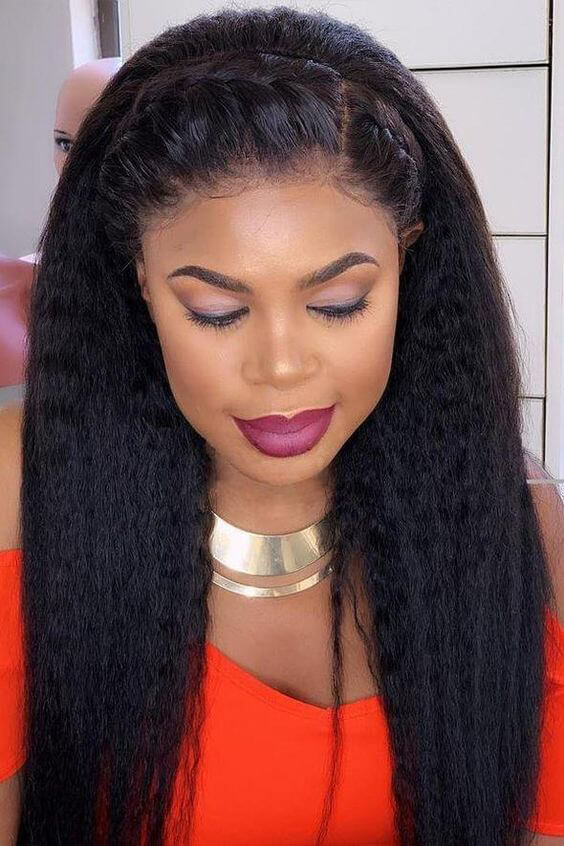 kinky straight hair is the term given to hair that has a classic afro texture, similar to afro hair before it has been relaxed.So, kinky straight weave hairstyles are the most obvious choice for women of color to use because it is similar to their own natural hair, and as such is much less to draw attention to the fact that it might not be the wearer's own hair.
8. Wet and Wavy Weave Hairstyles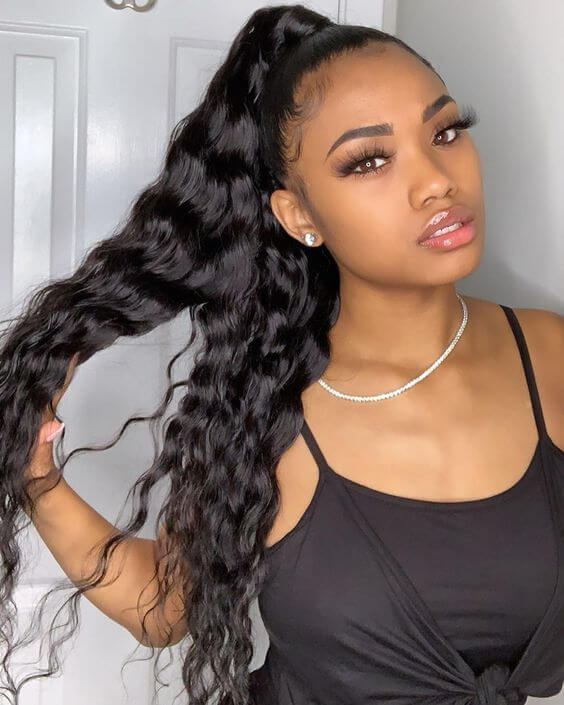 Wet and wavy hair is the ease of switching from cute bouncy curls one day to sleek sassy straight hair the next. This is cool that you do not need to change your weave or add a different kind. Wet and wavy weave hairstyles will be a great choice because of its ability to change from wavy to straight and straight to wavy very easily.
9. Bob Weave Hairstyles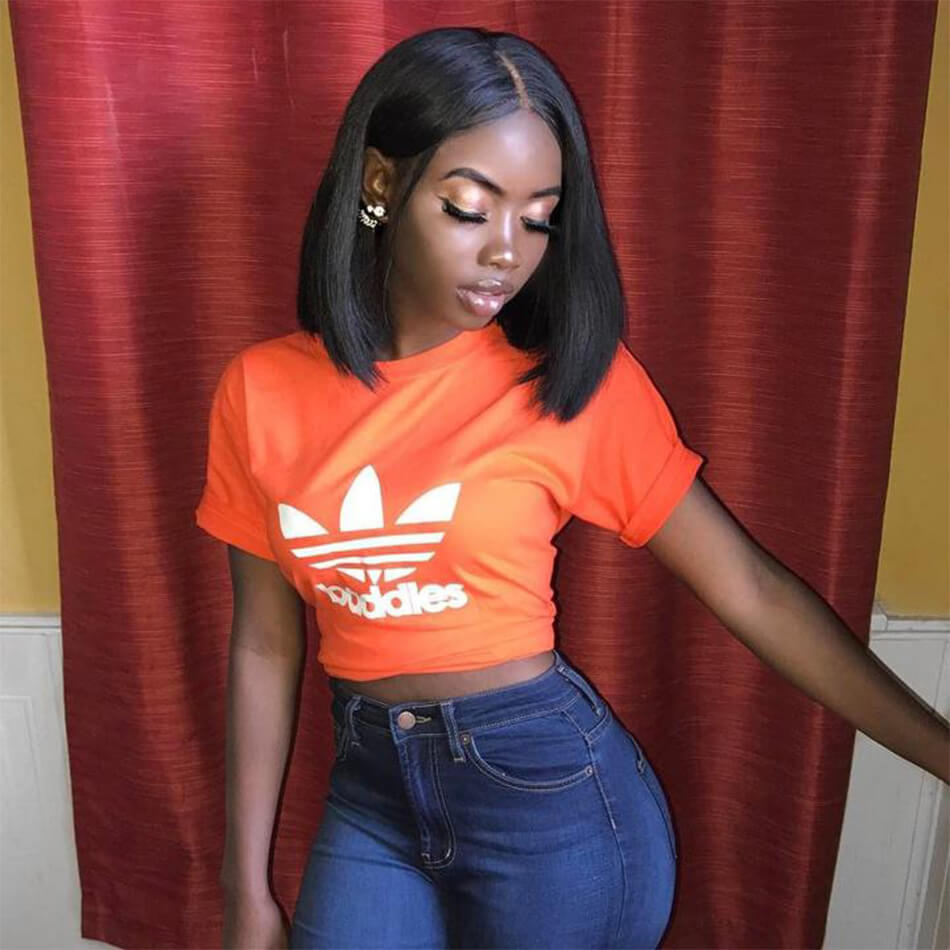 The bob (Quick weave with an invisible part)hairstyle is classic and suit everyone! Classic bob hairstyles with weave is very popular in recent years, a lot celebrities wear this cut.Bob weave hairstyles are timeless but also versatile enough to wear for almost any occasion.
10. Short Weave Hairstyles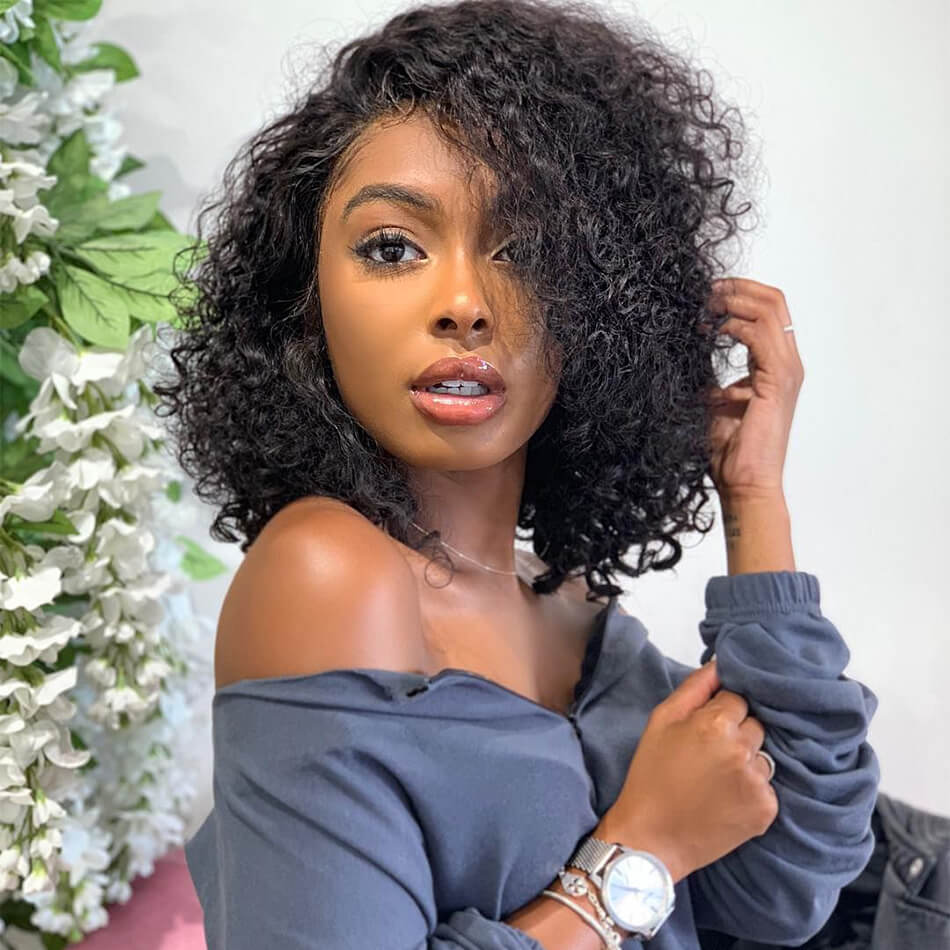 Short weave hairstyles are sweet,sassy and a whole lot of fun. From short curly,short deep wave,short straight weave hairstyles to other short wavy weave hairstyles, there are plenty of options when you're ready for short quick weave hairstyles. It can be worn by women of all ages. You can make this style by 3 bundles body wave/straight/ curly hair with closure.
11. Medium Length Weave Hairstyles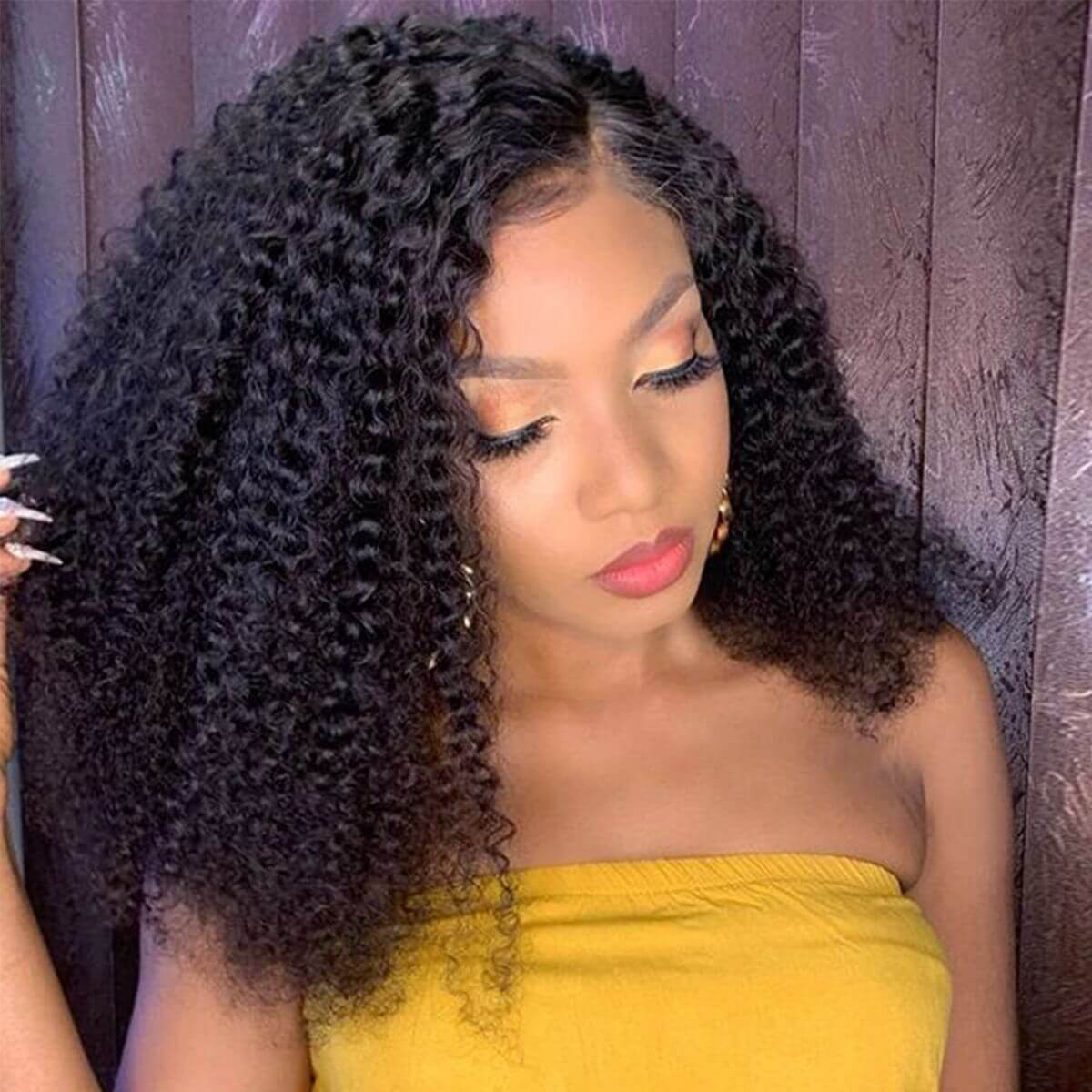 Medium length hair shows women's personality like no other style! It is eye-catching, practical, versatile. Medium length weave hairstyles are much lower maintenance than long hair. It may seem obvious that it's cheaper to have less hair, especially if you regularly frequent the salon for blowouts, trims, cuts and color. But in terms of cut, medium length hairstyles are also much lower maintenance than highly stylized bobs and pixies.
12. Long Weave Hairstyles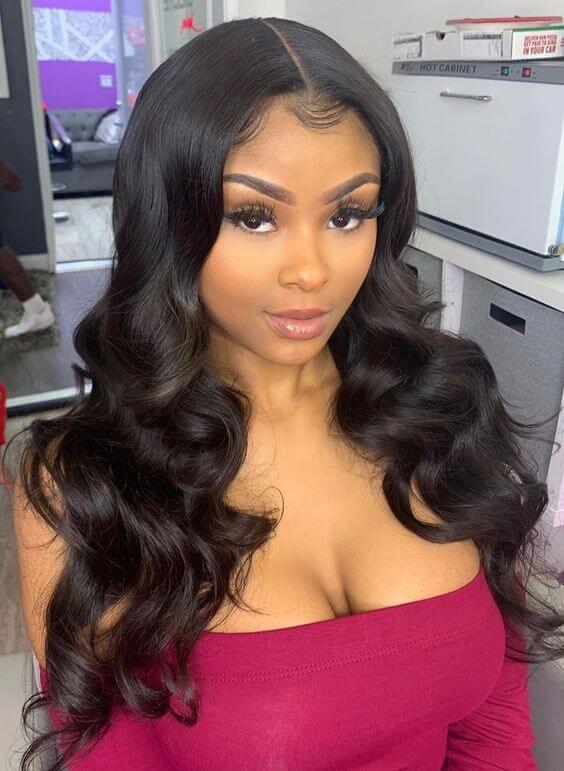 Tired of short or medium-length sew in weave hairstyles? Make it really long! Any woman should try this very long weave hairstyle at least once in her life. Long hair will make you look like a princess and will give you a real feeling that you won't ever forget. There is the various texture of hair bundles you can choose, such as long body wave, straight weave, jerry curly, deep wave, and more long wavy weave.
13. Blonde Weave Hairstyles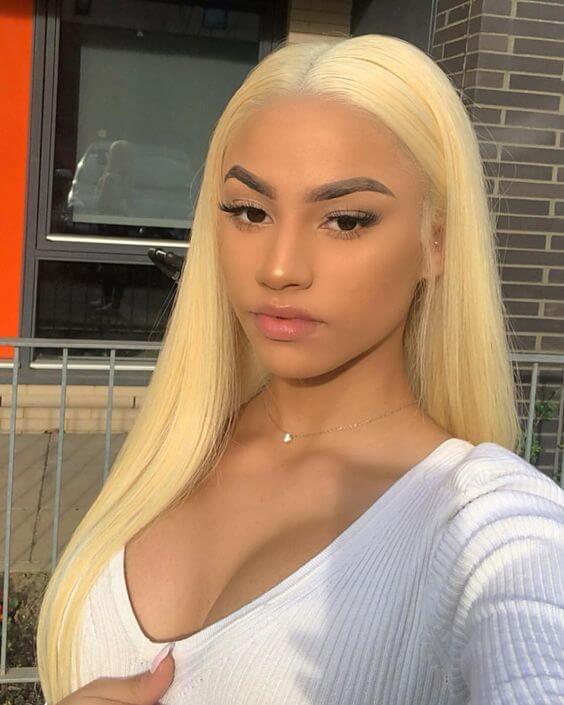 For all you gorgeous gals who love all-over blonde or balayage blonde, get ready to rock the cool look of high-fashion platinum-blonde, which is all set to be the queen of the cool color shift in all the best hairstyles for black women in this year!
14. Highlighted Weave Hairstyles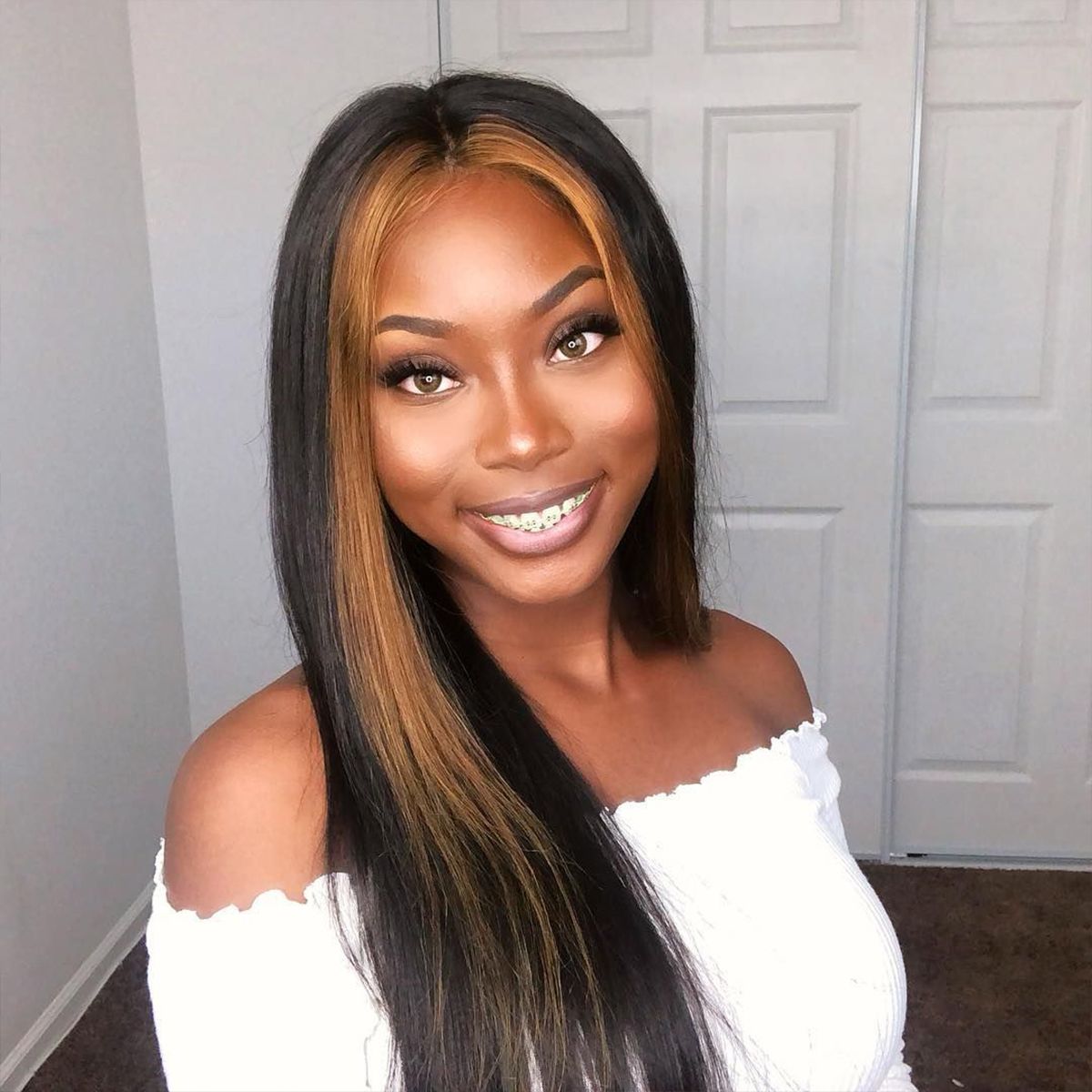 Take a look at this very neat quick weave hairstyle which is created by adding some wild highlights. If your hair is naturally wavy, this look will be very easy to achieve by attaching and curling a weave. You can change the highlights at any time you wish.To look elegant and feminine, choose the best hair color to highlight this fabulous cut.
15. Ombre Weave Hairstyles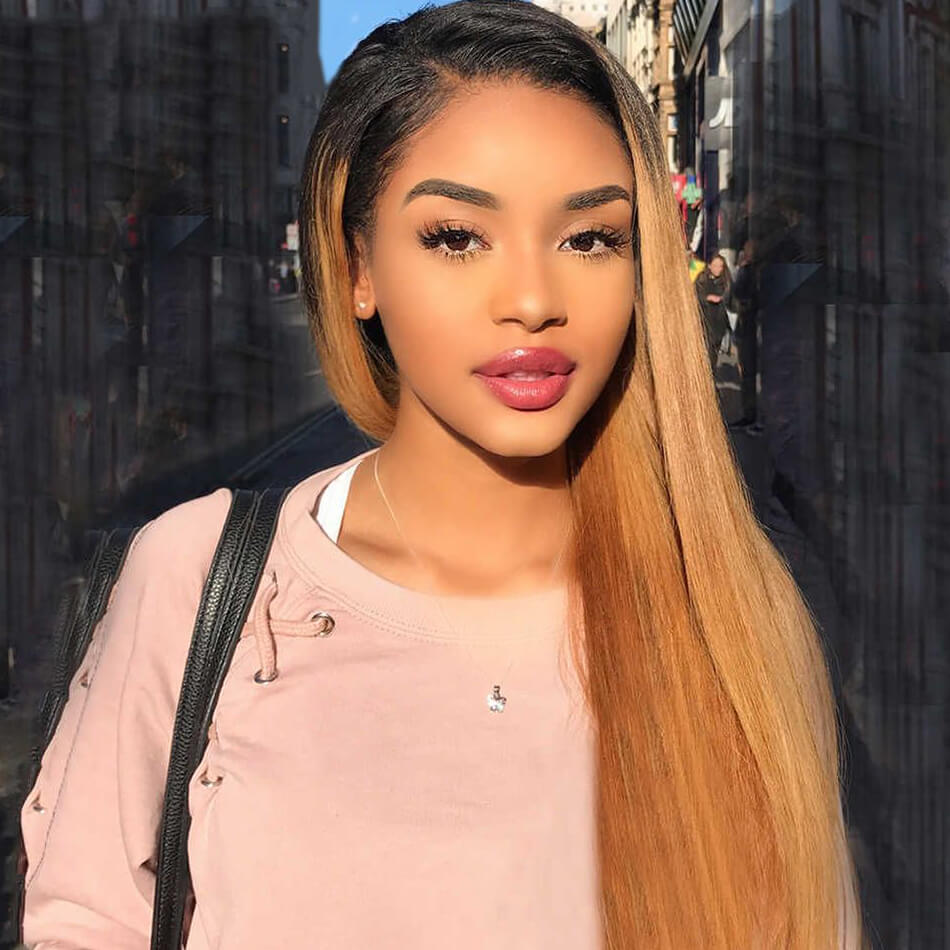 Ombre weave hairstyle is for the woman who wants to be sassy yet classy! If you want a colorful ombre style that is appropriate for work (military) and play you can create a quick weave by ombre hair bundles with closure and style it so many different ways! The ombre quick weave hairstyles are perfect for those women who want their hair to appear shiny. It can be worn by women of all ages.
These are the latest popular hairstyle for African American women. Which quick weave hairstyle is your favorite?
Today, black women are becoming obsessed with natural quick weave hairstyles. Quick weave hairstyles for black women are very impressive and versatile too!
Change yourself strat from a new weave hairstyles
Hair is a woman's crown especially for black women, if you want to try new quick weave hairstyles, you must try these quick weave hairstyles.
Weaves have a lot of benefits and are plenty of styling options, so they are loved by many women especially celebrities and socialites. Besides length, texture, and color, you can even choose how your weaves are installed including quick weaves or sew-in weaves.
The bundles of hair come in so many textures and colors, and if you are a pro, you can get from a straight pixie hairstyle to long curly hair with just a few easy steps.
Change yourself just in one minute. Come on and try these quick and easy hairstyles, perfect for running right out the door, or any other occasions. Evan Hair takes the guesswork out of beautiful hair by creating hair for days. We make premium quality human hair products for all of life's moments—from routine to remarkable.
Shop More Popular Evan Hair
Shop for affordable Malaysian Body Wave Hair 4Pcs
Shop for Remy Straight Hair Bundles Best Raw Virgin Hair
Shop for Virgin Remy Loose Wave Hair Bundles Deals 
Shop for Evan Hair Indian Virgin Hair Deep wave 3 Bundles