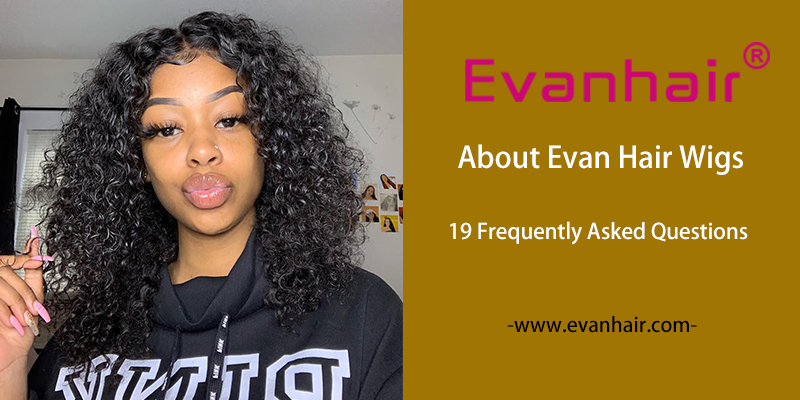 There are often many questions when purchasing Evan hair wigs, especially for first-time wig wearers. We have designed this FAQ page to answer all of your questions relating to how to care for your wig, how to wear your wig and other questions you may concern about. Here we address the most common questions and concerns about Evan hair wigs:
Evan Hair Human Hair Wigs FAQs
What you will learn from this article:
1. Are your wigs made with 100% human hair?
3. Can I curl or straighten my wig??
5. Can I Shower or Swim in My Wig?
7. Can I Cut the Hair On My Wig?
8. Can I Wear My Wig All Of The Time?
9. What about cutting, re-setting and coloring my wig?
10. How often do you wash your wig?
11. How do I clean my human hair wigs?
12. How do I put on and wear my wig?
13. How long I can expect the wig to last?
15. Should I buy More than one wig?
16. Will the hairline on the lace wig have a natural look?
17. What is the baby's hair for a wig?
18. Do I have to wear a wig cap with the wig?
19. What are the different types of wig attachments?
1. Are Your Wigs Made With 100% Human Hair?
Yes, Evan hair offers 100% unprocessed hair weft (never been chemically treated). We provide the highest grade of hair on the market, and with proper care, the hair will last well over 1 year. The hair is collected by a single donor; mostly Brazilian, however, we do have a few Indian and Malaysian wigs.
Human hair wigs offer the most natural look and feel as well as styling versatility. While typically more expensive, with proper care, human hair can last over a year.
2. What Size Are The Wigs?
Fortunately, almost 19 out of 20 women can wear average head size wigs.
That means your head size when measured is between 21″ and 22½ you can wear average size wigs,  which is most of the market anyway. Measure your head with a tape measure going around the forehead at the hairline, under the hair, behind the ears and around the nape of the neck.
If this is too difficult to do by yourself, have someone help you. All our fashion wigs come with adjustable straps in the hair cap.
Our Fashion Wigs range is very easy to care for and we recommend the following procedures to keep your wig looking its best.
3. Can I Curl Or Straighten My Wig?
Yes, all Evan hair collections can be colored. However, we strongly advise that you seek a professional colorist to obtain optimal results and prevent over-processing.
4. Can I Color My Wig?
Most wigs offer a variety of colors to choose from, lessening the need to color them. While synthetic hair cannot be dyed, human hair wigs can. But it is a tricky process that should be handled by a hair professional only. We recommend only going darker, not lighter as there is a lot of chemical processing involved in the making of a wig and any additional manipulation can cause damage.
Pro Tip: If you have your wig dyed, we recommend only dying the wig a darker color, not lighter. 
5. Can I Shower Or Swim In My Wig?
We do not recommend wearing your wig during showering or swimming. Your wig can become very tangled and matted when worn in the shower or pool and attempting to remove the matting can cause damage or breakage.
Pool chemicals and saltwater can damage wig fibers and cause them to break down quickly, lessening the lifespan of your wig. Chemical reactions can also cause your wig to change colors. 
Pro Tip: If you want to keep your head covered when showering or swimming, we offer a large selection of shower and swim caps to help protect your scalp. 
6. Can I Sleep In My Wig?
We do not recommend sleeping in your wig. The friction against your pillow can cause the wig to tangle and mat and the lifespan of your wig will be lessened significantly. We recommend wearing a soft sleep cap to keep your head warm and comfortable while sleeping.
7. Can I Cut The Hair On My Wig?
Thinning the wig to frame your face shape perfectly or cutting in bangs are options that will customize your look so that your wig fits your individual features. It can add that finishing touch that makes your hairpiece feel just like your own hair. This being said, we don't recommend cutting the wig to drastically change the style as results may not be as expected.
8. Can I Wear My Wig All Of The Time?
The best part about wearing a wig all day is that you get to take it off at night., there's no better relief than whipping that wig off and giving your scalp a good scratch!
9.What About Cutting, Re-Setting And Coloring My Wig?
We recommended that any cutting, coloring or rinsing, as well as permanently re-curling of your wig or hairpiece, should be done by us or another trained professional.
10. How Often Do You Wash Your Wig?
I honestly don't think there is a right or wrong answer to this. For me, it all depends on how much I wear the wig when I wear the wig and the current condition of the wig. For example, after a tough session at the gym, I'll wash the wig the same night, or I can wear a wig for 7 days straight before washing it. Don't overdo it though and make sure you use wig shampoo and revitalizer.
11. How Do I Clean My Human Hair Wigs?
We recommend that you use
·Comb the Hair Gently with Wide-tooth comb to Tangle-Free Before Washing
·Add the mild Shampoo to the warm water then soak the wig into it, Wash Hair gently and wash to clear up
·Apply conditioner to the warm water and soak the wig, and leave it at least 10 minutes.
·Soak and wash in freshwater absorb the water into the tower. Let Hair dry naturally, then keep the style with your hand and put the wig on the support.
12. How Do I Put On And Wear My Wig?
Remove the protective hair net from your wig. Give the wig a good shake to allow air to fluff through the hair fibers.
If your hair is short, brush it back from your face and behind your ears. If your hair is long, distribute and pin your hair up evenly, so as not to have a "bump" anywhere. Many people use a wig cap, and it's very convenient.
Hold your wig at the sides with the woven label in the back. Place it at the middle of your forehead (for leverage) and slide it on from the front to back. The top front of the wig's cap should rest approximately 1/4″ past your natural hairline. If the wig is too forward at the front hairline, it will look hat-like and unnatural. The ear tabs on each side of your head should be evenly placed in front of your ears. Never place the wig over your ears.
Tuck in any stray hairs at the front, sides, and nape.
13. How Long I Can Expect The Wig To Last?
The life of your wig can last for many months or even years depending on your usage, lifestyle, maintenance, and upkeep. The types of glues that are used during the application method also affect the life span of your unit.
The idea remains that if you plan to wear your wig more often, the natural need for a new unit will become greater as the hair naturally degrades due to extended periods of use, friction, and pollutants.
14. How Do I Store My Wig?
The best way to store your wig is on a Wire Wig Stand or Wig Perch Wig Stand. This will keep your wig fresher and maintain its style between wearings. Keep your wig in a clean place, away from dust, sources of high heat and excessive humidity. Never enclose in a box or plastic bag (except while traveling).
15. Should I Buy More Than One Wig?
Having two wigs allows you to change up your look without going through too much work, which is especially helpful when fatigue from chemo sets in. Women who become accustomed to the ease of wearing a wig will often embrace the versatility that wigs allow, enjoying multiple styles and color selections.
16. Will The Hairline On The Lace Wig Have A Natural Look?
Yes, when you wear the lace front wigs correctly according to our user guide, the hairline will have a natural look, just similar as your own hair growing from your scalp. For customer order, we recommend you to have baby hairs around the front and perimeter of the wig and make the hairline with more natural-looking.
17. What Is The Baby's Hair For A Wig?
For a lace human hair wig with baby hair, Evan hair wig trims a few of the wig hairs at the hairline in order to make the wig look more like a natural head of hair. If you wanna do a ponytail and not show the cap, it's better to choose a wig with baby hair or at least with back only baby hair.
18. Do I Have To Wear A Wig Cap With The Wig?
No, you do not need to use any wig caps under the wig. You can easily part your own hair at the same point as your wig before wearing the unit, which will strengthen your parting on the wig while use.
19. What Are The Different Types Of Wig Attachments?
There are a lot of different kinds of wigs and there are many different methods of attachment to help secure the hair in places such as tapes, pins, clips, wraps, and combs. The choice is ultimately up to the individual and depends on each person's situation and preference.
For questions relating to ordering, shipping, returns, exchanges or other related matters, please see our order faq page.
Shop More Popular Evan Hair
Shop for Best Bob Straight Front Wig
Shop for 13*4 Kinky Straight Front Wig Virgin Hair
Shop for Cheap Full Lace Front Body Wave Wig
Shop for 100% Virgin Hair 13*6 Deep Wave Front Wig