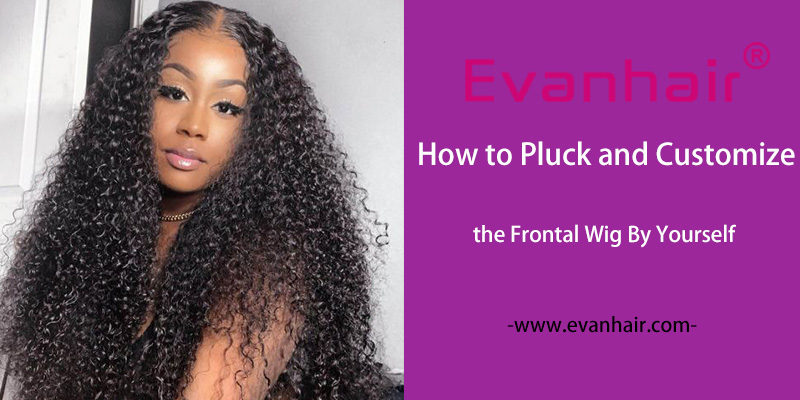 How to Pluck a Wig By Yourself? Hello Ladies, Here is a very detailed step on how to pluck and customize the lace wig, it also can use for lace frontal/lace front, 360 lace frontal, etc. please check out.
Plucked human hair wigs are increasingly popular lately and a plucked lace wig is one of the most favorite choices and there are many reasons for that.
Benefits of a Pre-Plucked Lace Wig:1 Very natural looking; 2 Non-wiggy.
Pre-plucked lace wigs have hairlines that are thin giving them the look of a natural hairline. In fact, many Lace Wig and Hair's full lace wigs on the market that are pre-made will usually feature pre-plucked hairlines.
If you were looking to buy a lace wig human hair, there's a good chance that you have stumbled upon pre plucked hair wigs and you're wondering what does it mean?
What Is A Pre-Plucked Wig?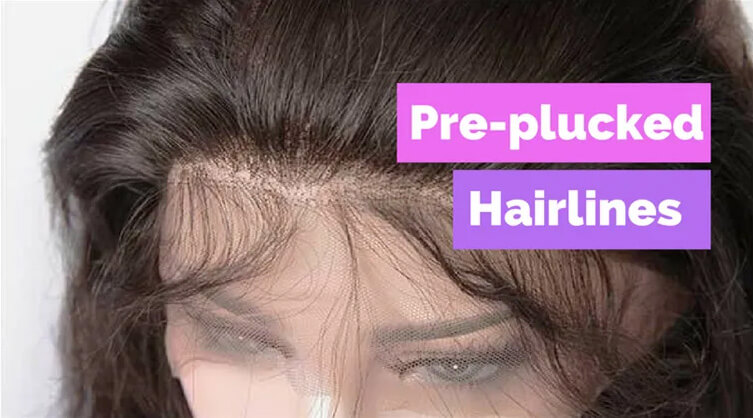 A pre-plucked wig means that your wig will have a natural hairline and the baby's hair has been plucked.
If the hair on the hair is not plucked, then the exact color of the wig can perfectly replace and imitate your hair-from the hair itself, the hairline, texture, color, and style. This is the standard everyone should follow.
When a wig is plucked, the density on the top is much lower, which is exactly the case with real hair. If you look at your strands, you will notice hairs of unequal length and some short baby hairs around your hairline. This is because new hairs grow constantly, and they can't all be the same length.
Why Need To Pluck Wig?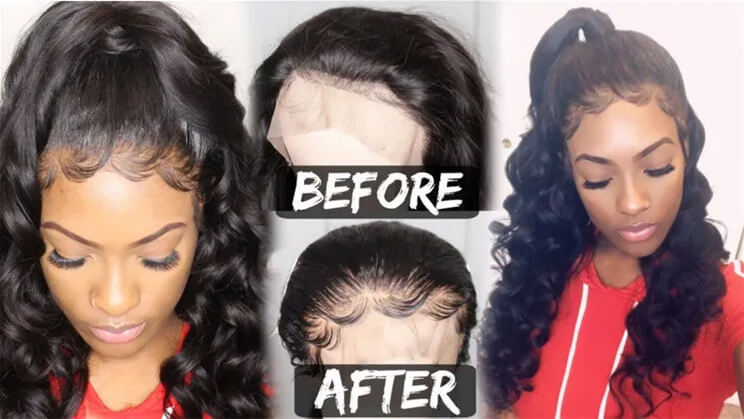 For a wig to be completely realistic, it must imitate just that. Plucking of the hairpiece creates those perfect baby hairs and a flawless hairline. Although pre-plucked wigs are usually more expensive, they are simply superior in appearance to all others.
Many girls don't understand why we need to pluck the hairline of wigs.
Here is a simple explanation:
"You get a pair of your BEST tweezers and a comb. You start where your lace begins in the part and continuously pluck the hair out to widen the part."
If you have bought a wig that is not pre-plucked, do not despair. The good news is that you can do it yourself and save some money. Plucking your wig is very easy and it is great customization that everyone should do.
We will show you a quick way of how to do it perfectly and some other cool tips and tricks to customize your hairpiece to make it look more realistic and natural.
How To Pluck Wig By Yourself?
What you will need
A lace wig, a Styrofoam wig stand, pins, tweezers, and scissors.
Plucking lace is the process of using a tweezer to pluck out excess hairs around the frontal to make it less bulky.
Step by step of how to pluck your wig
Step 1: First you need to take a few pictures of your natural hairline. The best way to do this is to straighten or stretch your hair and pull your hair into a tight ponytail. Make sure the photos are clear so you can use them as your guide.
Step 2: Place the lace wig on a Styrofoam stand and use pins on the lace to pin it down. You want to have it nice and tight so that it doesn't move.
Step 3: Take a good look at the wig hairline, you will notice that it is pretty dense and that's what you want to avoid. Start plucking some hairs from one side and work your way to the other.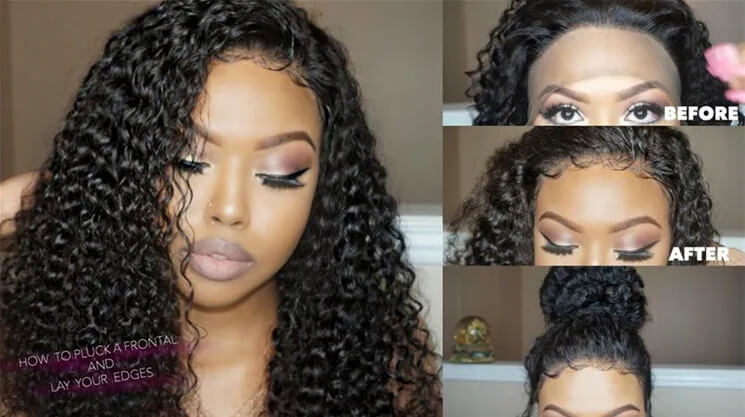 Make sure to use quality tweezers and be careful not to pluck too many hairs. It is best to pluck a little bit at first and see how it looks and if you think that the hairline is still too dense, go back and repeat these steps.
Step 4: Pluck The Lace: Plucking is the process of using a tweezer to pluck out excess hairs around the frontal to make it less bulky. Part the hair on your lace front wig in two sections and take your fave tweezers and start to pluck the hairline towards you in order to get a more natural look.
Step 5: Create Your Own Part: All lace wigs were not created equal. Some come with a pre-made part down the middle, to the side, with multiple parts, or with no parting at all (also known as a "free part").
With a free part lace front wig, you'll get to choose where you want your part to lay and create it. You can do this before you create the full wig or after. Just play around with the parting, create a fun hairstyle or keep it down for a more sophisticated and trendy look.
Step 6: Create Natural Edges: Adjust your lace front wig accordingly. Don't forget the baby hair! For this step separate a small section of the hair from the hairline that you want to use as baby hairs. Use a razor to cut the hair down until the hair is at your desired baby hair length.
And that's it, now you have a perfectly realistic plucked wig that looks flawless!
Wig Plucking Tips
How well you install the wig also makes a big difference in how realistic it looks. Make sure to do it properly or have it done professionally if you're not sure how.
Some girls also bleach the lace slightly so that its color matches their scalp more naturally. Some lace wigs are made out of very dark mesh material which can look unrealistic.
Customizing your wig by cutting it is also a good idea. Although most wigs come pre-styled and you should definitely choose the one that you like best, it still might not be perfect for you. Place the wig on a wig stand and cut slightly to create the perfect hairstyle. You can also apply the wig and go to a salon to have it cut.
Color is another important aspect you should think about. If you want a wig that looks exactly like your hair, you need to match the color and shade exactly. If the color looks off, you can dye it, but only if the wig is made of real human hair.
Faq About Plucked Wigs
Is pre-plucked better than other wigs?
Yes, pre-plucked lace wigs offer a more realistic and natural look as they imitate the same hairline with baby hairs in a natural hairstyle.
Hair strands are plucked carefully in the wig near the hairline region, which is exactly the way baby hair comes out, such pre plucked lace wigs are available with Evan hair and they are one of the most preferred hairpiece choices by women.
Cons of a Pre-Plucked Lace Wig
1) Since the hairline is thinner the hair will fall out faster in that area and will not last long.
2) The lace will be more visible.
3) A pre-plucked hairline will not work if you plan to wear your lace wig behind your own natural hairline.
Does everyone need to pluck their wig?
Of course not. Pre-plucked lace wigs are really a matter of personal preference there is by no means a one way to wear a lace wig or a one size fits all option that will make your lace front more natural in appearance.
Some people like more density at the hairline of their lace wig, especially if they like to wear their lace wig behind their natural hairline. In this instance, you may not want a pre-plucked hairline.
Shop More Popular Evan Hair
Shop for Best Bob Straight Front Wig
Shop for 13*4 Kinky Straight Front Wig Virgin Hair
Shop for Cheap Full Lace Front Body Wave Wig
Shop for 100% Virgin Hair 13*6 Deep Wave Front Wig