Transparent swiss lace wigs are extremely popular because they can provide a natural-looking hairline than before. Some women would like to make a transparent lace wig at home.
If you are one of those women, then you should follow this DIY procedure on how to make a lace wig transparent at home to achieve this. The process of making a wig is not complicated. Now, I will share a very detailed tutorial from start to finish about How to make a wig you want.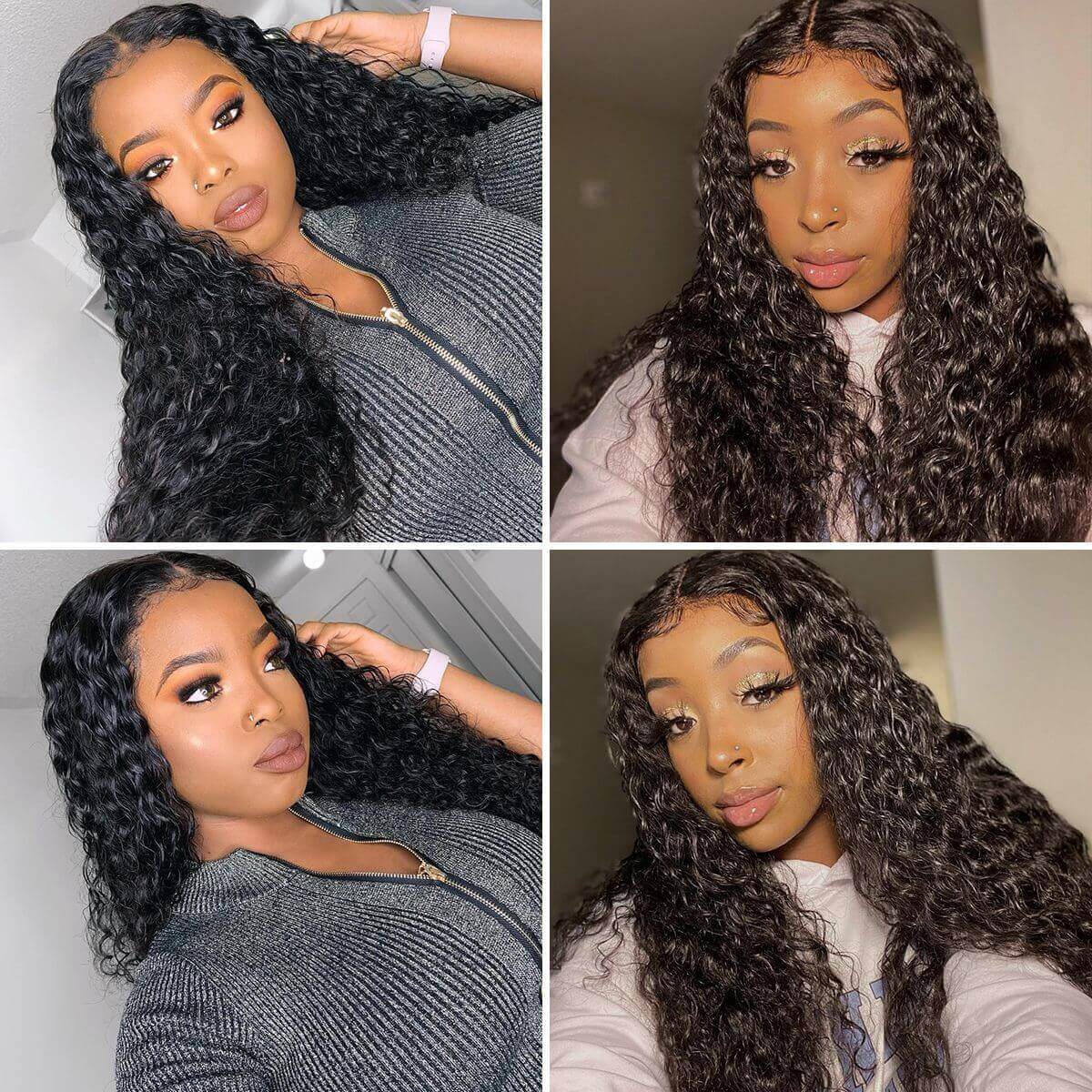 Making glueless human hair transparent lace front wigs is a technical job. If you want to sew in the invisible HD lace front wigs, you should first buy virgin human hair bundles with transparent lace closure. Usually, a transparent swiss lace front wigs sew-in need 3/4 bundles virgin hair with a lace front closure.
What Materials Do You Need?
mesh dome style wig cap.
wig head.
t-pins.
thread/needle or glue.
3–4 bundles of hair with a transparent closure or frontal.
wig pole/stand. (optional)
scissors.
lace front glue. (optional)
How To Make A Transparent Lace Wig Step By Step?
Here is a tutorial showing you guys how to make lace front wig transparent! A lot of you have been asking me for this so here is a detailed tutorial for you.
Step 1: Place the wig cap on the mannequin head and hold down with a pin. Place the wig cap out because you need the cap hook to be on the outside.
Step 2:Next is sewing the bundles. The number of bundles used for making the lace front wig varies with individuals, for most people four bundles will do the trick, while for others with three bundles they're good to go.
Step 3: Secure the transparent lace closure or frontal at the front of the cap and use the thread and needle to sew it along the edge all around. When stitching, make tight knots to ensure the lace closure is tightly secured.
Step 4: Lay the tracks down in a U- shape pattern as you work your way in creating the wig. The pattern will assist you in attaching the thread neatly onto the cap.
Step 5: After you sew the tracks all the way to the closure, the last track should be sewn on the closure. Cut off the excess track after properly securing it with a knot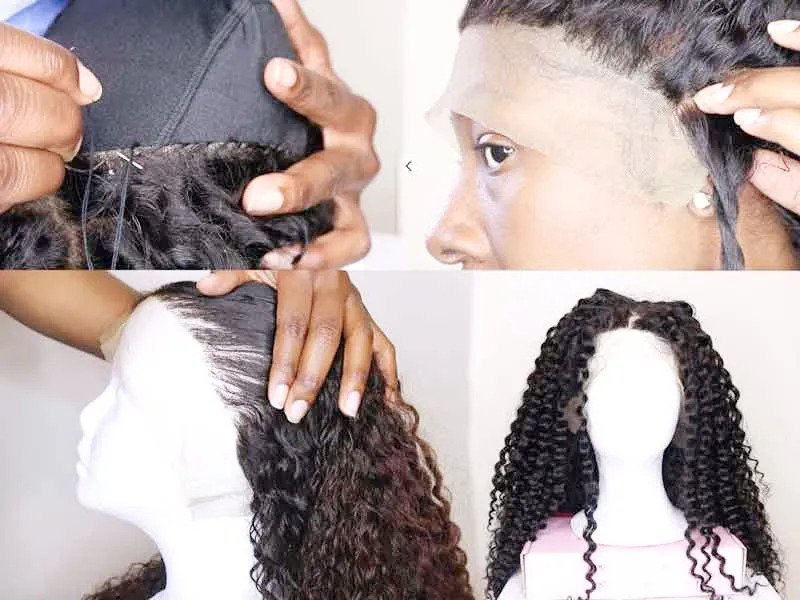 Step 6: Use tweezers to pluck the hairs on the closure to make it look like your real hair.
Step 7: Cut the excess wig cap that peeks under the lace but ensure that you don't cut into the stitching.
Step 8: Now, you can sew the wig combs and band. Sew the wig band at the rim of the dome cap and at least one comb on either side of the head and also at the back
Step 9: Now, your transparent lace front wig is ready for styling. Style your newly made lace front wig to any style of your choice, and you're good to add to your glow and put up that shiny natural appearance with your lace front wig for black.
HOW TO MAKE A LACE FRONTAL WIG DIY | Evan Hair
How Long Does It Take To Make A Transparent Wig?
Making a wig requires patience. Your first time may take about 4 hours, but don't get discouraged. As you become familiar with making wigs, you will be able to have one made in an hour or less.
How Many Bundles Should I Use?
It all depends on the lengths you desire.
8″-12″ (2 bundles)
10″-20″ (3 bundles)
22″-26″ (4 bundles)
28″+ (5 bundles)
A real human hair transparent lace wig in good quality is not very cheap so if you don't how to take care of it, you may ruin it, which is very regretful but if you treat it well, the wig will last for a long time even for years, which can help you in saving a lot of money significantly.
So there are some important human hair lace wig maintenance tips you need to know, especially for beginners.
How To Care For Transparent Lace Wig?
1. Avoid hair tangle
Excessive friction can easily cause hair to knot, so it is best to take off the wig when sleeping or braid your human hair wig to prevent hair tangle.
2.Correct hair comb
Don't comb your hair when your hair is wet. Wait until your hair is completely dry before combing your hair. When combing the hair, start from the end of the hair to the roots. Do not use a comb with curly hair wigs, you can gently comb with your fingers. Body wave wigs can use a wide-toothed comb.
3.Wash your wig regularly
The cleaning of the human hair wig is a very important step. Regular cleaning of the wig will ensure that the moisture of your wig will not be lost. It is usually cleaned once a week, and you can adjust the time according to your own frequency of use.
4. Avoid high temperature
Although human hair wig can style it however it wants. But don't use Flat-iron or curler too often, it will cause you hair wig lack of glossy, dry and easy to broken. And do not place your virgin hair wig close to high temperature.
5.Dry your wig
Do not blow the wig with a hairdryer, use a dry towel to dry excess water from the hair, and place it in a ventilated place to avoid damage to the hair caused by sun exposure
6.Deep conditioner
After you use Flat-iron or curler, need deep care for your hair, but remember not to use oily conditioner.
It is important to know how to maintain it so that it continues to look good. As long as you maintain your wig well it will last long.
Are you got all steps? If you would like to see more wig care tips, here's a detailed video tutorial.
How I Wash and Maintain My Curly Wigs
Shop More Popular Evan Hair
Shop for affordable Malaysian Body Wave Hair 4Pcs
Shop for Remy Straight Hair Bundles Best Raw Virgin Hair
Shop for Virgin Remy Loose Wave Hair Bundles Deals 
Shop for Evan Hair Indian Virgin Hair Deep wave 3 Bundles